If we are being honest, Netflix's 'Gunther's Millions' is nothing short of an expose of the massive empire surrounding a German Shepherd having the official title of the world's wealthiest canine. That's because it shines a light upon not just the trust fund set up for Gunther the dog as well as its stipulations but also the involvement of his eccentric handler and unwaveringly loyal entourage. Amongst those to thus feature in this original to help move the narrative along is none other than Cristina Mian — so now, if you wish to learn more about her, we've got the details for you.
Who is Cristina Mian?
It was in 2003 when ostensibly already rising public figure Cristina first came across Gunther and his handler Maurizio Mian, only to leave such an impression that the latter later approached her. He said, "If you like, you can try to be in my group," referring to the entertainment party of five young, hot individuals who nearly always needed to be by Gunther's side, as per the trust's deeds. Around this period, the group was called The Magnificent 5, which she did not hesitate to join as she'd had an interest in acting, dancing, as well as music ever since she was a young girl.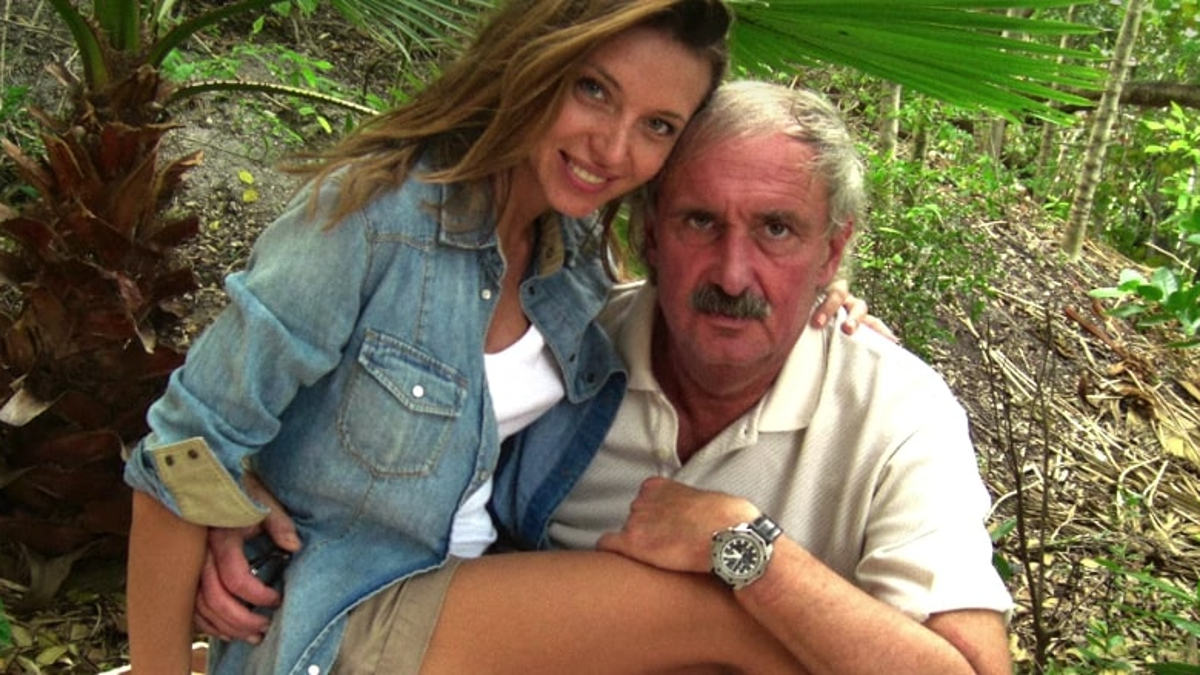 "There were various houses [we lived in across Italy and internationally]," Cristina revealed in the Netflix production. "The people who tried to be a part of The Magnificent 5 were interchangeable." However, she added, the one aspect to rarely vary was Maurizio's presence and his intricate, observational experiments in the hopes of finding a concrete scientific secret to genuine happiness. This quest for joy has seemingly played a part in the reason he doesn't believe in traditional, familial, or religious facets, and even Cristina has always had this same community-driven mindset.
"When I met Maurizio, the first thing he showed me and made clear was that he had a son, he was no longer with his partner…," Christina said in the docuseries. "But after a friendship that had already started, and after various conversations over months and months, at a certain point, he said, 'Look, we are very close friends, but with someone like you, I would like to have a daughter.' I said, 'Wow.'" Nevertheless, because she wanted a baby girl too, she allowed their platonic relationship to evolve into an open romance — they sometimes allegedly had safe encounters with others.
Cristina then elucidated, "With the birth of our daughter, this beautiful design was created that this group of five [The Magnificent 5] can have children and can prove the children who are raised by them [as a unit] will be nothing but content and happy… I mean, for me, it's a plus. It's more, not less, you know?" Yet, there were significant controversies that subsequently came to light owing to her public announcement deeming their newborn as "the daughter of Gunther" — she meant it sentimentally, but some took it seriously.
Where is Cristina Mian Now?
With no interest in ever having a traditional family, according to the four-part original, Cristina and Maurizio mutually parted ways on extremely amicable terms following a few years together. They'd purportedly lived in the same house for 12 years by this point and were blissfully raising their daughter in a community manner, indicating the latter aspect didn't really change even once they split. Though the best part for the former is that her baby girl hasn't been negatively impacted by any of it, as evidenced by her thanking her mother for their "perfect non-family," per 'Gunther's Millions.'
Coming to Cristina's current standing, from what we can tell, she's still primarily based in Italy and continues to serve as not only an ambitious public figure but also a devoted mother. However, since she is seemingly a perfume entrepreneur as well as a model, it appears as if she has been making the most of the opportunities coming her way by traveling across the globe recently. Wheather it be Uzbekistan, the United Arab Emirates, Saudi Arabia, Oman, France, or Belarus; she has been everywhere in the last year or so. Though most importantly, Cristina has been designated as the next custodian of the Gunther Foundation Trust — she'll be Maurizio's successor.
Read More: Where is Ex-Magnificent 5 Member Fabrizio Corona Now?