With Netflix's 'Gunther's Millions' living up to its title in every way conceivable, we get a deep insight into not only the luxurious life but also the incredible empire of the world's wealthiest canine. It thus comprises first-hand accounts of individuals closest to the matter as well as archival footage to really shine a light upon Gunther VI's complex roots, eccentric handler, and intricate fortune. Amongst those to thus feature in this four-part original is none other than public figure Fabrizio Corona — so now, if you wish to learn more about him, we've got the necessary details for you.
Who is Fabrizio Corona?
Born on March 29, 1976, in Catania, Sicily, to Gabriella Corona and Vittorio Corona as one of three sons, Fabrizio ostensibly grew up in a proud family of rather typical Mediterranean journalists. He hence followed in their footsteps upon completing his studies by evolving into a paparazzo before rising the ranks to eventually become a Partner/Director at Corona's photographic agency. However, by the time the mid-2000s rolled around, he'd transitioned to being in front of the cameras and could actually be found plastered on the front pages of every salacious Italian magazine.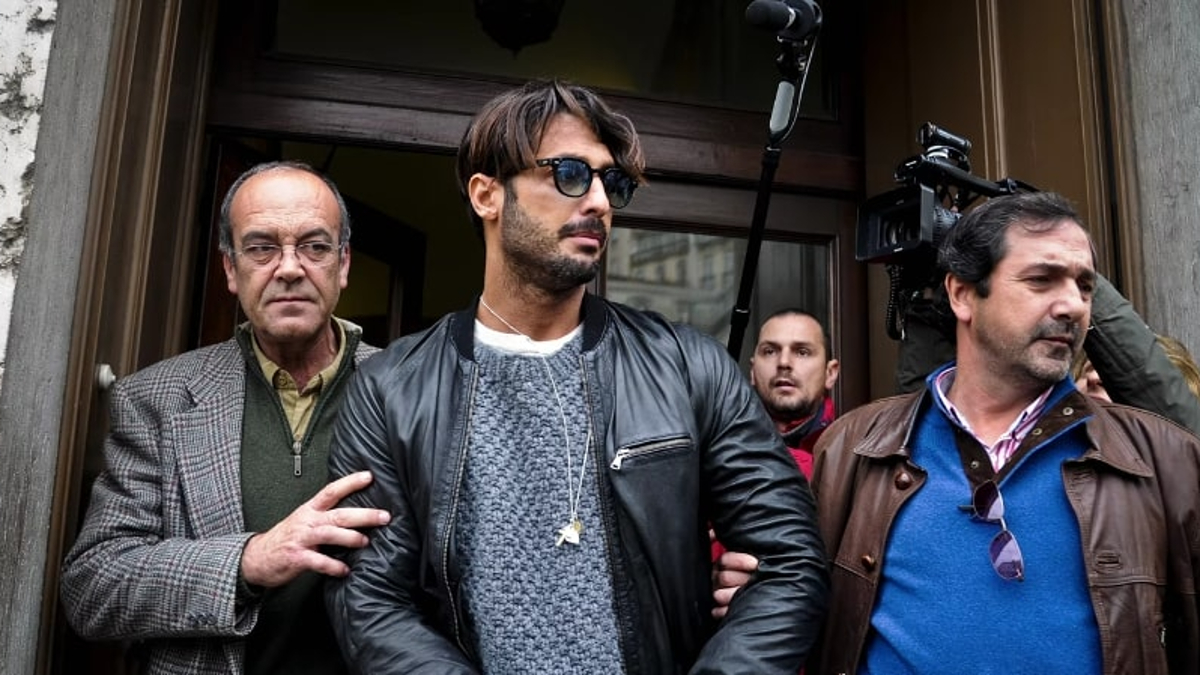 As per the Netflix docuseries, Fabrizio is essentially an Italian Charlie Sheen with the confidence as well as cockiness to match — he did refer to himself as "God, not the Godfather" at one point. It thus comes as no surprise the admittedly inhibition-less male has been involved in everything from explicit scandals to reality productions and from legal troubles to controversial public opinions. Though his connection with Gunther the dog and his handler Maurizio Mian began a bit prior, especially as his intention of thriving as a member of their The Magnificent 5 entertainment group.
"The life Maurizio wanted to show [to the public] is the life I wanted to live," Fabriuzuio elucidated in 'Gunther's Millions.' "…He wanted people who would be famous in their respective fields, so famous, rich, promiscuous, beautiful people." That's why he openly collaborated with the handler to create the 'I Magnifici Cinque' (translation: 'The Magnificent Five') reality television series, only for it not to pan out in the way they'd desired. Nevertheless, according to his own legal accounts, he still walked away with a direct compensation of €1.7 million ($1.85 million) for promoting the project.
Where is Fabrizio Corona Now?
It was in 2007 that Fabrizio's whole world turned upside down as he went from the "King of Paparazzi" to an inmate once the Vallettopoli extortion scandal came to light, with him right at its core. After all, his gossip business had led him to be accused of multiple charges related to celebrity extortion, blackmail, bankruptcy fraud, corruption, possession of forged money, and possession of a firearm. He was released from behind bars around 77 days later, just to be placed under house arrest awaiting court proceedings on May 29, 2007 — he was sentenced to 5 years for blackmail in 2013, followed by a 13⅙-year term on most of the remaining charges in 2015.
Yet between these 7-8 years, Fabrizio had not just managed to continue leading a comfortable life, but had also penned a biography, participated in reality shows, and evolved into an actor. Despite this, after a few years in prison, the 'La mia Prigione' (translation: 'My Prison') author was again released to house arrest in December 2019 — though it was on medical grounds this time. He apparently suffers from anxiety, depression, as well as panic attacks, plus he has a narcissistic and borderline personality disorder. Therefore, in his late 40s, the public figure, Italian native, and the Atena Agency media company entrepreneur remains under house arrest to this date.
Read More: Where is Gunther Trust PR Lucy Clarkson Now?