Netflix's 'Gunther's Millions' is a documentary series that honestly lives up to its title by offering us a deep insight into the reality behind the world's wealthiest dog's entire fortune as well as lifestyle. It thus comprises details of not only Gunther's bloodline's initial "inheritance" but also the way his handler Maurizio Mian/his Trust helped him amass an actual empire over the past three decades. Amongst those to thus feature in this original production to move the narrative along is the canine's Public Relations specialist, Lucy Clarkson — so now, let's find out more about her, shall we?
Who is Lucy Clarkson?
Ever since Lucy was a young girl growing up in the small market town of her native Rotherham in South Yorkshire, England, she admittedly just wanted to ride horses and be a proper country girl. However, her world turned upside down in the mid-1990s as she ended up winning an intensely cut-throat modeling competition her mother had signed her up for despite being merely 15 at the time. That's how she landed a signing with the prestigious Elite Model Agency, enabling her to kickstart a career in entertainment before helping her evolve in the same with little to no limitations.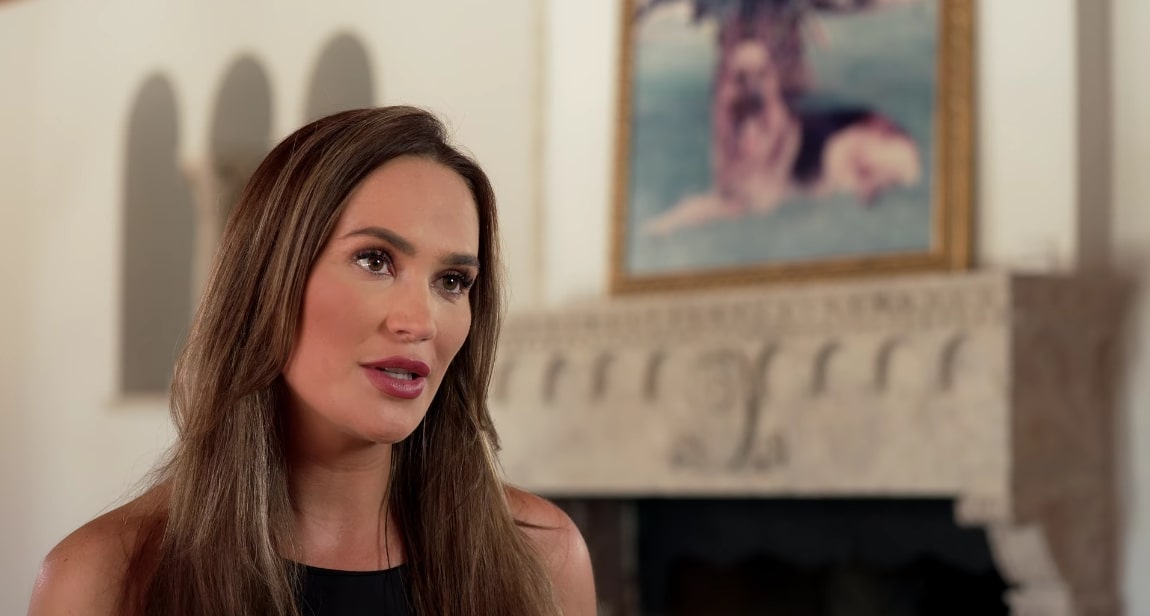 Lucy subsequently became the face of a British fashion magazine called More, appeared on the covers of several other publications, and even secured ad campaigns for many big-name brands. In fact, in the ensuing three years, she'd been affiliated with Sports Illustrated, Marie Claire, Chanel, PlayStation, Diesel, Marks and Spencer, Favela Brazilian Swimwear, Veet, and Pearl Drops. Though, one of her biggest professional highlights came in 2000 when the then-17-year-old managed to book the role of Lara Croft (official model) for the iconic Tomb Raider video game series.
After all, Lucy then got to travel across the globe with a team of designers, makeup artists, stylists, and photographers to ensure fans could meet "Lara Croft," which truly expanded her horizons. It thus comes as no surprise she soon began dabbling into hosting and public relations as well, with just some of her credits for the former including 'Vault On Nation 217,' Children's Charity Awards 2004, BBC's 'The Late Show,' 'The Apartment,' and 'Taste of Dubai.' As for her work in marketing as well as communications, apart from helming Gunther's PR, the British men's magazine's voted Sexiest Woman in the World has even served at Grapevine — the well-being network.
Where is Lucy Clarkson Now?
From what we can tell, Lucy has been based in Miami, Florida, since 2011, where she continues to build a good, happy, healthy, stable life for not just herself but also her son as a single mother. She hence still holds her position as a model, public figure, and on-air personality, all the while maintaining the title of Marketing & Communications Vice President at Accord Productions. It's even imperative to note that she's a patron of SPANA (Society for the Protection of Animals Abroad) as well as a spokesperson against standards of beauty, especially as she suffered from an eating disorder from 2003 to 2008. Moreover, she has released a dance single titled "Royalty" (2015) with multi-Grammy-nominated rapper Fat Joe.
"Gunther has an interesting history behind his story that makes him very unique," Lucy recently revealed while opening up regarding her role in 'Gunther's Millions.' "I was Gunther's head of PR a few years ago. Having a dog as a boss was quite an experience! Due to my experience in television, the series' director thought it would be ideal for me to also assist in telling the story on camera."
Coming to her personal and professional aspirations for the near future, the beautiful model as well as luxury real estate agent said, "I will continue to strive to be the best version of myself I can be. I'd like to travel more and visit places I've always wanted to see. My main goal is to push myself in my TV hosting career. I'm passionate about it and believe I have a real talent for it."
Read More: Where is Gunther's Spokesperson Lee Dahlberg Now?