I'm not much of a gamer but the whole idea of gaming adaptations of anime does seem fascinating to me. It would be great for once to put myself in the shoes of my favorite anime protagonists and experience the world they live in. But what if it's the other way around? What if an anime is an adaptation of a popular game? Well, that right there is a recipe for disaster and 'Danganronpa' is a living example of that. Fitting in close to 25 hours of gaming content in a mere 13 episode series did not seem to be a great idea and pretty much anyone who watched the anime after playing the game expressed disappointment towards the adaptation.
Sooner or later, movies will be replaced by decision-making games, maybe not entirely, but you get the idea. Take Netflix's 'Bandersnatch' and 'You Vs. Wild' for example; we are getting there with these choose-your-own-adventure shows. But movies replacing games? That's never really happening and it's very clear from all these movie adaptations of games. And just like so any of those movie adaptations, this one also comes off as a complete let-down. Even for people who are entirely new to to the concept, like me, it proves to be no better.
The one major flaw of the anime is its storyline. Pacing is another issue that could've been easily resolved by just adopting a 20 plus episode format, but instead, maybe because of a lack of budget, the creators decided to go for a standard 13-episode format. The concept of the story is great, especially for suckers of mystery like me. But the pacing just messes it up and all the twists are revealed suddenly with no appropriate build up.
Not everything about the anime is all that bad though. The animation style and art are things that help you get through the entire anime. The artwork is unique and bold, which gives the anime the perfect vibe it deserves. The character detailing couldn't have been better and even minor background elements have not been ignored. 'Dangaronpa' wouldn't have been half the anime that it is without its animation and art.
If you have been following 'Dangaronpa' all this while, then you know how confusing its entire viewing order can get. So I'll just quickly break it down for you. The first season, titled 'Dangaronpa: The Animation', is the adaptation of the first game that came out in the year 2010. This is followed by another game known as 'Donganronpa 2: Goodbye Despair', which does not have any adaptations yet. The anime directly jumps on to season 3 which is divided into two parts titled 'Danganronpa 3: The End of Hope's Peak High School – Future Arc' and 'Danganronpa 3: The End of Hope's Peak High School – Hope Arc'. The second part of season 3 is more or less of an OVA with only one episode special that takes the story a little further. There have also been many spin-offs and side stories that may or may not have any relations to the main storyline. For anyone who wants to start watching this anime now, can refer to the format mentioned above and later you can even catch up with the spin-offs.
Danganronpa Season 4 Release Date: When will it premiere?
'Dangaronpa' season 3 premiered on Jul 11, 2016 — that's when the second part of its third season was released. Now the game from which the anime is adapted only has three seasons, so clearly, it has pretty much covered whatever it possibly could. There will be a possibility of a new anime season only when there's another season of the game. There are rumors that Spike Chunsoft has only taken a break from the gaming series and will be back soon with another season or a spin-off of the original story. Even the last dialogue in the visual novel goes like this — "The story isn't over yet". This suggests that there will be a new season for the Dangaronpa game engine. And if there's another gaming season, then chances of getting a new anime adaptation also blow up.
Our best guess is that 'Dangaronpa' season 3 release date could fall sometime in 2021. We will update this section as soon as we hear more. Till then, if interested, you can always catch up with anything you might have missed out on because the whole Dongropa franchise has come up with a lot of content.
Danganronpa English Dub:
The English Dub of 'Danganronpa' Season 1 and 3 can be found on Funimation and AnimeLab. As for Season II, if interested, you can get access to the game on Steam or just go through the plot mentioned below to get a fair idea about it.
Danganronpa Plot:
'Danganronpa-The Animation' is set in a high-school known as the Hope's Peak Academy that only accepts the best students from all over the country. Every student who gets accepted has a unique talent at which he/she excels and is given a title with respect to that talent by the academy. In the current year, only fifteen talented students are selected, one of whom is a completely ordinary student named Makoto Naegi, who has absolutely no talents like the others. The sole reason why he is there is because of the Institute's "Super High School-Level Luck" policy that accepts one student on the basis of the person's sheer luck.
All the students are excited after knowing about their selection in this elite institute and Mokoto's joy knows no bounds because he has been the luckiest…or has he? This felicity of the students is short lived after they realize that they have now been trapped in a death match where they have to secretly kill each other and only the last man standing will get to graduate. There is only one rule to this — if one gets caught killing another classmate, then he/she will be executed.
The second season, which is a visual novel adventure game, revolves around Makoto (played by you) and his classmates who go on an uninhabited island for a school trip with a very cute heartthrob of a teacher. It's all fun and games until Monokuma announces the return of the murderous assassination game; this time not in a school but on an island. The only way you (Mokato) can survive this lethal game of life and death is by unraveling the mysteries behind this oddly pristine island. The anime then jumps right into the third season where Naegi and some of his surviving classmates manage to sneak out of the academy and start a new life by joining an organization that helps them fight despair. Everything finally seems to be going fine for Makoto and his friends when suddenly, one day, Makoto gets arrested for some reason and has to face the foundation's executives for a trial that has an unknown conclusion.
Things get really bad for Makoto and two of his other friends but all of it escalates into something even worse when Monokuma, the mechanical bear, hacks his way inside the foundation and yet again, announces the initiation of another round of the assassination game. This time around, there is only one murdering traitor among them and Makoto must find out who this is before it's too late.
Danganronpa Characters:
Kyuoko Kirigiri: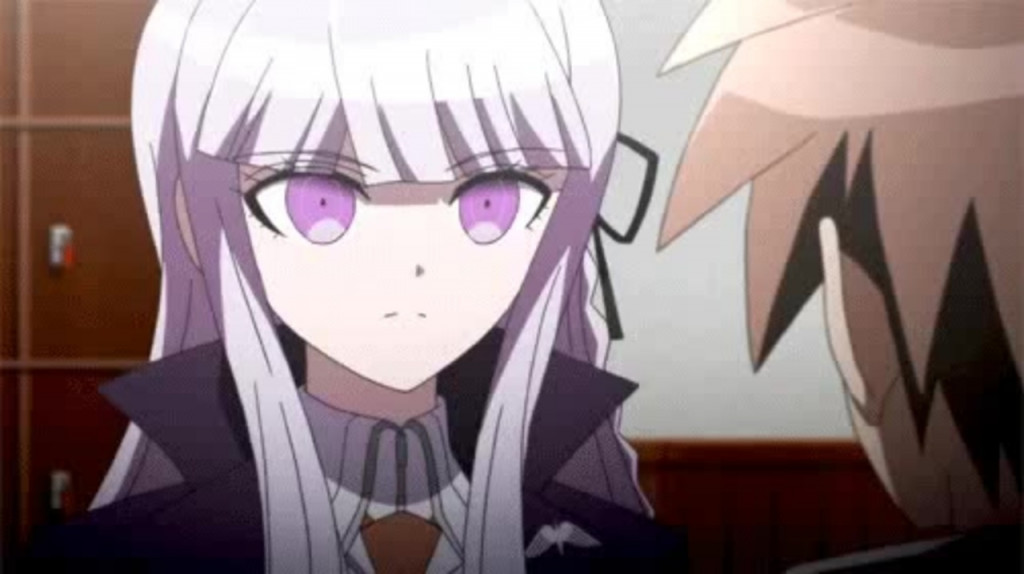 Kyouko is a silver-haired girl with purple eyes and in spite of being one of the main characters, her "Sper High School Talent" is never revealed. Kyouko is anti-social and spends most of her time staying alone. She takes a lot of time to trust people around her but has razor instincts that allow her to notice things faster when dead bodies start showing up. The only person she trusts out of all the other students is Naegi and often insists that he should lead the investigation. Later in the anime, it is revealed that Kyouko is looking for something that Monokuma had stolen from her a few years ago.
Monokuma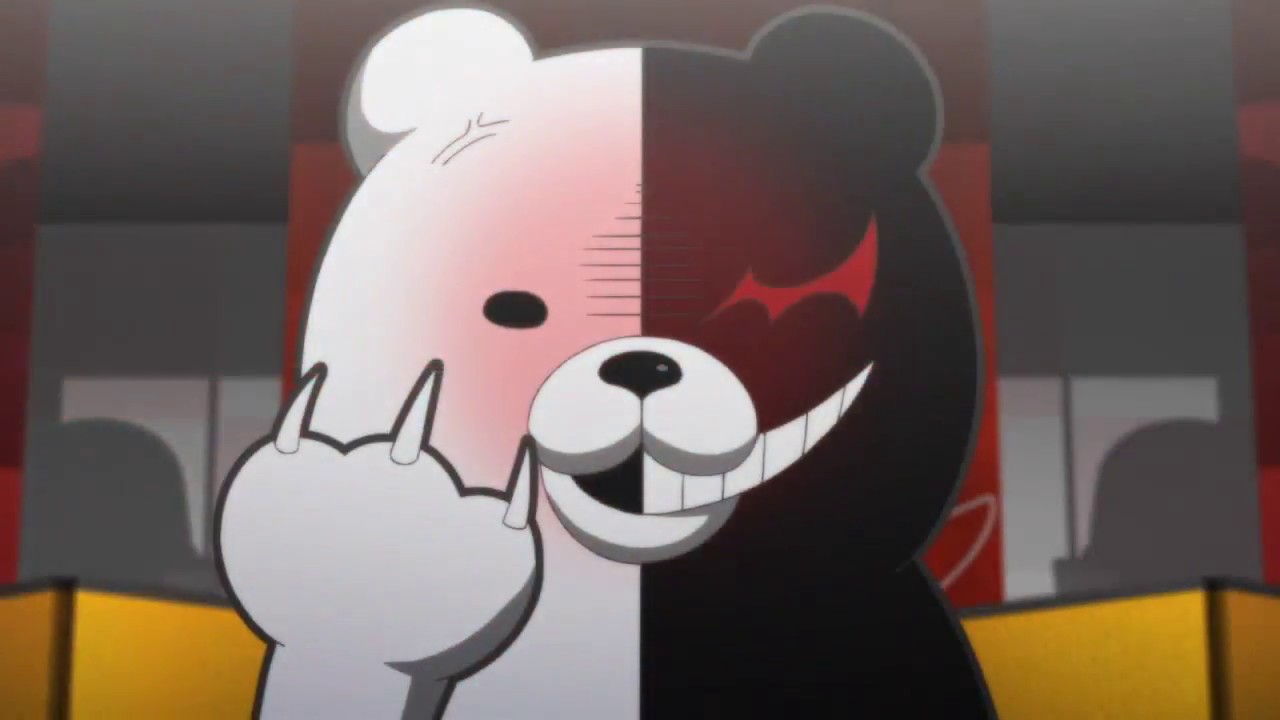 It's strange how no one initially doubts the genuineness of the Academy even after knowing that the Headmaster is actually a giant evil looking teddy bear. This evil robotic teddy is Monokuma, who is the main villain of the anime and every time he enters the frame, you'll know that sh*t's about to go down! He comes into the picture every time, only to announce the initiation of the assassin games and leaves behind a whole lot of terror and chaos. There are many other versions of him all over the academy that make sure that students are abiding by all the rules. The true identity of the evil mastermind behind the face of this robotic two-faced teddy along with the motives that he holds are the biggest mysteries of the "game of life and death".
Makoto Naegi
Makoto Naegi is the main protagonist of the 'Danganronpa' series and is the only student who lacks any special talents. He gets accepted into the Academy solely on the basis of his luck, which does not run out till the end considering the fact that he is one of the few survivors. Makoto only relies on his optimism throughout the game and his mystery solving skills, which are also quite commendable. Call it beginner's luck or leadership skills, Makoto somehow manages to get by every time without getting killed, unlike most of his other classmates.
Read More in Anime Preview: Inuyasha Season 3 | Haganai Season 3