HBO's 'Perry Mason' opens its second season with the titular character working as a lawyer. This is a step up for Mason, who worked as a private detective in the first season. Back then, he was still trying to get his life in order and figure out what he wanted his future to look like. He would have been aimless if it wasn't for Elias Birchard Jonathan. The defense attorney hired Mason as a private detective and would often advise him to pull himself together. It was clear that Mason would be lost without E.B. If you are wondering what happened to him and whether he will be in the second season of 'Perry Mason,' here's what you need to know. SPOILERS AHEAD
How Did Elias Birchard "E.B." Jonathan Die?
E.B. was a prominent lawyer hired to defend Emily Dodson in the Charlie Dodson murder case. Despite being highly experienced in the field, it was clear that E.B. was losing his touch, especially with the world and the job changing so radically. With everything against Emily, E.B. struggled to keep up her defense. The inability to protect his client was getting to him. He met another setback when the public backlash on Emily led the people paying E.B. to defend her to drop him. On top of that, the DA threatened to have him disbarred by revealing what he had done long ago.
All of this has a significant impact on E.B., who finds it increasingly difficult to handle the challenges posed to him. At the end of the fourth episode of Season 1, he decides to quit it altogether and dies by suicide. Della finds him the next day, and with the help of Mason, she makes it look like E.B. died of natural causes. They don't want the man, who had been a father figure to both of them, to have his reputation stained even in his death. He is buried in his family plot in northern California as a gesture of finally being close to his family, from whom he had gotten estranged over the years.
Did John Lithgow Leave Perry Mason?
In an interview with Deadline, John Lithgow revealed that he was not supposed to continue the show after the fourth episode. When he got the script for playing E.B. Jonathan, it was only for the first four episodes. He was curious why his role was short-lived compared to others, but when he got the whole story, he understood why E.B. had to die. "This is what's so great about the role. My departure is very surprising, but when it happens, it immediately makes people look back on the preceding four episodes and pick out all the little clues that they should have noticed that led to his demise because demise it is," he said.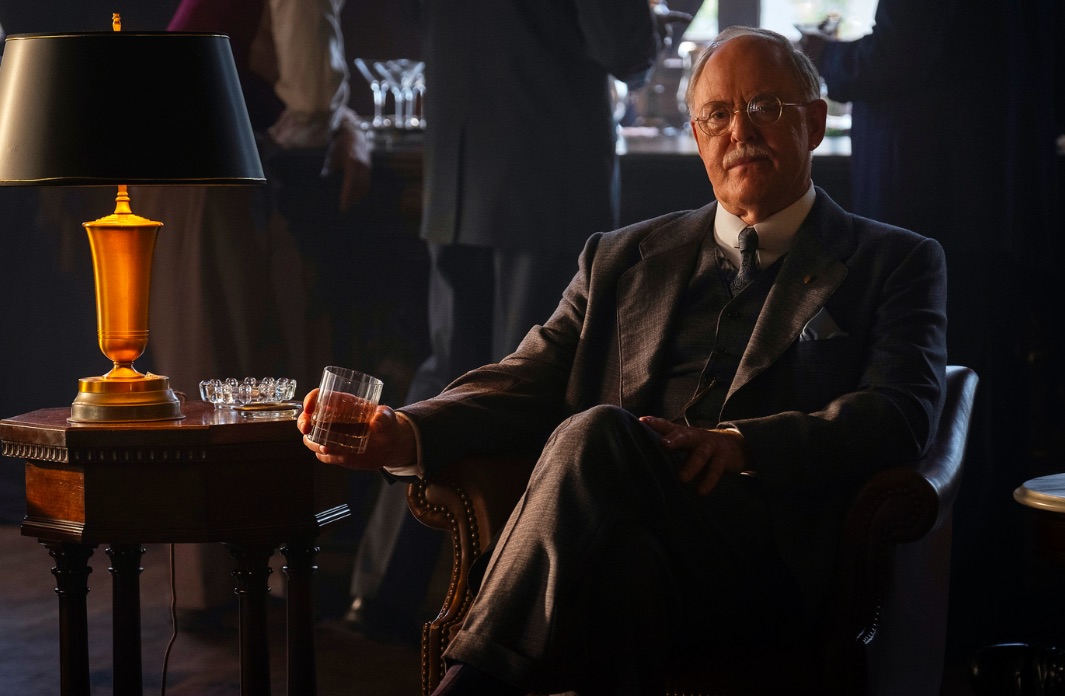 Calling it "one of those perfect jobs," Lithgow said that E.B.'s death doesn't mean he will be erased from the story. There's still a lot that can be learned about him, and due to his importance in Perry Mason's life, E.B. will always be a part of the story. "Late entrances and early exits. That's good stuff in a role. The very beautiful thing is E.B. lives on in all sorts of fascinating ways," the Emmy-winning actor said.
E.B.'s influence on Perry Mason's life is reiterated in the second season, where he is mentioned on different occasions. It is clear that he will not be forgotten, but there is very little chance of him coming back on the show unless flashbacks are used to explore Perry Mason's past. This leaves a small window for Lithgow's return, but we wouldn't hold our breath on it.
Since leaving 'Perry Mason,' Lithgow has worked on several movies and T.V. shows. He was recently seen in Apple TV+'s 'Sharper' and Hulu's 'The Old Man.' He also reprised the role of the Trinity Killer in 'Dexter: New Blood.' The actor has several projects lined up for release soon, including Martin Scorsese's 'Killers of the Flower Moon' and Edward Berger's 'Conclave.' With Lithgow's busy schedule, the creators of 'Perry Mason' would need to develop something compelling to bring the actor back into its world.
Read More: HBO's Perry Mason Filming Locations