Romance is one of the main themes in Netflix's fantasy series 'Shadow and Bone.' Developed from the 'Shadow and Bone' trilogy and the 'Six of Crows' duology by Leigh Bardugo and created by Eric Heisserer, the show revolves around Alina Starkov, an orphan and cartographer of the Royal Corps of Surveyors in the First Army of the Kingdom of Ravka, who discovers that she has the rare ability of creating and directing light. In the world of 'Shadow and Bone,' she is called a Grisha and her powers make her a sun summoner.
Although Nina Zenik (Danielle Galligan) and Matthias Helvar (Calahan Skogman) are supporting characters in the series, their relationship adds another layer of complexity to the narrative and allows the writers to explore the Grishaverse more thoroughly. If you are wondering whether Nina and Matthias end up together in 'Shadow and Bone,' we got you covered. SPOILERS AHEAD.
Do Nina and Matthias Have a Happy Ending?
When they first meet, Nina and Matthias couldn't be more different from each other. Nina is a Corporalnik Grisha, a Heartrender, to be precise. She is sent to find information on those helping the rogue Grissha escape the conscription laws in Ravka. Rebellious and radical, Nina herself opposes the said laws. She was supposed to meet the Crows and the Conductor but gets kidnapped by the Drüskelle, the unit of holy soldiers from Fjerda that hunts the Grisha, who are considered witches in their religion. The Grisha are abducted and brought to the Ice Court in Fjerda, where they are put through sham trials and many of them are burned alive afterward.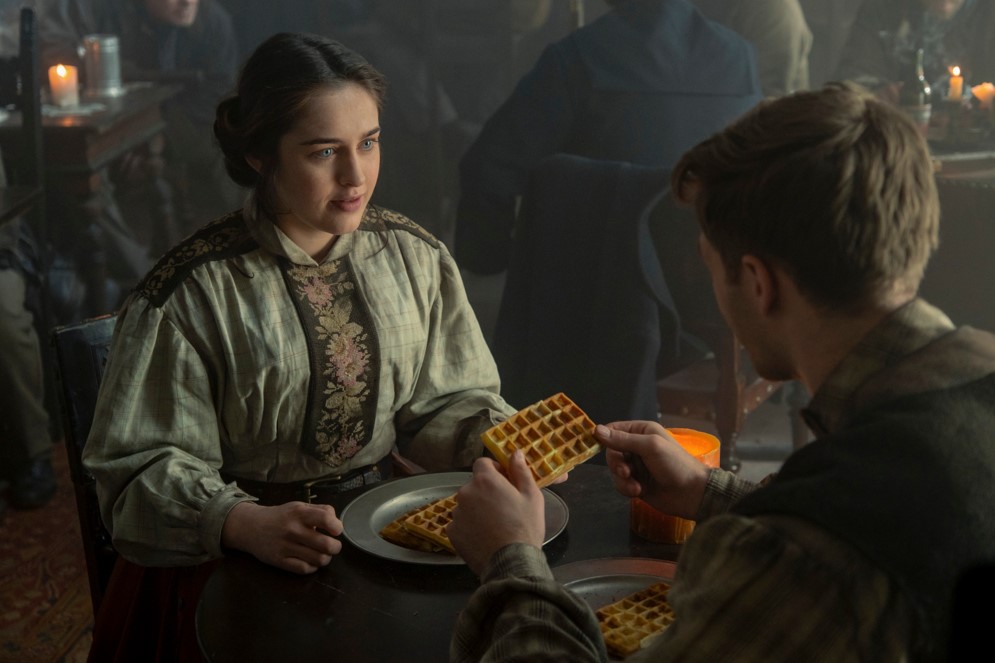 Following her abduction, Nina meets Matthias on a ship bound for the Ice Court. However, the ship encounters a storm and is destroyed. Nina saves Matthias' life, and they soon realize that if they want to survive in harsh circumstances, they have to rely on each other. As season 1 progresses, Nina and Matthias grow close and learn to see the other person beyond preconceived notions.
However, it isn't long before the other Grisha find them. To prevent the Grisha from taking Matthias to the Little Palace in Ravka, Nina claims that he is a slaver, which lands Matthias in Hellgate, a Kerch prison situated on the island of Terrenjel near Ketterdam. Believing that Nina has betrayed him, Matthias begins to hate her.
In season 2, we see Matthias suffer in captivity in Hellgate while Nina tries to get him freed. She works with the Crows in their efforts to take down Pekka Rollins, who has taken over Kaz's club in his absence. Moreover, Kaz and his crew are wanted for murder. In prison, Matthias meets a fellow Fjerdan, and the latter helps him reconnect with his faith. Pekka Rollins, after he is sent to Hellgate because of the Crows' actions, kills the man. This angers Matthias, and he later asks to be allowed to fight in caged matches. However, Rollins arranges for him to fight against two wolves, animals that are sacred to Matthias' religion. He refuses, and the wolves don't attack him either. He beats up several people that a frustrated Rollins sends for him before he is subdued. As Matthias is taken away, he finally hears Nina, who has been trying to draw his attention throughout the night.
Although this is where the second season ends, we know where the relationship between Nina and Matthias is heading from the books. Nina succeeds in freeing Matthias with the help of the Crows, who compel the former Drüskelle to join their quest to rescue Bo Yul-Bayur from the Ice Court. Although Nina and Matthias' relationship is initially strained after the reunion, with each actively avoiding the other, things get better as time progresses. He later even recites the drüskelle oath to Fjerda, changing it in such a way that it addresses Nina.
Because of his actions, Matthias comes to be viewed as a traitor in his native country and is fatally shot by a young Drüskelle in the book 'Crooked Kingdom' and dies in Nina's arms. Nina later finds love again with Hanne Brum, the child of Drüskelle commander Jarl Brum.
Paying tribute to her late lover, Nina states, "Matthias Helvar was a soldier and a hero. He saved me from drowning. He kept us both alive on the ice. He endured a year in the worst prison in the world for a crime he didn't commit. He forgave me for betraying him. He fought beside me, and when he could have abandoned me, he turned his back on the only country he'd ever known instead. For that, he was branded a traitor. But he wasn't. He believed his country could be more than it had been. He lived with honor and died with it too. He wasn't always a good man, but he had a good heart. A great, strong heart that should have kept beating for years and years."
Read More: Sujaya Dasgupta Plays Zoya Nazyalensky in Shadow and Bone. Here's Everything We Know About Her