Created by Max Thieriot, Tony Phelan, and Joan Rater, the CBS drama series 'Fire Country' follows Bode Donovan or Bode Leone (Max Thieriot), a young man who made quite a few bad choices in life and ended up in jail. Now, seeking redemption, he joins the California Conservation Camp Program, which entails helping the California Department of Forestry and Fire Protection or Cal Fire. Unfortunately for Bode, the program brings him to the last place he wants to be – his hometown of Edgewater, California.
Portrayed by Jules Latimer, Eve Edwards is an important character in 'Fire Country.' She and Bode's late sister Riley met when they were children and became fast friends. She is also quite close to both Bode and Jake Crawford. In the pilot episode, she and Jake discover Bode is back in town. If the events depicted in episode 15 have made you wonder whether Eve is dead and Latimer is leaving 'Fire Country,' we got you covered. SPOILERS AHEAD.
Does Eve Edwards Die?
No, Eve doesn't die in 'Fire Country.' Eve's family came to Edgewater when she was a child. She met Riley shortly after, and the latter asked her to be her best friend. When the series opens, Eve has already established herself in the department as a young and promising firefighter. After taking care of the Bodega Highway fire, Eve arrives at Smokey's Tavern with Jake and meets the new chef there, Aydan. Later, while dealing with the fire at Harrison Ridge, Jake gets caught in a stump hole and catches fire. As Eve tries to get him out, a man arrives with his face covered and rescues Jake. After learning that the man is none other than Bode, she has to prevent him from fighting Jake. Later, she informs Sharon that her son is back.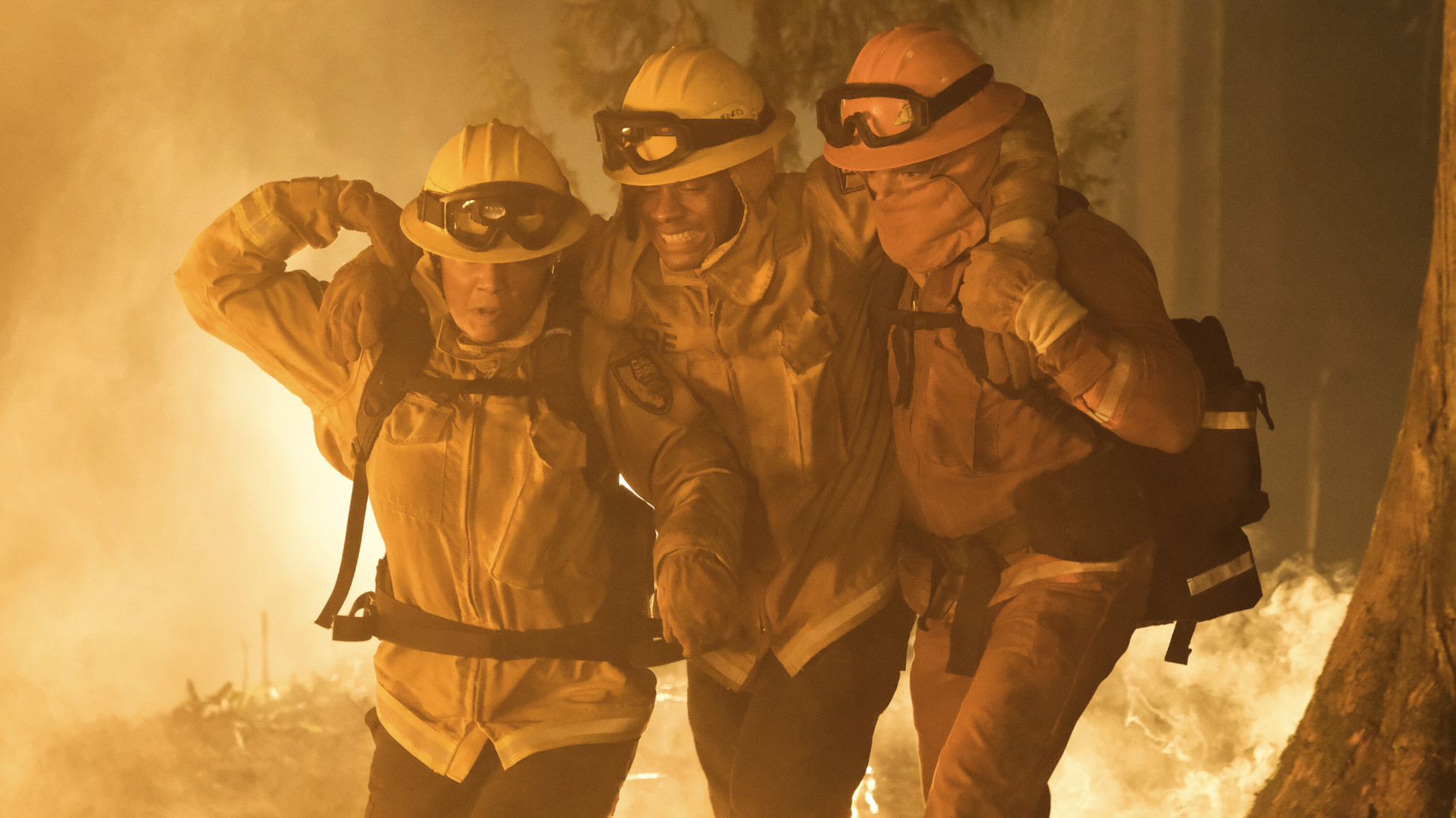 In episode 15, as Manny has taken a day off, Eve assumes leadership of both Three Rock and Black Creek and takes them to a reforestation project. When a tree falls on Eve as they make their way up a mountain and traps her underneath, Bode has to take control of the inmates there. While waiting for the emergency services to arrive, Bode realizes they must do something about Eve, or she will die of hypothermia. He decides to get her out from under the tree before that happens, so he gets to work with others following his lead. However, while they succeed in rescuing Eve, the tree moves and kills an inmate named Rebecca Lee.
In episode 16, both Eve and Bode suffer from survivor's guilt. Eve accompanies Vince, Jake, and the others to a maximum security prison to rescue the inmates there before a massive wildfire reaches them, while Bode and the others in the Three Rock crew try to find a way to divert the fire from its original path. Following her experience, Eve seems to be constantly on edge, whereas Bode shows little care for his own safety, trying to save everyone at the prison at his own expense. Eve is later present when Bode offers a eulogy for Rebecca.
Is Jules Latimer Leaving Fire Country?
As her character is alive and continues to be an integral part of the narrative, Latimer is not leaving 'Fire Country,' at least for now. However, executive producer Tia Napolitano revealed to TV Insider that a major character would die in season 1. "We have life-or-death stakes baked into the show, and we've been gentle with the death side of that coin," she said. "We are going to lose someone who we love a lot. It'll come as a great shock."
Even though Rebecca played a crucial role in the story, she was not one of the main characters, so it is probably safe to assume that Napolitano wasn't speaking about her. With only a handful of episodes left to go, we can deduce that this death will be an important part of the final arc of the season. It can be virtually any character, including Eve.
Read More: Does Sharon Die in Fire Country? Is Diane Farr Leaving the Show?