Apple TV+'s 'Flora and Son' is a musical comedy-drama movie written and helmed by John Carney. Set in Dublin, the film revolves around a single mother, Flora (Eve Hewson), and her troubled teenage son, Max. When Flora gets an old acoustic guitar to keep her son from getting into trouble, her life slowly starts as she takes an interest in music and learns the guitar over Zoom from an LA-based music teacher (Joseph Gordon-Levitt). In the film, Eve Hewson delivers a powerful performance as Flora, who slowly learns the nuances of music and becomes proficient with the guitar. Hence, viewers must be wondering whether Hewson shares her character's affinity for singing and playing guitar.
Eve Hewson Learned Guitar at a Young Age
In 'Flora and Son,' actress Eve Hewson plays the role of Flora, a single mother who juggles several jobs in Dublin while raising her rebellious teenage son, Max. However, her life and relationship with Max slowly transform when Flora refurbishes an old bust-up acoustic guitar. Hewson took formal lessons in acting at New York University's Tisch School of the Arts. She made her acting debut in 2005 with a short film 'Lost and Found.'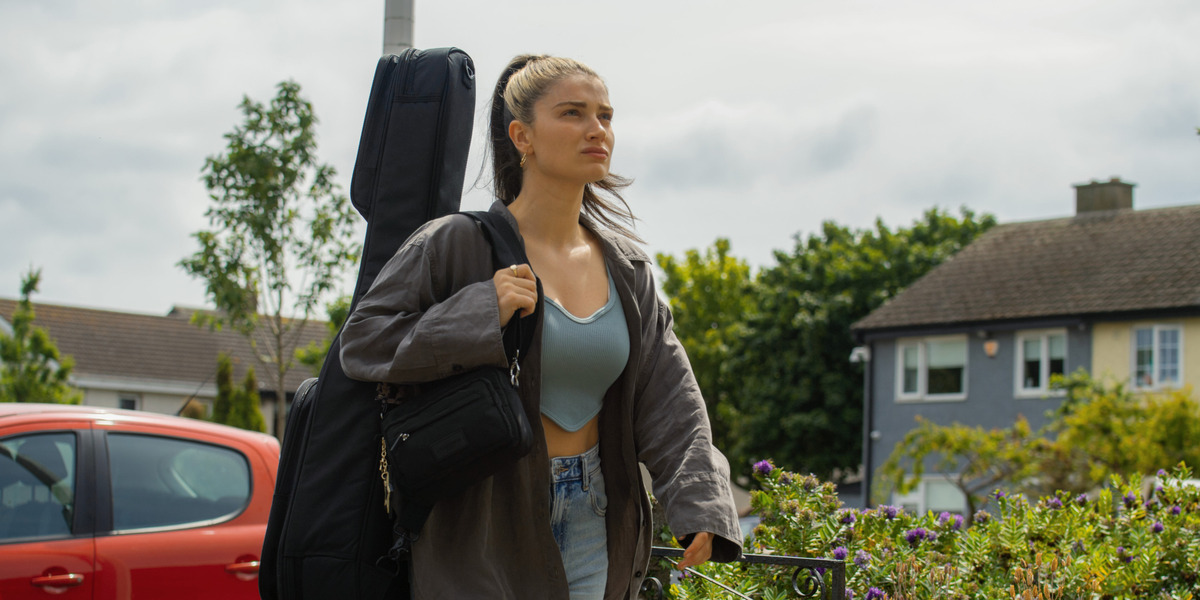 Hewson gained recognition for her role as Lucy Elkins in the medical drama series 'The Knick.' She is also known for her roles in films such as 'Bridge of Spies' and 'Robin Hood.' Hewson rose to prominence with her performance as Becka Garvey in the Apple TV+ dark comedy series 'Bad Sisters.'
Hewson's character in 'Flora and Son' is defined by her relationship with her son and music. The film features extensive sequences featuring Hewson's Flora playing guitar and singing. Hewson is the daughter of famous musician and singer Paul David Hewson, better known as Bono. He is the lead vocalist and primary lyricist of the rock band U2.
Since music runs in Hewson's family, Hewson had no issues playing the guitar in the movie. She also sang her character's songs in the films. In an interview with The Hollywood Reporter, Hewson opened up about the musical aspect of her role in 'Flora and Son.' Hewson explained that she had a massive fear of singing, which she overcame through her role. "It is all me singing. The whole thing and not even with Auto-Tune when you can just fix that little bit to make it a bit better. We actually really like that. It's sort of off and sounds like a real person. I overcame a massive, massive fear doing that," Hewson stated.
Hewson also revealed that she knows how to play the guitar, having learned the instrument at a young age. However, she initially disliked the guitar and preferred playing drums and piano. "I grew up playing music. But I actually hated the guitar. I hate the strings and the calluses, and once I got to chords, I was like, fuck this. But yeah, I played guitar when I was younger but was more into the drums and piano. Those are my instruments," Hewson said in the interview. Hewson has lent her voice to four songs for the movie's soundtrack. Her skill with the guitar is on display in 'Flora and Son,' receiving critical acclaim for her performance in the film.
Read More: Where Was Apple TV+'s Flora and Son Filmed?