This February, photographer Autumn de Wilde makes a strong directorial debut by taking us back to 19th century England in all its gowns and glory. Wilde's 'Emma.' introduces us to her version of Emma Woodhouse, who's handsome, clever and rich, and perhaps, loves matchmaking a little too much. The film stars Anya Taylor-Joy as the titular character, who delivers an impressive performance. It also stars Johnny Flynn, Mia Goth, Josh O' Connor, Callum Turner, Miranda Hart, and Bill Nighy.
'Emma.' is a period dramedy that captures the perils of a misconstrued romance, and is subtly feminist with the way it explores the issues of marriage, social status and aging. It takes us to the village of Highbury and follows the lives of its genteel women. The film centers around Emma, a spoiled, headstrong and self-satisfied young woman, who overestimates her matchmaking abilities, only to eventually realize the dangers of meddling with people's lives.
Given that 'Emma.' is a period piece set in 19th century England, you must be wondering if it has any ties to reality. The story it follows might also sound familiar to you. This is, of course, no coincidence, as the inspiration behind 'Emma.' has a long history attached to it. In case you're wondering what that is, we're here with answers. Here's everything you need to know.
Is 'Emma.' Based on a True Story?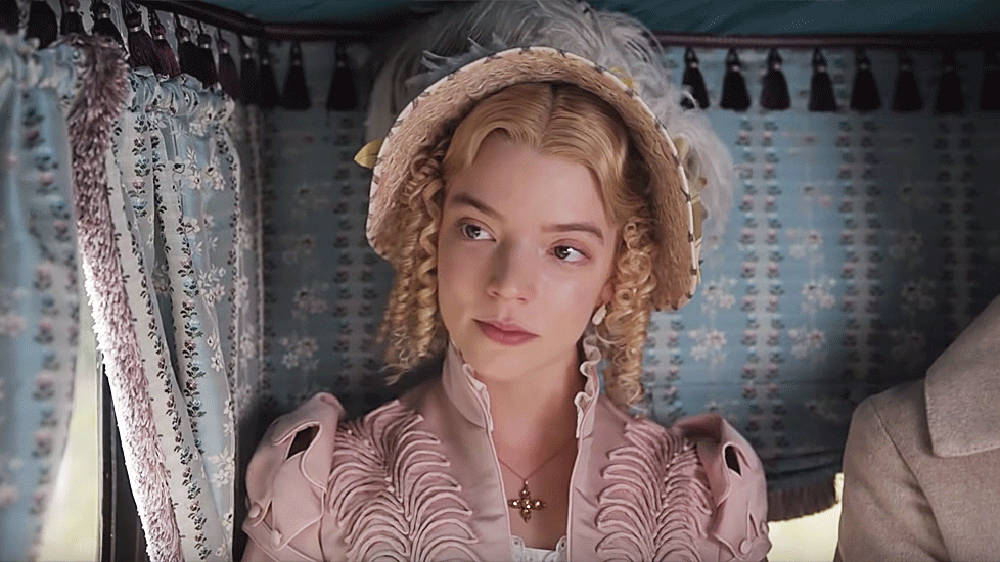 'Emma.' is not based on a true story, but is in fact one of the many screen adaptations of Jane Austen's beloved classic of the same name (minus the full stop, of course). Jane Austen is, of course, one of the most iconic women writers of all times, if not the most. Her work is considered a cultural touchstone, and is still read and loved widely today – even after over 200 years of being written.
Austen was ahead of her time, even as she adhered to all the norms and traditions of 19th century England. Her work is known for her wit, and social observations, as it lets us peek into the lives of women in the early 19th century. Austen is also known for writing strong female characters, that too nearly a century before the word 'feminism' was even coined. While Pride and Prejudice is certainly her most famous work, Emma is considered her finest by critics and lovers alike.
The classic is also a favourite for filmmakers, who have adapted the book countless times for the screen. It has also been adapted and reimagined for stage, other novels, and even Manga. The most famous of these adaptations is the '90s cult-favourite 'Clueless'. Using the same story with a different setting only goes on to show the impact Emma has on our society, and how it will never get old because of the universal themes it explores.
Interestingly, and ironically, Austen wrote a letter to one of her nieces stating "I am going to take a heroine whom no one but myself will much like", right before she began working on Emma. But it is her flaws that make Emma one of the most iconic and beloved of all of Austen's characters. She is privileged, intelligent, independent, active, and self-directed, in a time when such qualities were deemed improper for women. Of course, she is often wrong with calculations, and learns a harsh lesson for meddling with people's lives. But she, in many ways, embodies the modern woman.
While Austen's Emma is certainly not based on a true story, it heavily influenced by the times she was living in. She is known for her domestic realism, which can be seen at its finest in the novel. Through her work, she provides a satire rooted in the reality of courtship rituals and marriage during the time.
Austen's work provides a satirical portrait of village life, which she does through Highbury, a fictional village based on the real town of Leatherhead in Surrey. Apparently, other settings in the novel too were based on real places. Emma's house in Hartfield is based on Thorncroft Manor, Donwell Abbey is based on Norbury Park, while the Crown Inn is based on Swann Inn.
Read More: Movies Like Clueless