Created by Dillon Mapletoft and Oliver Taylor, Channel 4's 'Everyone Else Burns' is a British sitcom driven by impressive performances by Simon Bird, Kate O'Flynn, Amy James-Kelly, Harry Connor, and Morgana Robinson as the loveable Manchester-based Lewis family. The coming-of-age series follows the Lewis family as they navigate everyday life while maintaining their religious beliefs under an ultra-religious order.
Given the show's light-hearted humor, emotional narrative, and nuanced depiction of religious ideas, viewers must be curious to learn about the inspiration behind it. If you are wondering whether the story of 'Everyone Else Burns' is based on real events or true incidents, here is everything you need to know!
The Inspiration Behind Everyone Else Burns
No, 'Everyone Else Burns' is not based on a true story. The series tells a fictional story and is a creation of Dillon Mapletoft and Oliver Taylor, who also serve as the lead writers. Its basic premise revolves around the Lewis family, who are a part of the puritanical Christian sect and prepare to face the impending doomsday while balancing elements of modern everyday life. As a result, the series combines elements of a family sitcom with religious ideas and theme of faith in a modern context, with the doomsday cult serving as the cultural backdrop.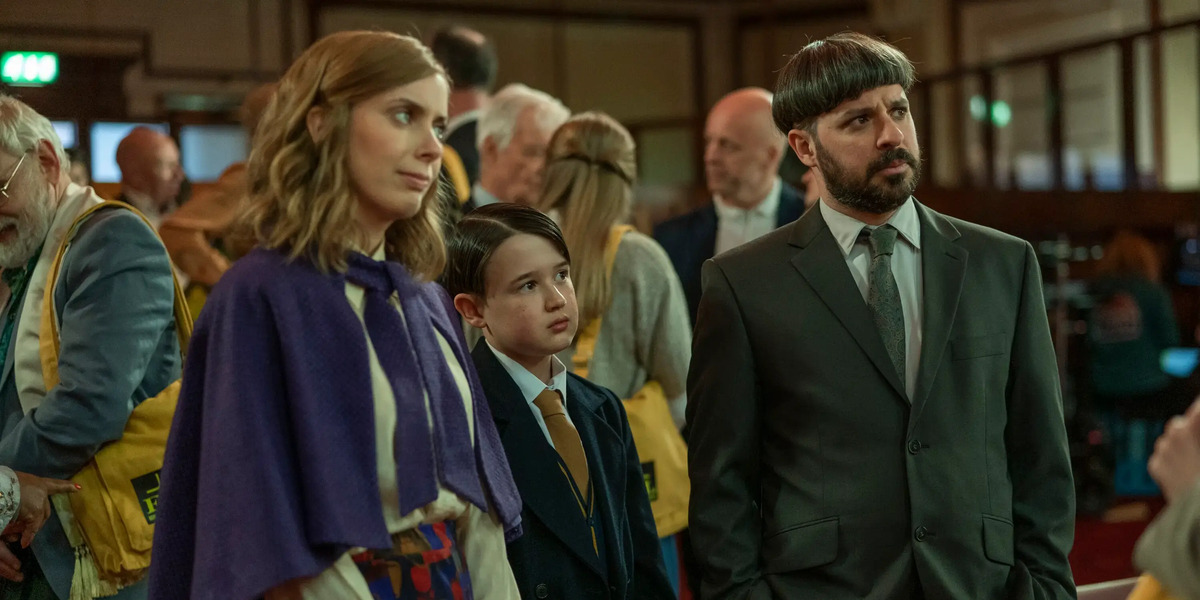 While the series is mostly fictional, the basic premise was loosely inspired by co-creator Dillon Mapletoft's life, particularly his upbringing as a fundamentalist Christian. In an interview with the British Comedy Guide, Mapletoft spoke about the show's conceptualization. "We went on a writing retreat and started talking about different aspects of my upbringing. We borrowed a few moments that were meaningful to me and created this fictional group we could tailor for the most comic potential. It felt like a great prism to make the show as funny as possible," Mapletoft said.
Furthermore, Mapletoft stated that while the concept was derived from his experiences growing up as a fundamentalist Christian and his fear of apocalypse, the series is not autobiographical, and the characters are entirely fictional. "But it's still very much fictional. Simon Bird is not my dad. Let's be very clear on that. It was a starting point, but we built this world together. Having this fictional Christian setting gave us (the) freedom to push the comedy a bit more, to lean into the relatable moments but through the different lens I mentioned," Mapletoft added.
From Mapletoft's words, it is evident that the series is almost entirely fictional in its narrative and characters. It primarily explores the themes of religion and faith in a modern family context. In the same interview, co-creator Oliver Taylor spoke about the show's themes. Taylor highlighted how the Lewis family members all react differently to the religious ideas, and Mapletoft pointed out that they designed the characters so that some of them push back against these ideas. As a result, the duo also heavily researched religious communities and watched documentaries on the subject to carve an authentic portrayal of a religious family.
Ultimately, 'Everyone Else Burns' is not directly based on a true story. Co-creator Dillon Mapletoft's experiences inspire some of the material, while some are based on heavy research from the writers. However, the characters and the narrative are entirely fictional and serve as a vehicle to explore modern themes such as balancing faith with family identity. The series draws most of its humor from the characters' diverse and divisive reactions to religious ideas. It results in a fun, relatable narrative with a strong family dynamic that forms the emotional core. Moreover, the cast's believable performances and the writing exudes a sense of witty realism.
Read More: Best British and BBC Shows on Netflix