In the mesmerizing realm of Syfy's 'Face Off,' gifted artists battle it out for US$100,000, a 2014 Fiat 500, and a VIP trip to one of Kryolan's makeup locations while sculpting extraordinary prosthetic masterpieces from sci-fi, fantasy, and horror realms. Hosted by a member of the illustrious Westmore family of makeup artists, McKenzie Westmore, the contestants on the show set the stage ablaze with their sheer creativity. Premiered on July 22, 2014, the seventh season of the show featured 16 special effects make-up artists and was every bit as entertaining and creative as it could be.
Now that it's been nearly a decade since they moved away from the spotlight, amidst the ordinary moments of life, lies an intriguing tale waiting to be unveiled. Thus, we embarked on a fascinating journey into the lives of these 16 imaginative geniuses to explore the wonders that exist outside the realms of the show and learn what they're up to now.
Dina Cimarusti is Now Making Strides in the Baking World
Dina Cimarusti, an acclaimed cake decorator, discovered her artistic talent at a young age. Dina's journey took an exciting turn when she became a student of Anthony Kosar, the champion of 'Face Off' season 4, who encouraged her to audition for season 7 of the show. Dina showcased her passion for blending human and animal characteristics to create unique and captivating creatures on the show. With a keen eye for detail and experience, she won the seventh installment.
After the show, she fulfilled her dream by opening a bake shop called Sugar Moon in Logan Square, Chicago. She launched her own website, Dina Cimarusti Art, where she sells her remarkable artwork. Beyond her endeavors in the baking world, Dina also worked as a special effects technician and special effects makeup assistant on 'Chicago Med,' 'Seau de Sang.' On a personal note, Dina has found enduring love since 2012, and their relationship continues to flourish, adding a touch of happiness to her already fulfilling life journey.
Cig Neutron is Now the Co-Founder of Bizarro Au Go-Go
Cig Neutron AKA Brandon Dishman's talents shone brightly in 2013 when he won the Son of Monsterpalooza costume contest. After becoming the first runners up of 'Face Off,' he showcased his skills as a special effects makeup artist in various projects, including 'Devil's Workshop,' 'Head on Fire,' 'The Boulet Brothers' Dragula,' 'The Sandman,' and 'Mystic Cosmic Patrol.' Apart from his professional achievements, he and his now-wife, Rannie Rodil, launched a website called RanCig and also co-founded Bizarro Au Go-Go, a production company that has become a hub for pansexual psychotronic content, featuring everything from aliens and monsters to gore and alluring characters.
Cig also started a new venture named Trotron FX with a fellow cast member of the show George Troester III. His journey has been one of triumph over personal struggles. He battled and overcame alcoholism, emerging stronger and more determined than ever. Season 11 marked his triumphant return, which he went on to win, solidifying his status as a fan favorite. Cig also hosts a thought-provoking podcast that has a wide range of topics, from the absurd to the socially important. He has also delved into the world of documentary storytelling, recounting his paranormal experiences in New Orleans through a docuseries titled 'Black Tea' and 'Bourbon.'
Drew Talbot is Now an Instructor at Hollywood Makeup Academy
Drew Talbot, a graduate and former instructor at Tom Savini's Special Makeup Effects School, always transcended ordinary creations into realism and film-ready artistry, leading him to be the second runner-up on 'Face Off.' Following that, Drew found his calling as an instructor at Hollywood Makeup Academy, where he imparts his extensive knowledge to eager learners across various cities in the United States. His dedication to teaching goes hand in hand with his entrepreneurial spirit, as he sells his unique artwork on Etsy and his own website, Drew A. Talbot.
Drew's talent also graced the screens of Hollywood, leaving an indelible mark in the film industry as a special makeup effects artist on projects like 'Malibu Horror Story,' 'VHYes,' 'Kindred Spirit,' 'Velvet Buzzsaw' and 'The 5th Dimension,' 'No Good Heroes.' In his personal life, Drew discovered love in the form of Camíl, his boyfriend, adding a touch of romance to his already colorful existence. With every brushstroke and workshop, Drew continues to inspire and create, leaving a legacy in the world of special makeup effects and beyond.
Barry Mahoney is Now a Professional Makeup Artist

Barry Mahoney, fueled by a passion for special effects that runs as deep as his love for his son Jake, set on a remarkable journey that began with a decision to step off the sidelines and onto the competitive stage of the show. Armed with his mastery of Z Brush and 3D printing, Barry's talent and dedication shone bright, leaving a lasting impact even in his brief stint on the show. Following the conclusion of the show, Barry's life took a fulfilling turn as his creative expertise found a canvas in many projects like 'Insomniac' in 2017, where his special effects work earned accolades and an impressive rating of 8.9. Outside the limelight, immersed in his work, he has continued to refine his skills, pushing the boundaries of what was possible in the realm of special effects.
Damien Zimmerman is Now the Paint Department Head at Immortal Masks
Damien Zimmerman's journey from Kansas into the world of special effects artistry is nothing short of extraordinary. Completely self-taught, he honed his craft by devouring instructional videos and connecting with fellow enthusiasts online. In 2013, he clinched the prestigious 1st place in a costume contest featured on Syfy's Heroes of Cosplay, a testament to his exceptional abilities. After making a mark on the show's seventh season, Damien returned triumphantly in the thirteenth season. Post-show, Damien's talent flourished, leaving an indelible mark on the film industry as a special makeup artist including in the critically acclaimed 'Athena' and 'Hellraiser,' and many more.
Damien seamlessly balances his freelance endeavors with his role as the Head of the Paint Department at Immortal Masks, a prestigious company owned by 'Face Off' season 12 winner Andrew Freeman. In this pivotal position, Damien takes the lead in painting hyper-realistic silicone masks that cater to the Halloween, Haunted Attraction, and Film industries. Amidst his flourishing career, Damien found more than just success – he found love. In a twist as enchanting as any storyline he's ever created, Damien's heart was captured by Emily Kirkpatrick. With his outgoing nature and boundless passion, Damien Zimmerman continues to make waves in the film and Halloween culture scene.
David "Doc" O'Connell is Now a Professional Prosthetic Artist
David O'Connell, a highly skilled prosthetic application and painting artist, renowned for his expertise in special effects makeup, was diagnosed with a form of Muscular Dystrophy but still, he pursued his passion for makeup artistry. On the show, he demonstrated his exceptional skills in prosthetic application and painting, earning him recognition and admiration from the audience. Outside of his television appearances, he is known for his unique and creative projects. One of his notable creations is The Shrunken Monkey, a concept that combines his artistic talents and Halloween enthusiasm.
With a keen eye for lost artifacts, David embarked on a mission to bring these treasures to light from the shrine of the Shrunken Monkey. In addition to his creative endeavors, he is working as a Lab Technician, Mold Maker, and Stagehand at Blue Man Orlando, showcasing his versatility and expertise in various aspects of the entertainment industry. David's work in the film industry includes contributions to projects such as 'Dating Material,' 'The Case,' and 'Minty Thins', where he served as a Makeup Department professional and Art Director.
Gabby Leithsceal is Now a Costume and Prop Maker
Gabby Leithsceal, a self-taught sculptor experimenting with elaborate Halloween creations, became unrecognizable in her art. Encouraged by her supportive family and friends, she auditioned for Face Off, embracing her love for special effects. Post-show, she delved into the realms of Costumes, Props, and SFX Makeup, joining the prestigious IATSE 209. After surviving a pulmonary embolism, Gabby's journey didn't stop there.
During the pandemic, she founded Hidden Realm Studios Ltd., a haven for handcrafted fantasy and horror-inspired fashion accessories, home decorations, and costume elements. Her artistic talents have also graced the big screen. She contributed her expertise to notable projects like 'Extremely Wicked, Shockingly Evil and Vile,' 'Haunt,' and the short film 'Trash Polka.' Also, she contributed to the chilling atmosphere of 'The Strangers: Prey at Night.'
George Troester III is Now an IATSE 705 Specialty Manufacturer
George Troester III, a special effects virtuoso whose passion for the craft was sparked at the young age of 15, when he was enthralled by the cinematic marvel of Evil Dead. Fuelled by this early fascination, George pursued his dreams at the Art Institute of Pittsburgh, where he honed his skills in prosthetics, puppets, and fabrication. In the realm of special effects, he draws inspiration from the legendary SFX artist Rob Bottin. Post his remarkable stint on 'Face Off,' George's artistic ingenuity extends to some of the biggest blockbusters in Hollywood, leaving his mark as a special effects technician in iconic films like 'Avengers: Endgame,' 'Underwater,' and the acclaimed series, 'The Boys,' among many others.
Trotron FX, a combined venture of George and a fellow contestant in the show Cig Neutron, also adds to his list of professional achievements. George is also an IATSE 705 Specialty Manufacturer now, showcasing his exceptional talents on even grander scales. In his personal life, he found enduring love in Linday Gavin, adding a touch of romance to his already illustrious journey. With his unparalleled creativity and dedication, George Troester III continues to shape the visual landscapes of our favorite films and series, leaving audiences awe-inspired with his imaginative prowess.
Gwen Crew Now Owns Cloud Jumper Fx
Gwen Crew, a horror movie fanatic since childhood, found her calling in drawing creatures. Encouraged by her mother, she honed her talent and attended art school, where she developed not only the creatures' presence but also intricate backstories and personalities. The same she brought to the sets of 'Face Off'. In this pivotal competition, she aimed to secure victory, relieving her from college loans and enabling her to fully pursue her artistic career.
Post-show, Gwen's journey became a beacon of inspiration, showcasing the power of passion and determination in the realm of creativity. Her creations came to life in notable projects like 'Beast of the Water' and the TV series 'A League of Their Own' and 'Hiraeth.' Gwen's expertise extended to 'The World After,' collaborating with industry talents. She also ventured into the digital realm, carving a space for herself in the vast expanse of the internet by launching Cloud Jumper Fx, a haven for horror enthusiasts.
Jason Hodges is Now a Monster Maker
Before his transformative journey on 'Face Off,' Jason Hodge meticulously balanced his 50-hour workweek as a kitchen manager with his profound passion for special effects. As the mastermind behind Undead Forest Studios, he fueled his artistic endeavors. However, life took a remarkable turn after his appearance on the show, which provided him with the platform he needed to showcase his exceptional skills.
Post-show, Jason became a respected member of I.A.T.S.E. 798, marking a significant milestone in his career. His talents graced renowned productions such as 'Good Time,' 'The Little Mermaid,' and the iconic TV series 'The Walking Dead' where his expertise in the makeup department, courtesy of KNB EFX Group, shone brightly from 2018 to 2022. His artistry stands proudly in the spotlight, proving that dedication and skill can transform dreams into a vibrant, colorful reality.
Keaghlan Ashley is the Owner of a Fantasy Realm Today
Before being a special effects makeup artist, Keaghlan Ashley found her artistic inspiration in community theatre, but later she enrolled in the esteemed Tom Savini Special Makeup Effects Program, delving into the intricacies of sculpture and prosthetic application. Post her spellbinding journey on 'Face Off,' Keaghlan's artistry took flight as her talents graced productions like 'Death and Ramen,' 'As We Know It,' 'Queer for Fear: The History of Queer Horror' and the short film 'ZTV: Sympathy for the Devil,' solidifying her reputation as a makeup artist par excellence.
Beyond her professional achievements, Keaghlan's passion for her craft materialized into her own venture, Red Till Dead Design, where she transformed fantasies into reality. Her creativity knew no bounds as she delved into the world of merchandising, captivating her audience with unique and captivating products. In the realm of love, Keaghlan found her soulmate in Allison, a talented graphic designer, and the two became 'Engayged,' embarking on a journey of love and artistic synergy. Keaghlan's life post-show was not just a test of her skill and artistry but also a celebration of love, creativity, and boundless imagination.
Rachael Wagner is Now a Member of the Academy of Magic Arts, The Magic Castle
Rachael Wagner's journey into the captivating world of art commenced during her high school years, pursuing Art Education in college. In 2012, Rachael took a bold leap and enrolled at the prestigious Makeup Designory, determined to transform her newfound passion into a career as a special effects makeup artist. Her talent and dedication didn't go unnoticed, leading her to audition for the show in its fifth season and for the seventh season again. Though she showed immense promise in her art, she couldn't go far in the show. Post-show, Rachael's talent shone brightly in various IMATS Battle of the Brushes SFX competitions, where she emerged as a finalist multiple times.
Her expertise in the makeup department graced notable projects, including 'Moon Garden,' 'STRIP,' 'The Burning Dead,' and 'Dirt.' She served as the Project Supervisor of Global Effects Inc., collaborating with esteemed names such as ANOVOS, working on iconic franchises like 'Star Wars,' 'Agents of Shield,' and Spielberg's 'Bridge of Spies.' Her creative journey also led her to the realm of magic, where she became a member of the prestigious Academy of Magic Arts, The Magic Castle. In a heartwarming turn of events, 2022 marked a significant milestone in Rachael's personal life. She joyously announced her engagement to her longtime love. Rachael's story continues to unfold with love, passion, and the promise of a beautiful future together.
Sasha Glasser is Now a Renowned Music Video Special Effect Artist
Sasha, honing her skills under the guidance of her mother, a children's book illustrator, began crafting monster heads, sparking a lifelong love for the craft. This passion led her to the prestigious Cinema Makeup School in Los Angeles, where she refined her skills under the mentorship of industry veteran Bill Corso. Her remarkable journey continued after her appearance on the show, as she made significant contributions to the entertainment industry, such as 'X-Men: Days of Future Past,' leaving an indelible mark with her special effects expertise.
She further showcased her creativity in music videos like 'Doja Cat: Paint the Town Red,' 'Harry Styles: Music for a Sushi Restaurant,' 'The Weeknd: Gasoline,' 'Until We Meet Again,' and 'Doja Cat: Get Into It (Yuh)' demonstrating her versatility and expertise. Her artistic touch is evident in various music videos, collaborating with renowned artists like Machine Gun Kelly, Halsey, and Jonny West, enriching their visuals with her makeup artistry.
Scott Mitchell is Now a Private Artisan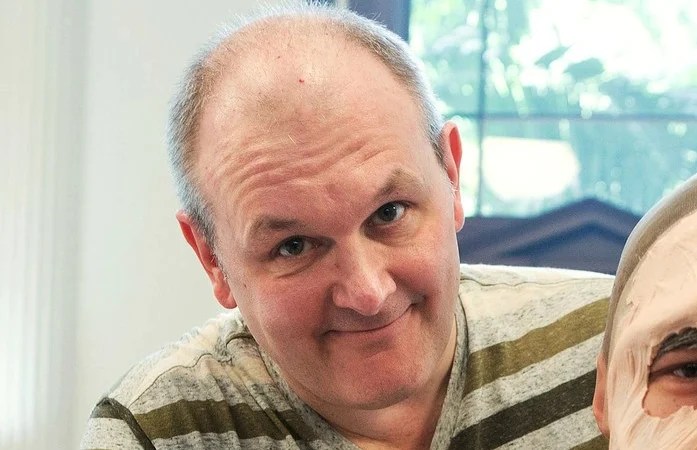 Scott Mitchell's fascination with the macabre began in his early years, using horror movies and creature models as a means to confront his childhood fears. At the age of 10, he discovered his true calling in special effects makeup through the pages of Dick Smith's Monster Makeup Handbook. However, in a stroke of luck, he became a protege of season 4 'Face Off' champion J Anthony Kosar, reigniting his love for the craft and leading him to several collaborative projects.
Despite being older than many competitors, Scott embraced his wisdom and experience, determined to prove that age was no barrier to creativity and skill. Married and a proud father of two, Scott's journey on 'Face Off' might have been brief, but his spirit and determination left an indelible mark. Post-show, Scott chose to keep his life private, which reflects his dedication to his craft and his desire to focus on his personal and professional growth. As he continues his artistic endeavors in private, away from prying eyes, we send him our best wishes for a future filled with creativity, success, and fulfillment.
Stella Sensel is Now a high-profile Special Effect Artist
Stella Sensel embarked on her artistic journey after graduating from NYU. Before her makeup journey, Stella spent 11 years in the Halloween industry, where her fascination for the grisly and gruesome grew. After the show, Stella's passion for makeup led her to various high-profile projects, including key roles in productions like 'You Hurt My Feelings,' 'Eileen,' 'The Time Traveler's Wife' TV series, 'West Side Story,' 'tick, tick… BOOM!' and 'The Other Two' TV series, among others. Her skills as a special makeup effects artist were showcased in 'This Is the Night,' and 'A Wounded Fawn,' adding depth and authenticity to the characters on screen.
To share her passion and artistry with the world, Stella created her own platform, Stella's Makeup, a website where she passionately discusses her work, inspirations, and projects, offering a glimpse into her artistic universe. Stella is a proud member of Local 798 FX Makeup and Visual Artist, showcasing her expertise and dedication to her craft. In her personal life, Stella found love in a unique setting, meeting her wife at an Amateur Female Jell-O Wrestling match. They now share their lives in their recently purchased home, accompanied by their faithful dog, creating a haven of love and creativity.
Vince Niebla is Now a Visual Effects Artist
Vince Niebla, a self-taught artist, had honed his craft in high school, experimenting with sculpting, painting, and makeup skills using resources like books and magazines, along with his mother's makeup. This passion for creating believable monsters eventually led him to receive an Emmy Award in 1993 for his exceptional work on Michael Westmore's team for 'Star Trek: Deep Space Nine.'
After the show, Vince's talent found its way into various noteworthy projects like 'Renegades,' 'Dreamcatcher,' 'Star Trek: Nemesis.' His expertise in visual effects is also showcased in 'Stranger Things,' 'Resident Evil,' 'The Smurfs 2,' 'Man of Steel,' 'Oz the Great and Powerful,' and 'Life of Pi.' Also, Vince continued to share his incredible creations through his website, showcasing his exceptional skills to the world.
Read More: Face-Off Season 5: Where Are the Makeup Artists Now?