Past the occult of counterculturalism, two former hippies, Steve and Elyse Donnelly Keaton, raise their four children and face the humorous challenges life throws at them. The NBC show premiered in 1982 and ran for seven seasons till 1989. Battling out the political and conservative ideologies of the time, 'Family Ties' effortlessly deals with the quintessential struggles of life in the '80s. Created by Gary David Goldberg, the show clearly depicts the eclipsing cultural liberalism of the '60s and '70s by pivoting around the family of former hippies Steve and Elyse.
The couple's four children include a Type-A Republic son named Alex; Mallory, a materialistic daughter whose life revolves around clothes and boys, Jennifer, whose aggressive yet sweet nature rivals her tomboy personality and finally, Andy, the youngest, who receives the affection of his family. With its political tones and comical storylines, the award-winning sitcom made its place in the hearts of countless. Naturally, many wonder where the cast of the show is these days. If you're also curious, look no further because we've got all the answers right here!
Where is Michael J. Fox Now?
Setting the stage and becoming the roadmap for Michael J. Fox to catapult into success, 'Family Ties' became the first of many successful projects for the actor. While shooting for the NBC sitcom, Michael J. Fox also starred in the 'Back to the Future' movie franchise. After the show concluded, he also starred on ABC's 'Spin City.' Over the years, Michael J. Fox has starred in memorable works like, 'Stuart Little 2,' 'Annie,' 'Teen Wolf,' and many more. In 1998, the actor disclosed his diagnosis of Parkinson's. Subsequently, he advocated for finding a cure and even established the Michael J. Fox Foundation in 2000 to help fund the research.
Husband to Tracy Pollan, father to four children, and the recipient of numerous accolades, Michael J. Fox's remarkable career as an actor came to a close in 2020 when it became difficult for him to rely on speech. He released his memoir, 'No Time Like the Future: An Optimist Considers Morality' in 2020 and delved into the difficulties of living with a disease. Recently, he has been the subject of Apple TV+'s documentary film, 'Still: A Michael J. Fox Movie.'
Where is Michael Gross Now?
Apart from 'Family Ties,' Michael Gross's longest-running and most popular role is in the 'Tremors' franchise. Additionally, his legion of work includes roles in, 'Parks and Recreation,' 'Law & Order,' 'How I Met Your Mother,' and 'Spin City.' Married to casting director Elza Bergeron and stepfather to her children, Michael Gross is still close to his co-star Meredith Baxter, and the duo shares the same birthday. In addition to his career in entertainment, the actor shares a passion for trains and is a member of the National Model Railroad Association and has once owned a full-sized train as well!
Where is Meredith Baxter Now?
The matriarch of the family, Meredith Baxter's role as Elyse had gained wide acclaim. Shortly after, she went on to star in the Emmy-winning miniseries, 'A Woman Scorned: The Betty Broderick Story.' Other memorable performances from her career post 'Family Ties' include 'Glee,' 'Family Guy,' 'Finding Carter,' and 'The Young and the Restless.'
On the personal front, Meredith was diagnosed with breast cancer in 1999 but managed to make a full recovery. In 2009, Meredith came out as a lesbian in an interview on 'Today Show.' Meredith married her partner Nancy Locke in 2013 and has been with her till the present. Meredith has also authored, 'Untitled: A Memoir of Family, Fame and Floundering,' where she has even addressed alleged abuse at the hands of her ex-husband David Birney.
Where is Justine Bateman Now?
Despite a higher IQ than her overachiever brother, Mallory had stuck to the norm. Outside her character, however, Justine has continued to use her voice and space beyond acting. In the long list of filmography, some of Justine's most outstanding works beyond 'Family Ties' include, 'Desperate Housewives,' 'Saturday Night Live,' 'Modern Family,' and 'Arrested Development.' Justine has also worked as a director, producer and writer for a number of productions. She is also known for advocating for natural aging and rejecting cosmetic surgery, a topic that remains untouched by countless people in the industry.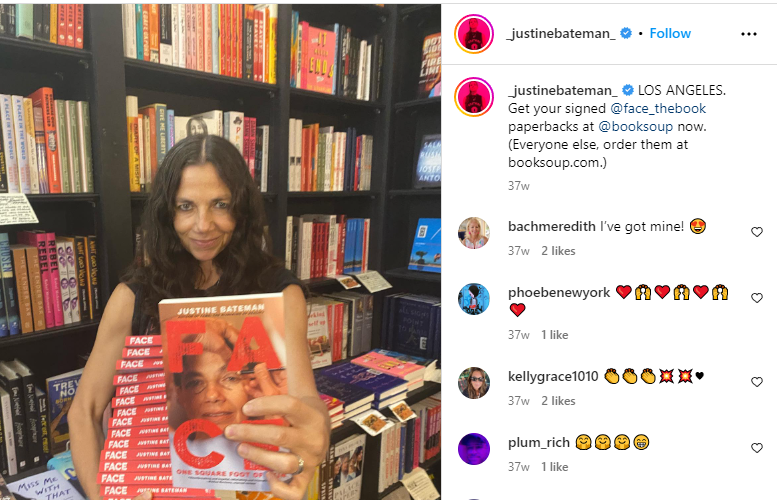 The mother of two children, Justine has authored, 'Fame: The Hijacking of Reality' and 'Face: One Square Foot of Skin,' where she's touched on sensitive topics like fame and Botox. Apart from her work in television and movies, Justine also ran a design company, has a pilot and scuba diving license and has even testified before the United States Senate Commerce Committee in support of net neutrality. She also earned a degree from UCLA in Computer Science and Digital Media management in 2016.
Where is Tina Yothers Now?
Like her co-stars who played her siblings on the show, much of Tina's youth was spent on the sets of 'Family Ties.' Beyond the show, Tina starred in a number of television movies and specials. In the '90s, Tina formed a band with her brother Cory Yothers called Jaded. The duo recorded and performed a number of songs.
During this time, she also authored a book titled, 'Tina Yother's Guide for Girls.' Post the millennium, Tina starred on reality shows like, 'Celebrity Fit Club, 'Who Wants to Be a Millionaire,' 'Celebrity Wife Swap,' and 'What Not to Wear.' She married Robert Kaiser in 2002, and the duo has two children. After 2013, Tina decided to live a life away from television and media. Now, she likes to keep her affairs private and, therefore, does not even use social media.
Where is Brian Bonsall Now?
The apple of the eye, Brian played the youngest member of the Keaton household. After 'Family Ties,' Brian continued to act as a child actor and won acclaim for works like, 'Do You Know the Muffin Man?' 'Star Trek: The Next Generation', 'Father Hood' starring Patrick Swayze and 'Father and Scout' starring Bob Saget.
After graduating in 2000, Brian took a sabbatical and focused on music. However, he faced several run-ins with the law from 2007 to 2010. Brian has been arrested thrice on different counts, including third-degree assault on his girlfriend, failure to appear and using marijuana. However, Brian has since turned his life around. He's now a member of the local band Sunset Silhouette. Brian is also married to Courtney Truck, and the duo's son Oliver was born in 2019.
Read More: Best Sitcoms Ever Made