'Grisaia no Kajitsu' is more like a hidden gem that initially got lost somewhere between the harsh criticism that it faced after being compared with its original visual novel. But as the anime came out with more and more content of its own, all of the harsh critics who dismissed it as a mediocre, cliched harem, found their way back to it. That's probably the reason why 'Grisaia no Kajitsu' became the well-known anime that it is today. Now like most Harem shows, even this one just involves mindless fun. But even then, it somehow manages to touch upon other thought-provoking themes that make for a memorable experience.
Overall, 'Grisaia no Kajitsu' is just something that starts off as a huge load of absurdities but turns into a very satisfying experience that has some amazing over-the-top action, some memorable emotional sub-plots and also, the most incredible characters that feel genuine. Many differences can be jotted down if one tries to compare the first season of the show with the second one. It is this difference that has later allowed it to outshine its very own standards. As an anime viewer, I am pretty confident that the show will improve further and will also be able to fix all the pacing issues that this one faced. Speaking of the upcoming season, we might have some good news regarding this for all those who just can't get enough of it.
Grisaia no Kajitsu Season 3 Release Date: When will it premiere?
'Grisaia no Kajitsu' Season 1 released on October 5, 2014 and came to an end on December 28, 2014. This was then followed by a "special" episode titled 'Grisaia no Meikyuu: Caprice no Mayu 0' which was released on April 12, 2015. Soon after this, a season 2 of the anime was aired from April 19, 2015 to June 21, 2015. As of now, 'Grisaia no Kajitsu' Season 3 release date of 2021 or 2022 seems like a distant dream. But the anime itself is far from over. Just recently, a new movie sequel titled 'Grisaia: Phantom Trigger' was released on March 15, 2019.
According to MAL, a movie sequel to 'Grisaia: Phantom Trigger' has already been announced by Front Wing and this movie will be an adaptation of the third volume of the visual novel. Front Wing has also started a crowdfunding campaign in order to produce content of much better quality than the previous versions. So a lot more of the anime is definitely on the way and from what it looks like, the Grisaia series is just going to get better.
Grisaia no Kajitsu English Dub:
You can watch 'Grisaia no Kajitsu' on Crunchyroll, Hulu and also on HIDIVE with its original Japanese audio and English subtitles.
Grisaia no Kajitsu Plot:
'Grisaia no Kajitsu' revolves around Yuuji Kazami who is a transfer student at the Mihama Academy. He really wants to live a school life that is ordinary and lacks any sort of complications. But sadly, being in the Mihama Academy, this dream of his is far from reality. The school only consists of a principal and five other students, all of who are girls. In a school environment, socializing is obviously not a choice but a necessity and thus, Yuuji is forced to interact with his peers. Soon, his interactions with them turn into deep conversations and he gets to know their personalities in a better way.
As he gets closer to the few girls that are there in the Academy, he realizes that each of them has gone through something very dark and traumatic in the past. While on the outside they appear to be all normal, inside, they are suffering because of the secrets that they have kept hidden from the world all this while. Yuuji realizes that the Mihama Academy is nothing but a home for these girls and now it's on him to help them deal with their problems. But how exactly is he going to save the girls when his own problems are starting to make him question his own safety?
Grisaia no Kajitsu Characters:
Yuuji Kazami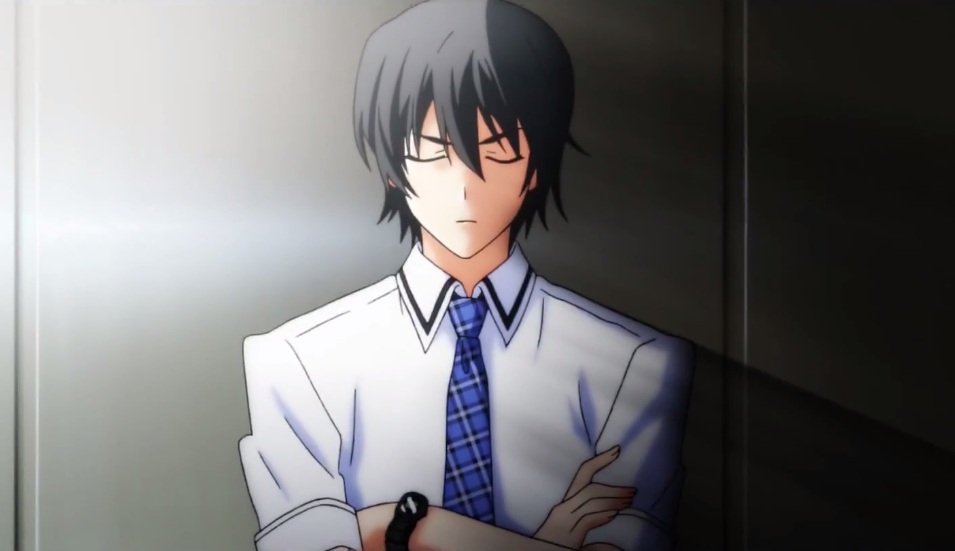 Yuuji is the main protagonist of the show who is a second-year student at the Mihama Academy. He is tired of his aimless existence before he joins the Academy and only wishes to live a normal life like most other kids his age. He is calm, philosophical and also a minimalist who has a very realistic outlook towards life. He is usually the first one to back off when things go wrong and that's the reason why he considers himself to be a coward. He is extremely good-looking with his sharp features and straight black hair. He also has a very athletic physique and his body is full of scars from gunshots and stab marks all over. At first, he seems to be a very uninteresting guy who goes around preaching his philosophies but once people get to know him well, they realize that he is actually quite well-spoken and intelligent.
Makina Irisu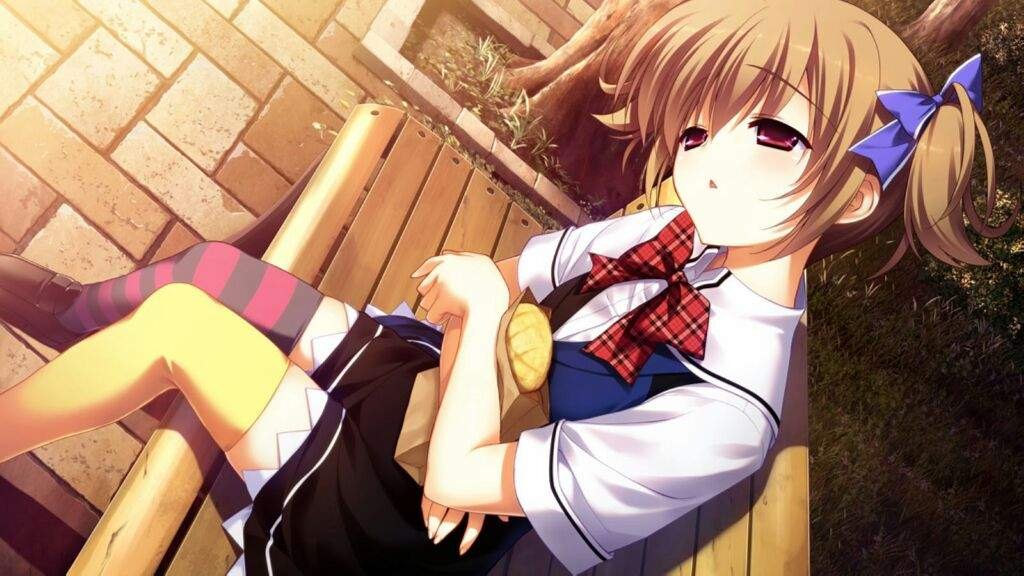 Makina Irisu is a first-year student at the Mihama Academy. She is a simple and innocent girl, but still, for some strange reason, it is very hard to understand her too well. Anyone who tries talking to her starts shedding cold sweats within 5 minutes and that's why most people call her an awful fool. Her English is really fluent because she lived in many foreign countries until she turned 6. Everyone is well aware of her rich family's underworld connections and some even consider her to be lucky for all the luxuries that she has. But no one really knows about all the trauma she has gone through during her childhood because of the family problems.
Sachi Komine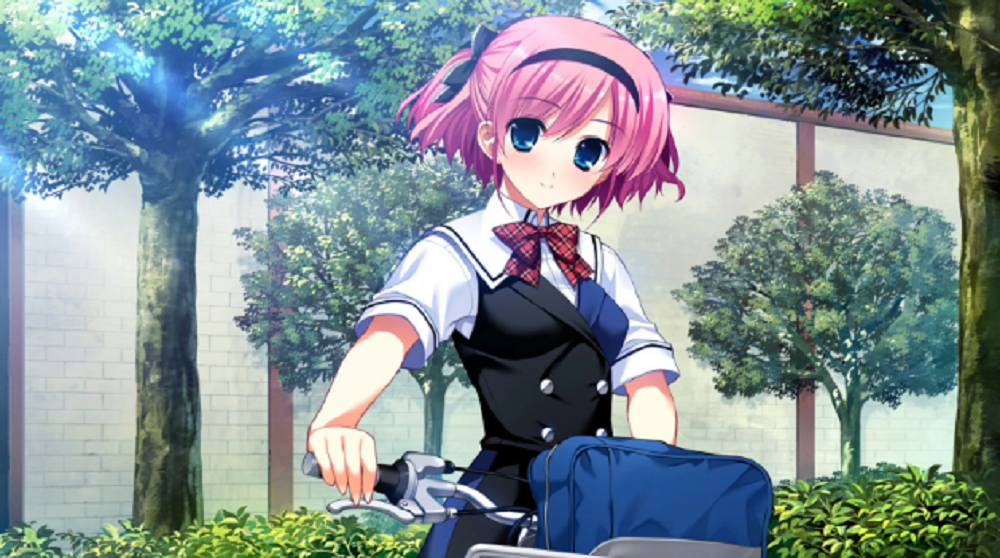 Sachi Komine is a first-year student at the academy who also works as a maid there. The only time she does not wear her maid costume is when she is attending school or swimming. Sachi has always been an attention seeker. When she was a little girl, she loved it when her parents gave her all of their attention. But later, when they got all caught up with their work, she felt left out and started spending her time outside the house playing with Yuuji. Somewhere around this time, she had a very heated argument with her parents and stormed out of the house. When her parents tried to stop her, they got hit by a truck which killed her father and left her mother in a vegetative state. She still blames herself for this incident.
Michiru Matsushima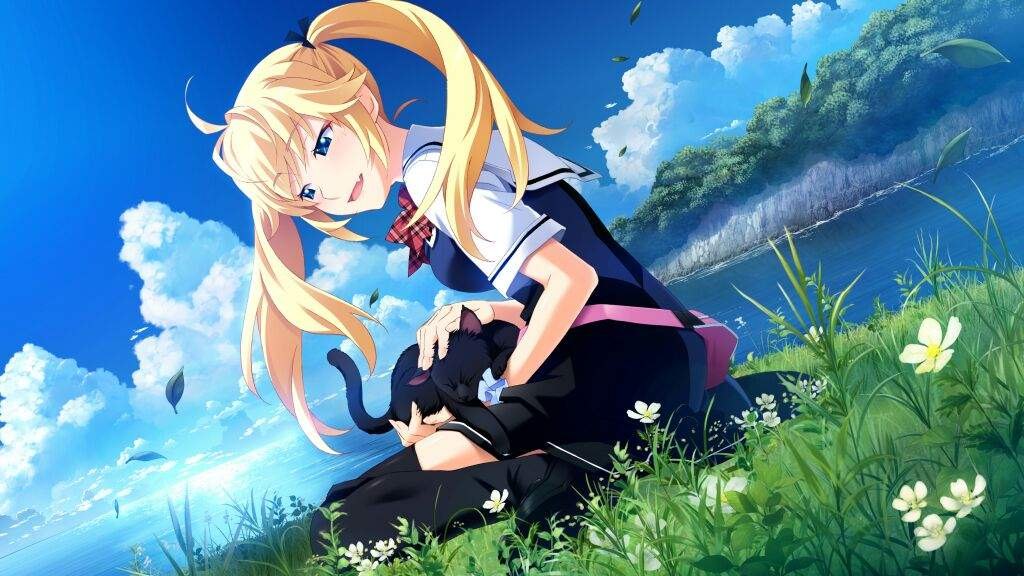 Michiru is another second-year student at the academy who tries to act like a typical tsundere character. She is horrible at studies but is still very well known for her mood-lifting cheerful personality. She believes that drinking 100% pure Vitamin C will improve intelligence and somehow improve her grades. Her childhood has been a series of many unfortunate events but she still tries to have a positive outlook towards life and finds her way around every problem she encounters.
Read More in Anime Preview: Rascal Does Not Dream of Bunny Girl Senpai Season 2 | Mayo Chiki Season 2