As a Netflix original production delving deep into an entire community and the process of shidduch (arranged marriages), 'Jewish Matchmaking' truly lives up to its title in every way imaginable. That's because it revolves around premier facilitator Aleeza Ben Shalom as she strives to help hopeful singles from across the United States and Israel find their near-perfect forever partners. Amongst them was actually Harmonie Krieger — so now, if you simply wish to learn more about her, her dating experiences, as well as her current standing, we have got every key detail for you.
Harmonie Krieger's Jewish Matchmaking Journey
Although Harmonie grew up as a single child in a non-traditional Jewish household in New York, she gradually became quite interested in her heritage owing to all its intriguing cultural aspects. She thus openly describes herself as a spiritual being with a "hippie vibe" rather than a religious one, and it's also the reason she hopes to find a man whose beliefs/values align with her own. Yet her being 44 did admittedly scare her despite the fact she knows in her heart she's much younger in spirit thanks to the blend of her wild, easy, fun, classy, sophisticated, and healthy lifestyle.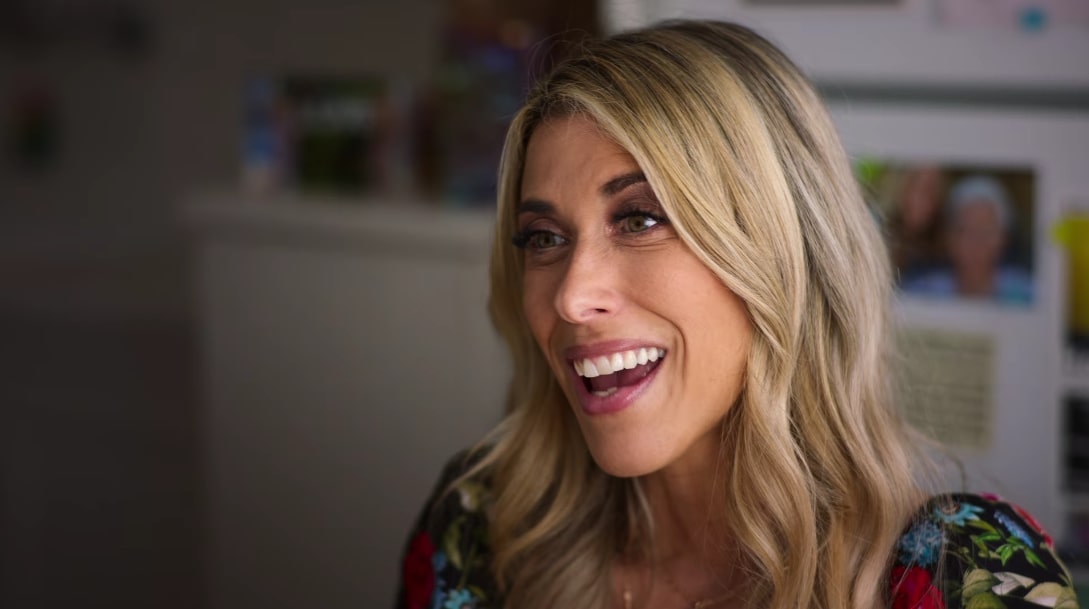 "I do feel immense amount of pressure," Harmonie stated at one point in the series. "You're supposed to, as a Jewish female, be married and have children and all of the things by a certain age…You know, I'm so grounded in who I am, but I worry that is it too late?" After all, she wants to not only settle down but also have a relatively big family one day — build a stable home, welcome babies, and then celebrate/practice Jewish traditions as a loving unit. Plus, she hated the thought of her grandmother possibly not being there by the time she gets married due to her old age or her father being unable to walk her down the aisle as a result of his Parkinsons.
Harmonie was hence glad when she was matched with university professor Aron Temkin, especially as he didn't hesitate in being vulnerable enough to discuss their actual future expectations. However, she chose to amicably end their bond following two dates since she just didn't feel any kind of romantic spark, which was then the case with Delray's Vice Mayor Adam Frankel as well. That's when Aleeza brought Ben Bakondi into the picture, only for there to be an attraction as well as an air of ease between them — something neither of these Los Angeles residents had felt before.
Where is Harmonie Krieger Now?
"I like the features," Harmonie had said in a confessional following her first date with Ben. "…Six feet tall. Love that. Is it what I would've cultivated in my dreams? I don't know, but it was close enough to where I felt, wow, you're actually on the same page [in looks]… The spark is TBD, but [Ben] is the kind of guy that is going to be with you in life as your partner, going to support you… He's not the bad boy; he's the good guy." Even the self-admitted former workaholic shared similar sentiments in his one-on-one interview, yet the duo's individual social media profiles imply they weren't able to convert their good times into a full-fledged relationship.
As for Harmonie's current standing, it appears as if the family-oriented and endlessly vibrant "flexidox" Jew continues to reside in Los Angeles, California, to this day — a place she now deems home. It's the fact she's close to beaches, is surrounded by a support system in the form of friends, and manages to land a lot more professional opportunities in the entertainment industry that makes her love this city. This is because she is indeed the host of the 'Life With Harmonie Pod' podcast, a motivational speaker to help women discover their inner sparkle, as well as the founder of Pop Up Shop marketing and brand agency.