The seventh episode of Hulu's sitcom 'How I Met Your Father' season 2, titled 'A Terrible, Horrible, No Good, Very Bad Valentine's Day,' revolves around Sophie and her friends as they celebrate Valentine's Day together. Sophie, Valentina, Charlie, Jesse, and Sid recollect their past Valentine's Day experiences, which opens an intriguing window to their past lives. Sid is worried whether he will be able to spend the day with his wife Hannah, whose flight to New York City gets rerouted to Houston. The hilarious episode ends with an ambiguous detail concerning Sophie's "The One" and here's our take on the same! SPOILERS AHEAD.
How I Met Your Father Season 2 Episode 7 Recap
'A Terrible, Horrible, No Good, Very Bad Valentine's Day' begins with Jesse expressing his hatred towards Valentine's Day. Sophie and Valentina ask him how can he hate such a joyous day and share their love for the occasion. Ellen arrives at Sid's bar with an ice statue of her girlfriend Rachel, who went to Florida to take care of her aunt after the latter had broken her back. Ellen is sad that she won't get to celebrate the day with her girlfriend and Sophie offers to share her worst Valentine's Day experience to make the former feel better. Sophie starts to talk about an incident that happened when she was in school but Ellen tells her that it doesn't count.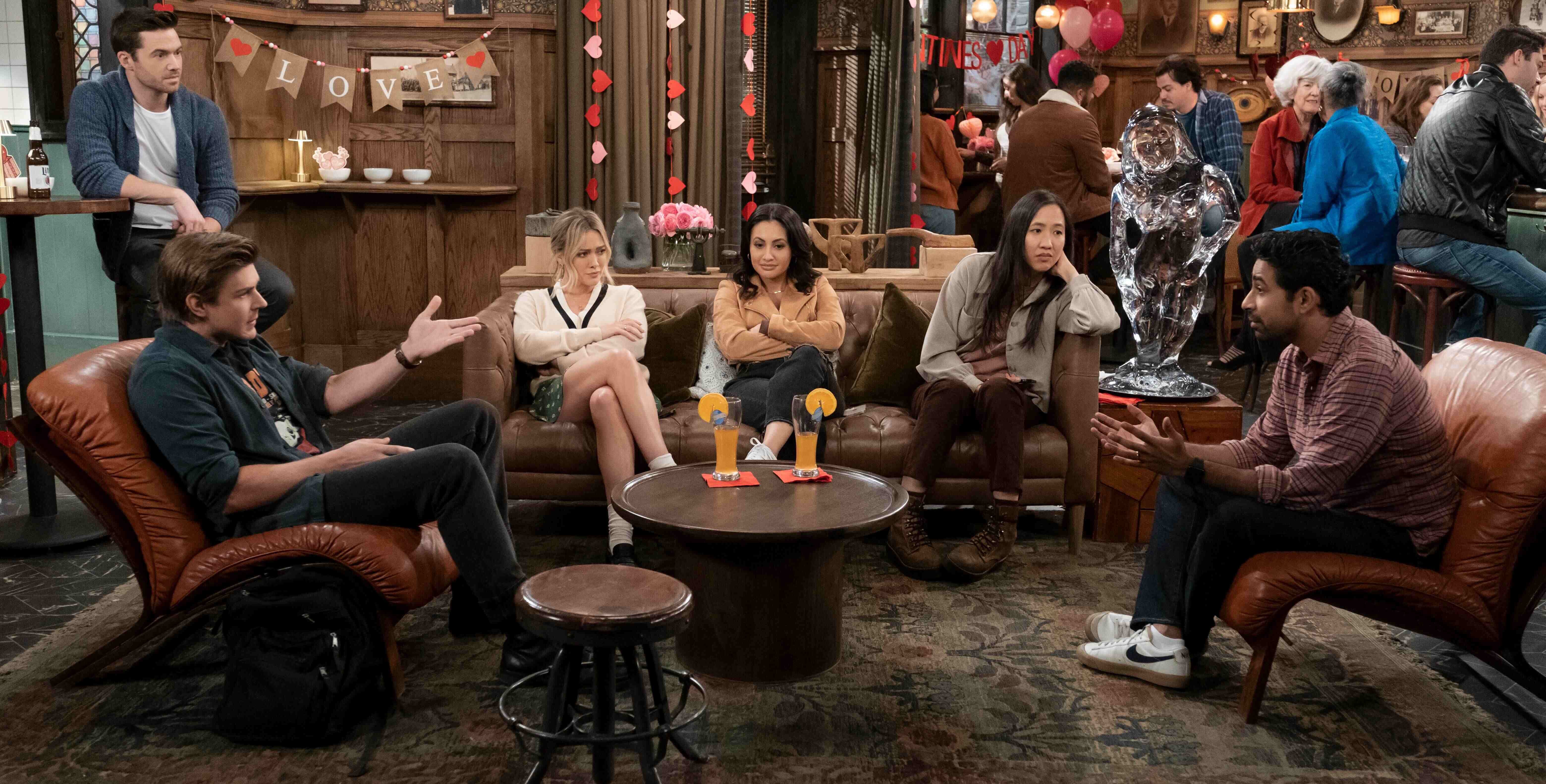 Valentina joins Sophie to talk about Brendan, who dated both of them while they were in college without them knowing about the other. When they both arrived at Brendan's room to give him their gifts, they realized that he was cheating on them by dating the other. They ended up expressing their anger towards Brendan together, only to gradually become best friends in both this life and the next one. Sid receives a text from Hannah about her rerouted flight. He tells his friends that he and his wife haven't spent a Valentine's Day apart after becoming a couple.
Sid sets out to share a tragic Valentine's day experience using unbearable expressions and lengthy descriptions. After a while, Hannah shows up at the bar and tells Sid that he found a way for them to be together on the day despite the rerouted flight. Rachel orders a pizza for Ellen and they both FaceTime to celebrate the day. Jesse asks Sophie to complete her childhood story. Sophie tells him that she posted posters with her photo throughout her town, hoping that her father will see the same and join her for a dance, only for an infamous pervert to show up. Charlie eventually finishes his story about how he covered himself in whipped cream, expecting his then-girlfriend who stood him up.
How I Met Your Father Season 2 Episode 7 Ending: Is Ian the Father?
The future Sophie, in 2050, narrates the events of the day she spent with her friends talking about their miserable Valentine's Day experiences to her son so that he will understand how the day remained special even after such experiences. She repeats to her son how love is different and more beautiful on Valentine's Day and asks him to ask his father about the same if he doubts it, while a montage of Drew, Charlie, Sid, Jesse, and Ian expressing their love for the day appears on the background. Sophie's son asks her whether he had "missed anything" because his father isn't part of the story she just told him.
Since Ian is the only one who features in the montage but not in Sophie's story about miserable Valentine's Day experiences, the viewers must be wondering whether he is her son's father. Since the premiere episode of the series, Ian is considered a significant contender to become Sophie's "The One." Even though their relationship lasts only a few days, he has succeeded in becoming a pleasant presence in her life. He even returns for Sophie after going to Australia, hoping to get together with her. Although she has to decide against the same, they part ways with good feelings, making it clear that their union in the future isn't an impossibility. In addition, she meets him on the day Sid and Hannah get engaged, the same day Sophie met her son's father.
Having said that, there isn't any certainty that Ian is the father of her son. Ian becomes the possible father of Sophie's son because he isn't a part of her story. Likewise, several other men she meets on the day of Sid and Hannah's engagement party aren't part of her story. Ian's part in the montage can be a misdirection conceived by the writers of the series to confuse the viewers concerning the identity of "the father." Sophie may have met someone, who must have eventually become the "father," she hasn't yet talked about on the day Sid and Hannah get engaged. If that's the case, it isn't a surprise that he isn't a part of Sophie's story and the montage.
Why Do Sophie and Jesse Fight?
When Jesse is asked to talk about his miserable Valentine's Day experiences, he shares that he had told "I love you" to a girl each in middle school, high school, and college without even forming any sort of mutual familiarity. Sid also adds that his best friend had told the same to a girl he met at a party without even knowing her name. Sophie gets infuriated as she realizes that the "I love you" he told her after their first date isn't special since he had told the same to countless people and things. Sophie fights with Jesse about unnecessarily "loving" people to express her anger.
Although Sophie and Jesse break up after their first date, she has always thought of him as someone special. Jesse has always encouraged her to follow her passion and helped her immensely for her to do the same. It doesn't take long for her to realize that he is a man with enough qualities to become "The One." But they decide to break up because they both have issues concerning their past to resolve first before forming a solid relationship. Still, Sophie has cherished her belief that she is a "special someone" in her life. His past experiences make her think that she isn't necessarily special.
Jesse, however, tells her that she is indeed special. After his breakup with Meredith, Jesse didn't think that he will be able to love someone wholeheartedly until he met Sophie. He overcomes his fears and traumas concerning relationships and rejections to finally get together with Sophie only because she has always been special. Jesse's words comfort Sophie and they end their fight.
Read More: Did Leighton Meester's Meredith Leave How I Met Your Father?