Directed by J.M Cravioto, the Spanish murder mystery film 'A Deadly Invitation' follows a classic whodunit setup, with the murder of a scheming millionaire at the investigation's center. Yet, the detective employed for the case, Agatha, presents a unique perspective since she has no professional qualifications to solve a murder case in any way. The murder victim, Olivia, takes her half-sister, Agatha, and a select few acquaintances on a yacht dinner before she is found dead on the lower deck of the same boat. Thus effectively marking everyone on the boat with Olivia, in the open ocean, a possible suspect.
Later, as Olivia's guests are confined to her luxurious Villa overlooking a cliff, Agatha decides to conduct an unofficial investigation to uncover the truth behind her sister's death. Even though Agatha isn't a detective, she has exceptional crime-solving skills and instincts thanks to her years-long profession as the host of the popular podcast "Unsolved Crimes." As such, viewers must be wondering if Agatha's podcast has any basis in reality. Let's find out!
Is Unsolved Crimes a Real Podcast?
No, Agatha Hernandez's Unsolved Crimes podcast is not based on a real podcast. Originally titled 'Invitación a un Asesinato,' 'A Deadly Invitation' is a work of fiction adapted from an eponymous 2010 crime novel by Carmen Posadas. As such, the characters, events, and plot details explored within the novel are fictitious. Their creation can be credited to Posadas, director Cravioto, and screenwriters Javier Durán Pérez & Anton Goenechea's imagination. Unsolved Crimes (Crimenes Sin Resolver in the original dub) is one such fictional element.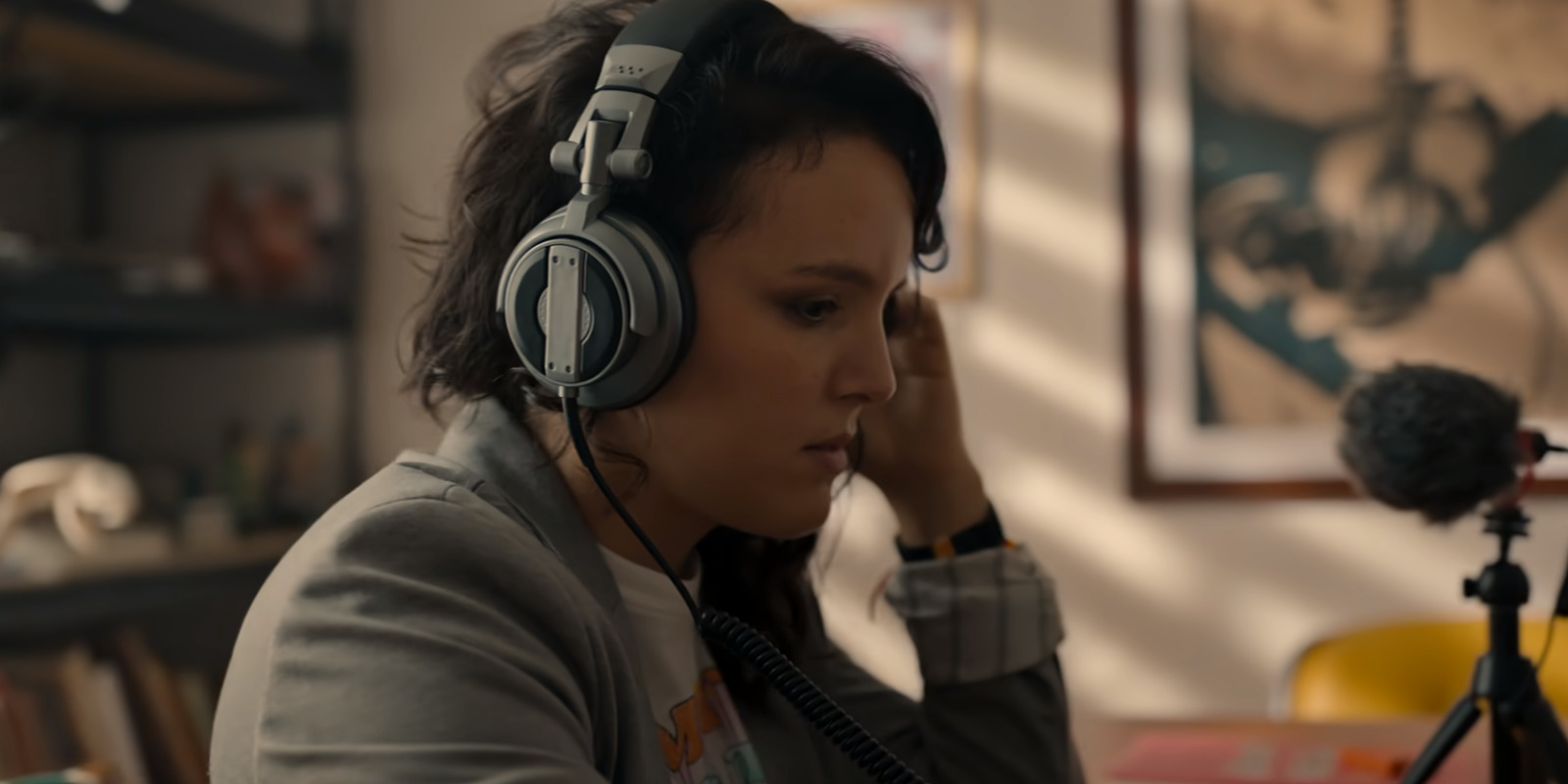 Recently gaining traction in pop culture, true crime podcasts have become a significant aspect of media consumption, having gathered their own fan circles. These podcasts can range anywhere from incredibly well-researched episodes to amateur journalistic endeavors. Although details evade Agatha's podcast, given its minimal involvement in the story, viewers may liken Unsolved Crimes to several real-life podcasts.
Mexican True crime podcasts such as 'Crímenes de Terror,' 'Asesinamente,' and 'Perfil Criminal' provide a peek into what Agatha's profession may look like. Additionally, since Agatha's podcast possesses such a vague, non-specific name, viewers may find podcasts or other media with the same name. However, there is no reason to believe that the film has any connection to such pieces of media. The film recreates Posadas' characters and storylines for the screen in a modern world. Therefore, the primary source of inspiration behind the film's various elements comes from Posadas' book.
Narratively, Agatha's podcast, which she produces with her partner and research expert Iris, seamlessly sets the tone for the investigation-centric film. Furthermore, it also gives some built-up credibility to Agatha for her crime-solving skills. Since Agatha's job requires her to research unsolved cases in depth to bring them to her audience, she's well-versed in cracking puzzles and recognizing patterns. Consequently, by having numerous characters bring up her noteworthy podcast consistently, the narrative brings Agatha's competency and proficiency to the forefront.
Likewise, it also lends some logic to Lieutenant Julian's eager inclination to have a non-professional consult him on the case. While such a plot point may have missed the mark otherwise, within 'A Deadly Invitation's'comedic setting, the idea remains believable and ridiculous in equal measure. Alternatively, it also explains why Olivia was so willing to rely upon Agatha's skills entirely.
When Olivia invites Agatha to her deadly yacht party, it is with a very specific task in mind. Olivia entrusts Agatha to solve a case she holds dear to her while the latter uncovers the truth behind her sister's death. Throughout the story, Olivia's praises for her sister's work come up in hordes, signifying her unadulterated trust in Agatha's skills. In that regard, the Unsolved Crimes plays a notable role in Agatha's character development. Nevertheless, much like Agatha, her podcast is also confined to fiction.
Read More: A Deadly Invitation Ending, Explained: Who Killed Olivia?