'Sweet Magnolias' is romantic drama series on Netflix that follows Maddie, Helen, and Dana Sue, who live in Serenity, a small town in South Carolina. The trio of childhood friends navigate the various challenges of parenthood, love, and career, all while trying to work for the betterment of their close-knit community. Naturally, the show also focuses on their families, and Maddie's ex-husband Bill Townsend (Chris Klein), has been a pivotal part of the story since the beginning. Though he does his best to mend his relationship with his kids and be there for them, he faces many hurdles trying to reconnect with them. Consequently, if the events of season 3 have left you wondering if Chris is bidding farewell to 'Sweet Magnolias,' here's everything we can tell you! SPOILERS AHEAD.
What Happened to Bill Townsend?
After Noreen gives birth to Rebecca in season 2, she declares she doesn't want anything to do with Bill. Thus, he realizes that it's best if he moves to Castlewood to give everyone some space. Still, he constantly attempts to repair his relationship with his kids and be more involved in their lives, especially Kyle's. However, Maddie is skeptical of Bill's increasing presence and is wary of his intentions. Given his past behavior and inability to be a responsible parent, she is unsure whether he would be a good role model for Tyler, Kyle, and Katie.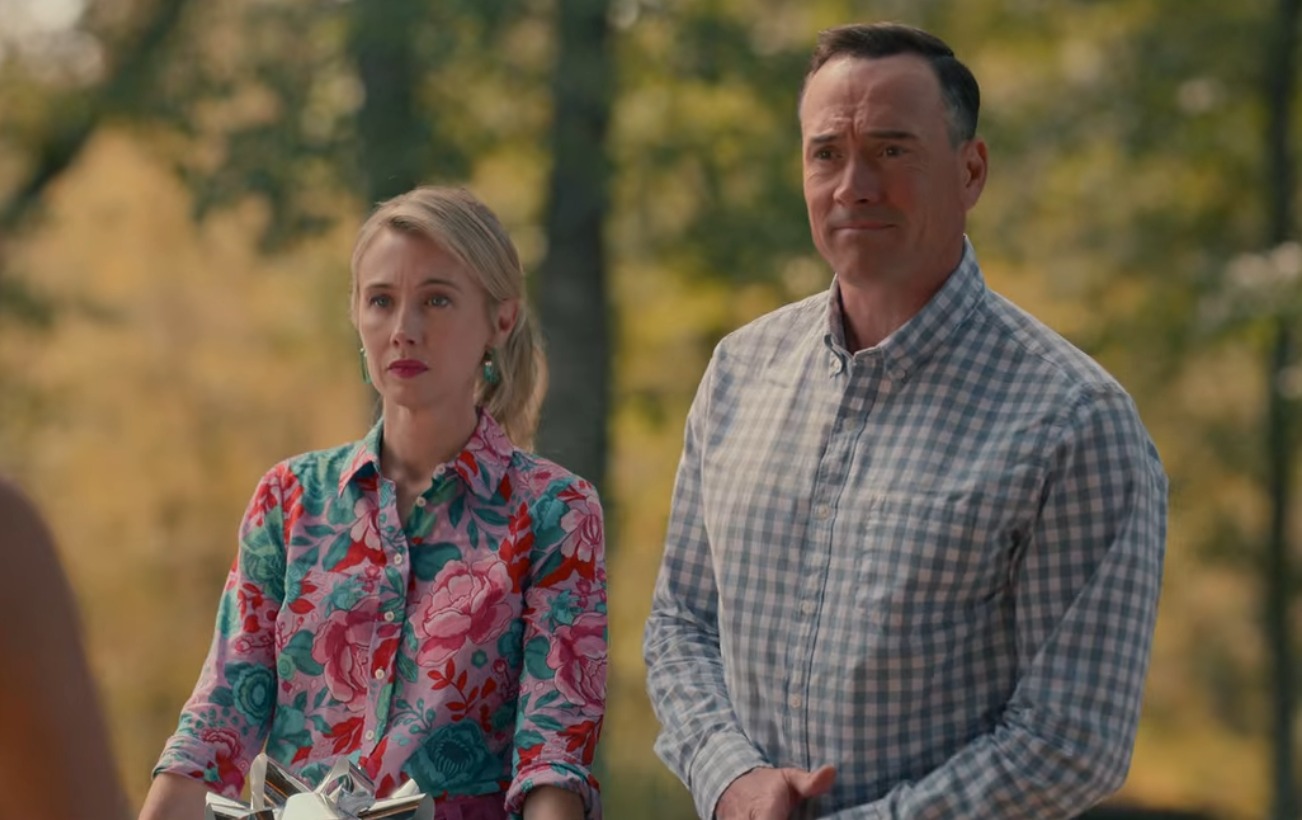 Moreover, Maddie initially feels upset when Tyler is more open about himself with his father than her, but gradually, the mother-son duo builds healthy communication. Meanwhile, Bill meets Kathy, Ronnie's estranged sister, who returns to town to get back at her sibling. Though unaware of her agenda, he is instantly attracted to her, and they find an unusual comfort in each other's company. Things turn tense when Bill runs into Noreen and Rebecca at the Corner Spa and is eager to reconnect with them. Thus, he suddenly visits Noreen at Isaac's house, requesting more involvement in his daughter's life.
However, Noreen is least interested in letting Bill near Rebecca and states that until the child can decide for herself, she doesn't wish him to be a part of her life. Her decision is backed by Isaac, who secretly visits Bill and confronts him about being a negligent and absent father to him, Maddie's kids, and now Rebecca. Isaac also decides not to acknowledge him as his father and plans to come clean to Noreen about the same. Saddened by the consequences of his past actions, Bill gets another rude shock when he realizes he barely remembers the times he spent with his kids when they were younger.
On the other hand, Ronnie pays Kathy a hefty sum to leave Serenity forever, and she asks Bill to go away with her. Though he declines first thinking about his children, he soon concludes that perhaps they are better off without him, and the best thing he can do for them is to work on himself and be a better person. Hence, at Dana Sue and Ronnie's vow renewal ceremony, Kathy and Bill surprise everyone when they walk in together. He then apologizes profusely to Maddie and informs her that he is leaving town for a while to reflect on his misdeeds. As Bill and Kathy walk off hand-in-hand, it remains unclear when he shall return to Serenity.
Is Chris Klein Leaving Sweet Magnolias?
Since the first season, Chris Klein has been a principal cast member of 'Sweet Magnolias.' Even though his presence throughout the episodes has often varied, he is a pivotal part of the narrative, given his character's relationship with multiple people. Hence, it is unlikely that the makers would completely write Bill off from the show. Though he has left town, there still are chances that he may return from time to time to visit his kids. Besides, it is unknown if he really would come back a better person or end up repeating his old behavior to trouble Maddie and Noreen.
Not just that, there has been no official statement from the makers or Chris about him quitting the show as of writing. Therefore, until he confirms the same, it is safe to assume that he continues to very much be a part of 'Sweet Magnolias' and shall be reprising Bill's role in potential future seasons. Chris made his acting debut in 1999 with the movie 'Election.' Since then, he has appeared in several movie and TV projects, such as the 'American Pie' film series, 'Just Friends,' 'Damaged,' and 'The Flash.'
Read More: Do Cal and Maddie End Up Together in Sweet Magnolias Season 3?