Hulu's 'Jagged Mind' is a psychological thriller that follows Billie, a young woman trapped in a time loop. After Billie crosses paths with the mysterious Alex, they start dating. However, their relationship is threatened when Billie experiences blackouts and realizes she lives in a time loop. Despite the time travel element, the movie tackles some serious themes, such as toxic relationships and domestic violence. Hence, viewers must wonder if 'Jagged Mind' is inspired by real events or a true story.
The Inspiration Behind Jagged Mind
No, 'Jagged Mind' is not based on a true story. As viewers might be aware, the movie's plot uses the trope of a time loop to tell its story. Hence, it is evident that the film is not directly based on actual events. The movie is based on the short film 'First Date' directed by Allyson Morgan. It was first released as a part of Hulu's anthology series 'Bite Size Halloween.' The short film was adapted into a feature-length film by Allyson Morgan, who wrote the screenplay which Kelley Kali directed. Kali is best known for directing the 2021 comedy-drama film 'I'm Fine (Thanks for Asking).'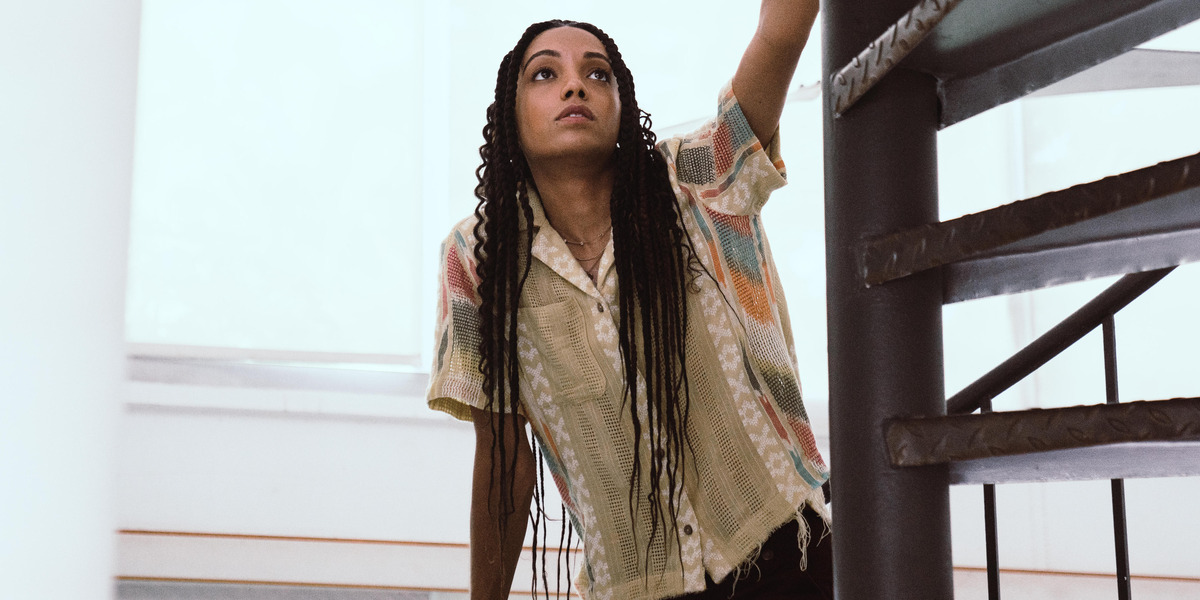 In an interview, director Kelley Kali revealed that she was asked to pitch for a feature-length adaptation of the original short film. However, the director made several changes to the story, adding elements such as the Little Haiti setting and the interracial relationship between its two main characters that create tension while keeping the story grounded. Kali stated that since she came from an interracial family and knew the general perception of interracial couples in the public eye, she felt it would be an ideal fit for the story to explore the tension between its main characters. She also decided to change the setting from Manhattan, New York, to Little Haiti, Miami, because the latter has roots in magic, which plays an integral role in the narrative.
During an interview with MovieWeb, Kali revealed that she was attracted to the screenplay because it was not a coming-out or coming-of-age story about LGBTQ+ characters. Instead, it explored the raw and messy sides of an LGBTQ+ relationship in a grounded fashion despite some fantasy elements. "When I read the script, the one thing I really loved, that I'd not seen much of — this is an LGBTQ story. But it's not a coming-out story. It wasn't all this drama. It was two women just trying to date like everybody else. We're just dropped in that world. They're just trying to find love like everyone else on this planet," she said.
In the same interview, Kali explained that the movie's primary theme is domestic violence in an LGBTQ+ relationship. "(The domestic violence element) was tremendously important to (writer Allyson Morgan)," Kali stated. "First of all, we don't get to see a lot of queer content. And when you do, you don't see the human side, the messy side of personalities. It's important to see domestic violence on screen. There are so many people that have had these types of relationships. Everyone makes mistakes," she added.
Ultimately, 'Jagged Mind' is not based on a true story. It tells a fictional story that explores toxic and manipulative relationships that often translate to domestic violence. Thus, it uses a time loop as a metaphor for these complex and serious themes. However, despite the fantasy elements, the movie remains grounded in reality by holding on to the humanity of its characters and showcasing their challenges of love and relationships, which help the audience resonate with the material.
Read More: Jagged Mind: What is the Crystal? Time Loop, Explained