'Love Again' is a romantic-comedy film that revolves around Rob Burns, a journalist, who one day starts receiving extremely candid messages on his work phone from a woman who is clearly writing to her deceased partner. Intrigued, Rob tries to approach her about it with help from world-famous singer Celine Dion, whom he is all set to feature in an article.
Directed by James C. Strouse, the film stars Priyanka Chopra Jonas, Sam Heughan, and Celine Dion (who portrays herself). 'Love Again' explores all the emotions that well up inside a person when they set out to find love again after a terrible loss. With such an authentic premise, one can't help but be curious whether or not the film is based on true events. If you're one of these people, then we have got your back!
Is Love Again a True Story?
No, 'Love Again' is not based on a true story. Director James C. Strouse, who penned the screenplay, based the film on 'SMS für Dich' ('SMS for You'), a German romantic drama film directed by Karoline Herfurth. The latter, in turn, is inspired by the romance novel, 'Text for You' by Sofie Cramer. 'Love Again' follows roughly the same storyline as the work it is based upon, just with a different backdrop and character names and other minor changes here and there.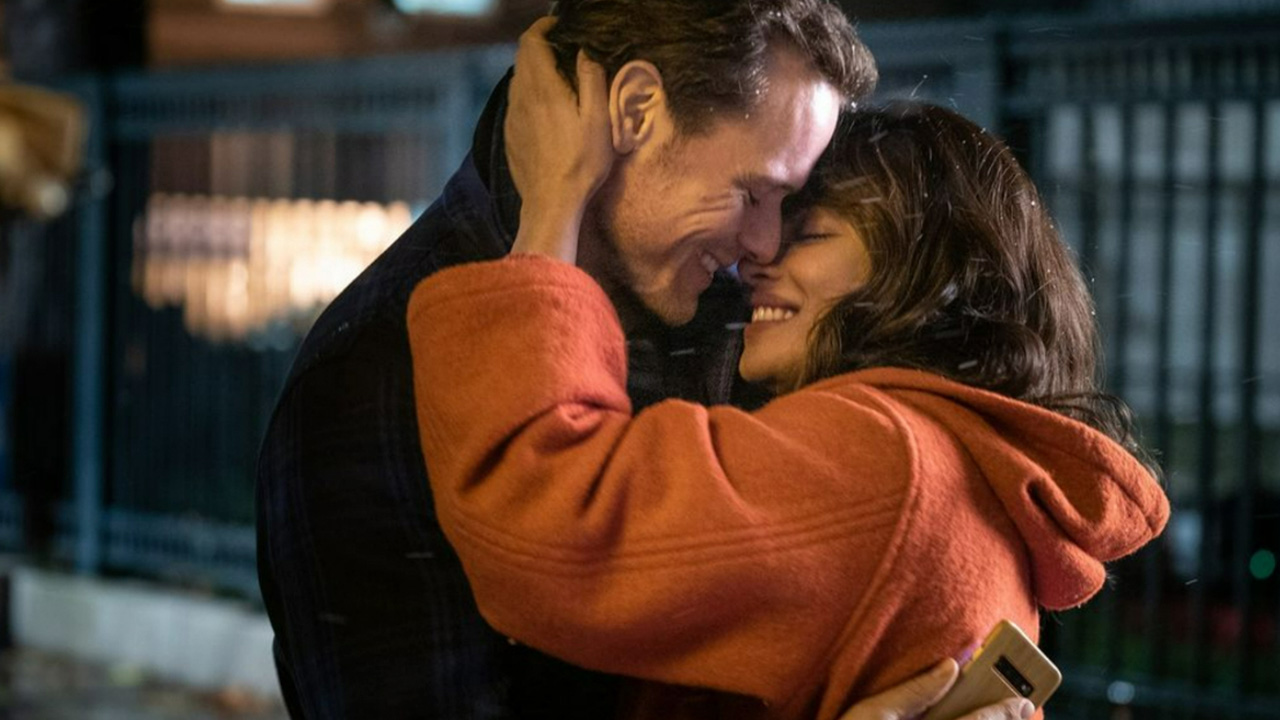 What truly sets the film apart is the fact that it focuses on grief over the loss of a romantic partner, especially somebody whom one was in a long relationship with, and the process of finding closure afterward. This effectively makes the romance itself between Rob (Sam Heughan) and Mira (Priyanka Chopra Jonas) a means for her to finally accept her fiance's death and move on. However, this does not take away from the romance or the comedy aspect either.
The chemistry between Priyanka Chopra Jonas and Sam Heughan is palpable from the moment they meet on-screen. To better prepare for their roles, the actors also went through the original, German version of the film. "I knew there was a German version of the movie and I really debated with myself if I wanted to watch it or not, but I really wanted to because I wanted to know what the origin of these characters are and then to be able to interpret it into whatever we wanted them to be," said Priyanka Chopra Jonas in an interview.
Speaking about working with her fellow co-stars and director James C. Strouse, Priyanka continued, "I think Jim [James C. Strouse] did a great job [writing the script], and we were a tight little team, um, with Sophia, with Russell Toby, with Lydia. We were, you know, a little group of our own." 'Love Again' was filmed during the COVID-19 lockdown, which wasn't the easiest of time for anybody. In the same interview, Priyanka Chopra Jonas further revealed how it was a very dreary time for her at the end of 2020 and that playing Mira filled her with hope that everything would be alright.
The film also marks the acting debut of singer Celine Dion, who portrays herself in the film. Aside from acting, the singer has also sung five new songs for the film's soundtrack. Dion herself was absent for much of the press tour that the actors took on for 'Love Again' due to her poor health. She had been diagnosed with stiff-person syndrome, which the singer announced in December last year. However, in Dion's stead both the lead actors were all praise for her.
Speaking about the singer's involvement in the film and her new music, actor Sam Heughan said, "I think people have been waiting so long [for Celine's new music], right? I mean, obviously, her live shows have been delayed [due to Celine's health], and I think if anyone's desperate to see Celine, they're going to see a side of her they haven't before! And they'll hear original music, and it really is a celebration of her music, this-this movie."
Though not a true story, 'Love Again' touches upon themes that are based in relevant in people's conversations about love. Grief, acceptance, and how difficult the process of living without somebody or something, and then also being able to move on without feeling guilt over it have been approached in a really authentic and careful manner.
Read More: Best Romantic Comedy Movies on Netflix