Netflix's 'Can You See Us' is a Zambian coming-of-age drama movie directed by Kenny Mumba about a young boy born with albinism. After Chama gives birth to Joseph, his biological father, Kennedy, turns his back on the family due to the boy's different appearance. The incident sets the tone for his life as he grows up with the love of his mother and adoptive father, Martin, but continues to receive backlash from society and his peers. Still, despite the odds stacked against his favor, Joseph finds his passion for music and embarks on a path toward success and happiness.
'Can You See Us' tells a moving story that outlines the struggles and achievements of Joseph's life with heartfelt sincerity. Since Joseph's life story charts such a relatable journey and highlights the experiences of minority and discriminated groups within society, viewers must be wondering if the musician's rise to fame has any truth behind it. Let's find out!
Is Can You See Us a True Story?
Yes, 'Can You See Us' is partially based on a true story. The film is inspired by the life and career of John Chiti, a famous contemporary African musician with albinism. He is well-known for his R&B and gospel music, including songs like 'Lawyer Wanga' and 'Ifindingile.' Alternatively, the artist also holds the position of a UN Goodwill Ambassador and has founded the Albino Foundation of Zambia, through which he raises awareness and advocates for other people born with albinism.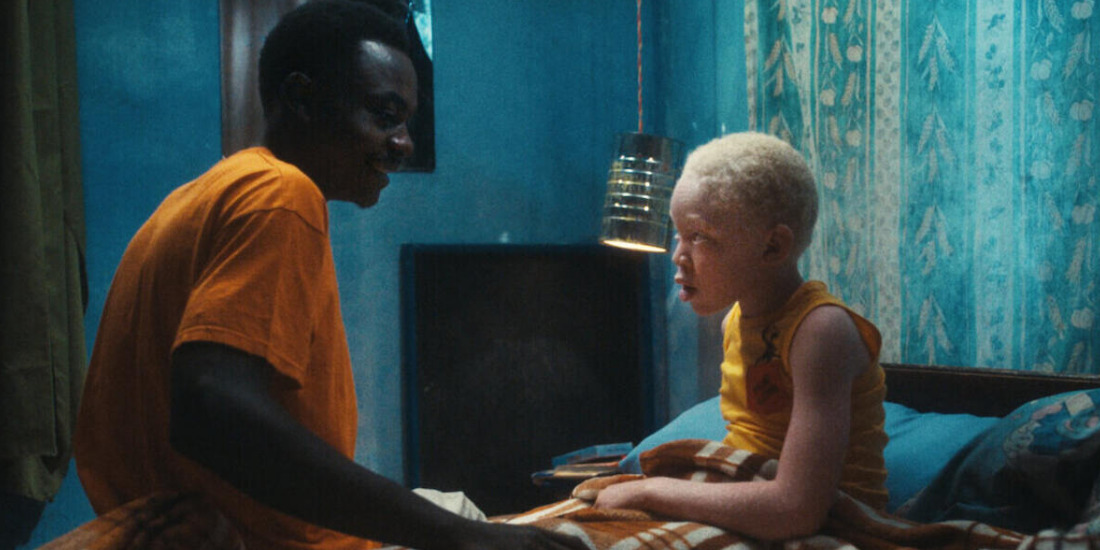 Born in 1985 in Copperbelt, Zambia, John Chiti is the first child in a family of six. Initially, his father, Lawrence Chiti, rejected the boy at birth, but after his mother, Elizabeth Muzuni's death in 1995. Chiti returned to his father's home and grew up with his stepmother. School life posed multiple challenges for him as he faced discrimination from his classmates and teachers. Speaking on the same, Chiti said, "Being the only albino person at the school at that time, my life was depressing. Teachers and my fellow pupils isolated themselves from me because of my condition. I remember not even the pupils could share a desk with me."
Eventually, Chiti discovered his true calling in music after joining his high school band and becoming the lead singer. 2007 marked a significant year for him when he signed a recording contract and gained prominence within Africa's musical scene. As such, Chiti's life indeed resembles Joseph's story as depicted in 'Can You See Us.' Even though the film isn't an exact replication of Chiti's life and employs its own artistic liberty in bulk as it pleases, it draws clear inspiration from the musician's experiences.
Furthermore, the artist collaborated with the filmmakers as an additional writer alongside the screenwriters Andrew Thompson, Lawrence Thompson, and others. Therefore, it's safe to deduce that the film gains much of its authentic beats from Chiti's contribution and first-hand experiences. Director Kenny Mumba also emphasized the importance of portraying the actual point of view of a person with albinism while retaining a focus on addressing the rejection they face by society.
"It's a really human story. And I think whether you're born with albinism or not, it's a story that's relatable cause as long as you're a human being," said Mumba in conversation with Miss AJ Tube. In that regard, by portraying the fallbacks and triumphs of Joesph as an individual belonging to a marginalized group, the film creates a broader narrative about social injustice and discrimination.
"It [the film] really answers those questions about seeing the potential in someone seeing the— seeing past race, seeing past gender but really looking into someone's ability to deliver. That we're all a human race, and we're not categorized in all these different categories we're put in," Mumba further expressed in the same interview. Ultimately, 'Can You See Us' is a true story and gains its sense of realism through its basis in John Chiti's life. Yet, the narrative honesty and authenticity significantly inform its overall relatability and social relevance.
Read More: Movies Like Can You See Us