Netflix's 'Love at First Kiss' (known as 'Eres Tú' in Spanish) is a romantic comedy movie directed by Alauda Ruiz de Azúa. It stars Álvaro Cervantes ('Crazy About Her') as Javier, a book publisher who has the power to see the whole future of his romantic relationship whenever he kisses a girl for the first time. However, things take a drastic turn when Javier sees a long-term future with Lucia (Silvia Alonso), his best friend's girlfriend. The film challenges the norms of a traditional love story and cleverly deciphers modern romantic relationships. Therefore, viewers must be curious to learn about the story's origins. If you are wondering whether 'Love at First Kiss' is inspired by real events, here is everything you need to know!
Is Love at First Kiss a True Story?
No, 'Love at First Kiss' is not based on a true story. The film is based on an original concept from writers Cristóbal Garrido and Adolfo Valor. The pair of writers are known for their work as creators and writers on the Spanish drama series 'Días Mejores' (loosely translating to 'When You Least Expect It'). Garrido and Valor wrote the script for the movie, titled 'Eres Tú' in Spanish, directed by Alauda Ruiz de Azúa. The filmmaker made her directorial debut with the critically acclaimed 2022 drama movie 'Cinco Lobitos,' also known as 'Lullaby.'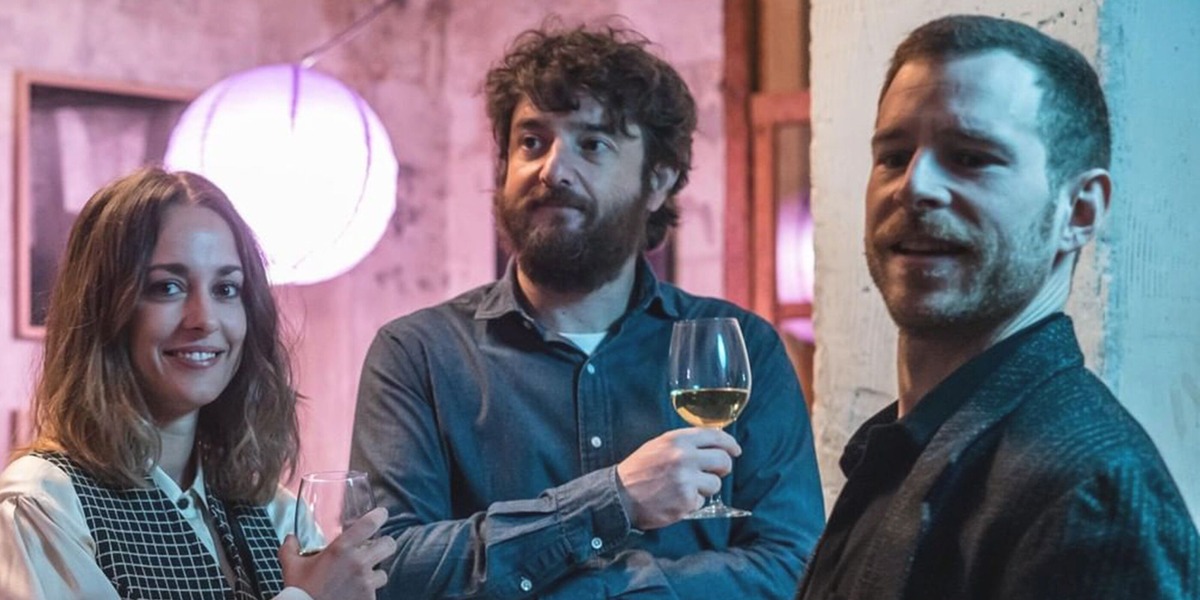 The movie revolves around Javier, a man who is capable of seeing his future with any woman he kisses. However, Javier's boon also proves to be a curse for him several times. Given the borderline supernatural nature of the premise, it is no surprise that the film's concept is fictional and not based on any real events. However, the film also does not share any connections with similarly titled reality TV series of the same name. Instead, it uses its supernatural twist to explore the intricacies of a modern-day romance where people quickly fall in and out of love.
While Javier's powers add a touch of fantasy to the story, it is rooted in reality through the characters' various emotional conflicts. Firstly, Javier deals with the dilemma of falling in love with his best friend's girlfriend. Furthermore, the story explores the contrast between monotony and spontaneity that couples in almost every relationship experience. It also explores the dichotomy between routine and surprise, as couples often fail to balance various aspects of their life with romantic relationships.
However, the movie's overarching theme is the search for "the one" as Javier searches for the love of his life. However, he gets caught between following the routine and experiencing something surprising. As a result, his ability to see his future with the woman he kisses acts as a boon and a curse. Thus, the film opens the doors to some light-hearted analysis of modern relationships through a unique gimmick that puts a fresh spin on the tried and tested romantic comedy genre.
Despite its entertaining take on the comedic and dramatic tropes of the romance genre, the film also obtains a sense of realism in the hands of director Alauda Ruiz de Azúa. Although the director is known for her gritty realism in her debut feature film, she wanted to try something new in the romance genre. As a result, she was attracted to the film's script, which despite having a magical touch, tackles emotional issues relevant to the modern generation. "Changing genre and tone is a great learning curve for a director. Telling this local, generational tale for a global audience has been a fun and enriching challenge," she said, speaking to Variety.
Ultimately, 'Love at First Kiss' is not a true story. It is a simple story of an everyman's search for the love of his life. However, the film depicts how his expectations and reservations about romance, commitment, intimacy, and relationships affect his relationships, represented through his ability to see the future. Consequently, the narrative subverts the tropes of romantic comedies but also delivers an emotional experience by exploring realistic themes and situations.