'Operation Fortune,' also known as 'Operation Fortune: Ruse de Guerre' is a comedy thriller movie that chronicles the mission led by special agent Orson Fortune. The agent and his team of operatives recruit a Hollywood celebrity for a top-secret mission with high stakes. Now, they must collaborate and save the world by stopping wrongdoers from using weapons of mass destruction. The film is helmed by Guy Ritchie and involves all the components of thrilling espionage but with a twist of humor. If you are impressed by the movie's portrayal of secret agents and undercover tasks and are curious whether there is any truth to the story, then we have all the details for your inquisitive mind!
Is Operation Fortune a True Story?
No, Operations Fortune is not based on a true story. It is a fictional movie written by Guy Ritchie, Ivan Atkinson, and Marn Davies. If there are resemblances between the storyline of a celebrity helping law enforcement or an undercover spy mission involving a deadly weapon, details about such instances are most likely classified. Such operations are conducted by highly trained professionals with relevant experience and expertise and do not involve civilians. Although sometimes, the CIA or similar agencies declassify information, if not, it slips through the cracks due to a whistleblower or journalists.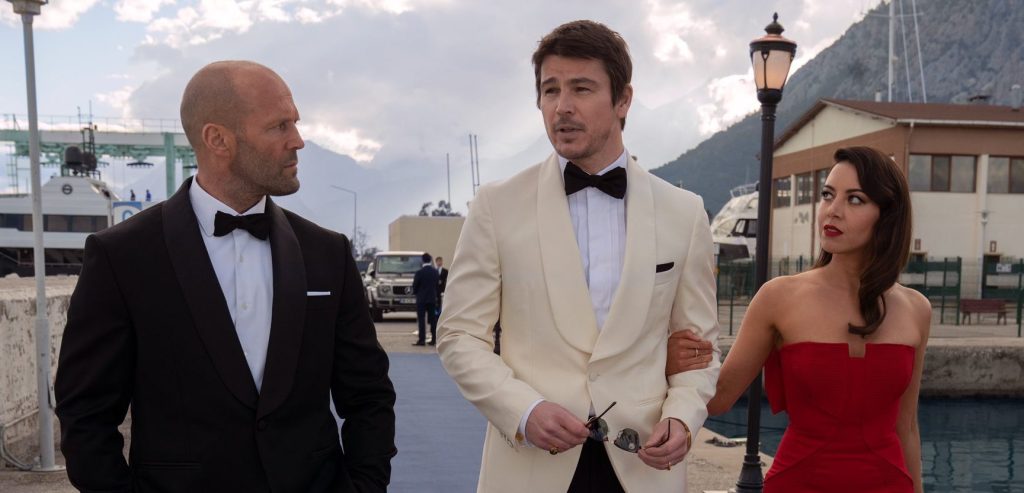 In an interview with Collider, Guy Ritchie spoke about altering the script every day because he did not like certain elements that were too glossy. He said, "I think probably more so on this one than almost any other script that I've done. I didn't like the script when I started with the script, and that was sort of the challenge. It was something that I cobbled up with a couple of chaps that I worked with. It was a bit of a feathery fish, and the challenge was how to make it a less feathery fish."
"We just rewrote every scene on the day in this film almost completely. You had general ideas which were fun, like the Danny Francesco idea that you've taken a movie star as a spy. You'd hold onto those as base camps for your summit. But how you got to those base camps was completely spontaneous on the day. You just knew you had to get to that base camp," the filmmaker continued.
Interestingly, the four films that inspired Ritchie while conceptualizing the Jason Statham starrer were 'The Hunt for Red October,' 'Crimson Tide,' 'Three Days of the Condor,' and 'Where Eagles Dare.' The theme of the world being in danger is shared between these films and 'Operation Fortune.' Besides, all these espionage films fascinated the director at a young age. He amalgamated several elements from them, such as the tone, backdrop, action sequences, leading man, and humor, into his project.
In another interview, Jason Statham spoke about the director's process, where he did not rehearse his lines and tried not to attach himself to a scene, to the point where the entire process felt like a workshop. He commented, "He likes to throw the script out the window. He likes to figure out how he can make something out of nothing. And I think that the imminent pressure that he puts on himself brings out the best of him. It's a weird, very unusual thing, but the more difficult of a day that's in front of him, the better he is as a director. The more pressure, the more flourishing his dialogue is."
The actor added, "…It just comes from nowhere, and you know, you'll spend half an hour in the trailer, and he'll be hashing it together, and at the end of the day, it looks like he spent weeks and weeks constructing these great scenes because they're full of this original dialogue. It's an amazing thing to see." As per reports, the US government secretly acquired soviet missile defense systems for examining and training purposes. In 1994, a Soviet transport plane was spotted on a highway at Huntsville, Ala.
The aircraft was loaded with an S-300 air defense system which the United States acquired by hiring a Pentagon contractor who exported the system from Belarus; the total cost for the ordeal was $100 million. Moreover, the US government planned to send some of these air defenses to the Ukrainian military in 2022 to counter Russia. So yes, missions similar to the ones in the Guy Ritchie directorial might be typical for the armed forces, special agents, and intelligence bureaus, yet names of their officers and on-ground professionals are rarely disclosed, even after publicizing the events.
More often than not, spies infiltrate and acquire information about a country's mass destruction weapon, with no intention of stealing but re-creating it or making a counter-attack system. In conclusion, the screenplay of 'Operation Fortune: Ruse de Guerre' is primarily fictional, yet it is akin to several real-life scenarios to a certain extent. The creative forces behind this movie have drawn inspiration from similar films and stories to develop this thrilling yet hilarious flick.
Read More: Where Was Operation Fortune: Ruse de Guerre Filmed?