Directed by James L. Brooks, 'Spanglish' is a 2004 romantic comedy film that revolves around the experiences of a Mexican woman Flor (Paz Vega), and her daughter Christina (Shelbie Bruce), who have immigrated to Los Angeles for a better life. The single mother takes up a job as the housekeeper in the wealthy Clasky family, which comprises the "nice husband/father," John Clasky (Adam Sandler), his insecure and paranoid wife, Deborah (Tea Leoni), their children Bernice (Sarah Steele) and Georgie (Ian Hyland) and Deborah's ex-singer mother, Evelyn Wright (Cloris Leachman).
The movie narrates the experiences of a Mexican housekeeper who shows the true meaning of being a parent and how essential roots are for immigrants who fear losing their next-generation kids to American society and lifestyle. All these themes, coupled with the relatable characters brought to life by the talented cast members, make one wonder if 'Spanglish' has any connection with reality. If you wish to know the same, here's what we found!
Is Spanglish a True Story?
No, 'Spanglish' is not based on a true story. It is the brainchild of the director, James L. Brooks, who has also crafted the multi-layered screenplay. He was inspired by themes of Hispanic experiences and the immigrants' lifestyle in America. Through Flor's character, James attempted to highlight the differences between parenting amongst Hispanic women and how close-knit their children are compared to most American households.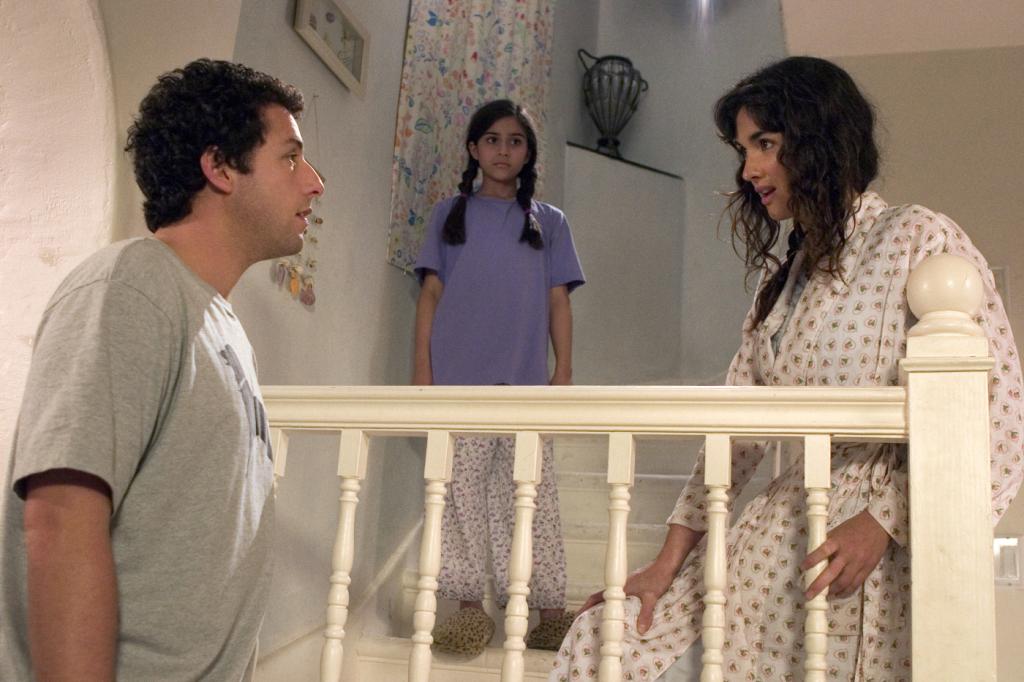 James noticed that in the latter, ideas of body image and having the 'perfect lifestyle with star kids' is seemingly the new trend rather than understanding what children go through. In the movie, we see a similar instance: Deborah is harsh to her daughter, Bernice, who she claims is overweight, and prefers the slimmer Christina over her. Meanwhile, celebrity chef John tries to be the best father to his children despite what his wife says and fills the shoes of the 'perfect man/father' title. In an interview with Charlie Rose, James revealed his inspiration and idea behind creating his masterpiece.
The director said, "One thing is about a male character that I wanted to write very badly, and I also wanted a perspective on Los Angeles life that I'm familiar with, so I got it by trying to go about a Hispanic point of view about that life, so basically that is at the core of it. As I started to make that point of view, I spent over a year researching the character played by Paz Vega. It was about two people drawn to each other by the kind of people they are, and the attraction is about parenting."
James added, "My marketing line is always, 'decency is sexy.' I wanted to write about a male character that is a 'great guy,' not the hero in a movie who finds out that he has kids for two minutes….. and tears up in the end. I wanted a guy who values kids and knows what life is supposed to be." When asked about the themes of immigration, James said, "I spoke to hundreds of young Hispanic women with kids for research…… in some cases, the mothers brought their daughters or children to translate for them as they didn't know any English, I kept this dynamic in the movie."
The themes depicted in the Adam Sandler starrer are based on the general notions of masculinity, and James attempts to rewrite them. He feels true masculinity, as portrayed through the character of Chef John, is that real masculinity lies in being genuine and having a real love for his children, which makes him a "great guy." The other theme is parenting and the nature of kids being real who get along with life in the present era. James is known to work on a movie's idea and then go into the field to give the characters' lives through the experiences he gathers.
Commenting on his research, the filmmaker said, "I always get a story out of it, which is amazing and…. when you look at the eyes of the people, you leave little room for error, you have their faces in your mind, and you have an idea about these people you talk to, and it gives you an idea of serving something." Even though the characters are lifelike and the film's themes are very relevant today, 'Spanglish' is not based on a true story.
Read More: Where Was Spanglish Filmed?