Adam Sandler might be finding it hard to please critics of late. But he is still popular among his fan base. Apart from being among the highest paid Hollywood stars today, he is also rolling out flicks regularly. The frequency and quality are a different matter altogether. However, despite being panned by the critics as an immature actor, these movies prove that Sandler is in fact, a talented actor who might deliver a hit once he accepts the right script. So, here is the list of top Adam Sandler movies, selected from his vast filmography. You can watch some of these best Adam Sandler movies on Netflix, Hulu, or Amazon Prime.
10. The Waterboy (1998)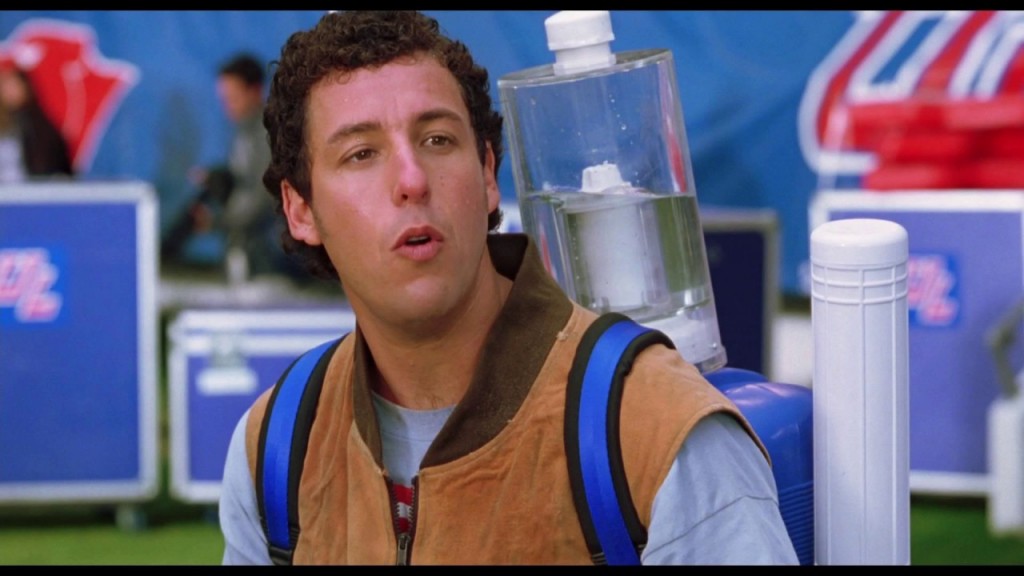 Sandler portrayal of the naive and childlike Bobby Boucher, a water boy for a college football team in 'The Waterboy', left us impressed. The character was pretty likable and made everyone root for the underdog as he found success on the field rather than off it. The film was a commercial smash hit and cemented Sandler's stature in the comedy genre.
Read More: Best Aaron Taylor Johnson Movies
9. Big Daddy (1999)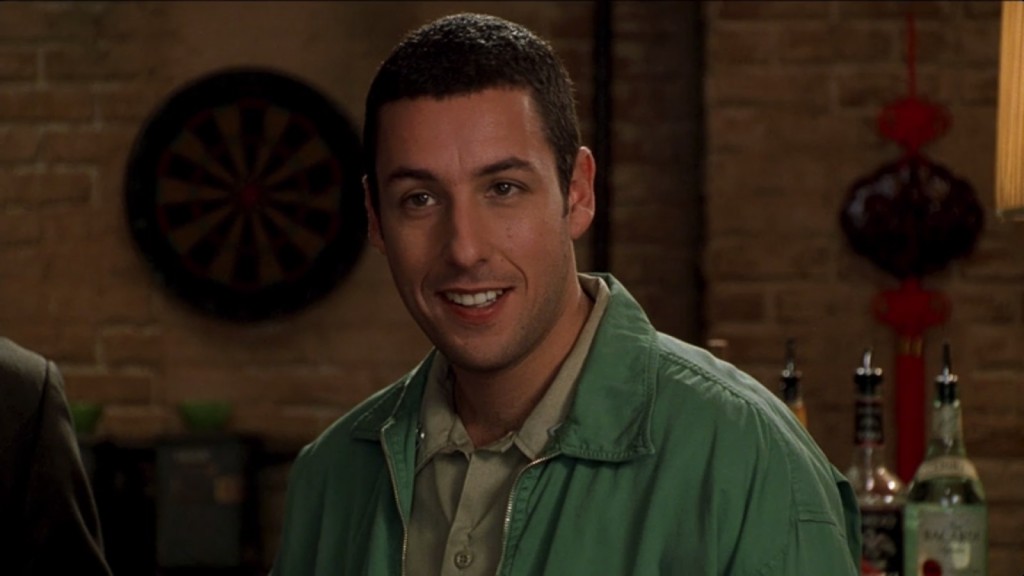 Adam Sandler plays an irresponsible slacker in the film, who happens to adopt a 5-year old child to prove his capabilities as an adult and finds his life turn upside down after the decision. The hilarious and highly entertaining film was a commercial hit as well. It was among the films in his earlier career that placed him among the likes of Jim Carrey and positioned him as one of the most bankable actors in Hollywood.
Read More: Best Sridevi Movies
8. Happy Gilmore (1996)
'Happy Gilmore' remains one of Sandler's most notable performances and was a rather well-received film even by the critics which is rare for Sandler's films. He plays a hockey player and an accidental golfer in the film. The most noteworthy aspect of his performance is the way he hilariously mixes the physical gestures of a hockey player into a golf competition. The story is funny and so is Sandler in the film and his over the top acting was still fresh to the viewers and critics upon the film's release.
Read More: Best Whoopi Goldberg Movies and TV Shows
7. Spanglish (2004)
Sandler played a supporting role in 2004's 'Spanglish', which was a break from his usual light-hearted comedies. He plays a highly rated Chef in Los Angeles and a happily married man. His family comes across a Mexican maid and her daughter and the film showcases the cultural gap that the maid and her daughter face in L.A. It was great seeing Sandler portray a sane character and for the first time, we could see Sandler as an actor sans the physical gimmicks and the insane voices that one would normally associate with him. Despite being relatively unpopular, 'Spanglish' was critically acclaimed for addressing an issue as important as the one depicted. And Sandler finally got a chance to showcase his versatility.
Read More: Best Wesley Snipes Movies and TV Shows
6. Reign Over Me (2007)
In one of the more serious movies, not just in Sandler's filmography, but in general, he plays a depressed widower who lost his family to 9/11. His character attempts suicide which is very different from the goofy characters he has played in the past. The dramatic performance was well received by the critics but the viewers were not ready for such an intense Sandler performance yet and the film went by unnoticed, underrated and under-appreciated.
Read More: Melissa McCarthy Movies
5. 50 First Dates (2004)
Adam Sandler shared the screen with his friend and previous co-star, Drew Barrymore in the hugely popular rom-com, '50 First Dates'. Their chemistry was perhaps the key to success. Sandler plays a vet who falls for a girl suffering from short-term memory loss. The sweet and sugary romance and the innocence of the characters and the script made the film lovable. Sandler played a warm and caring guy in the film (being otherwise known for his obnoxious and insensitive roles). The audiences dug the performance and the critics too gave a thumbs up to his break from the typical Sandler roles.
Read More: Best Drew Barrymore Movies
4. Billy Madison (1995)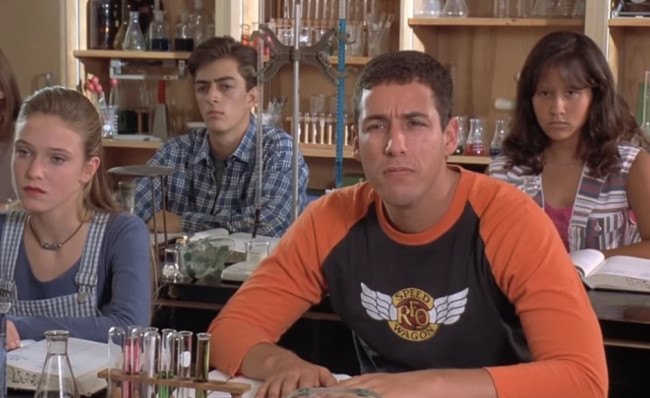 In his most notable performance, Sandler played a spoilt, immature, irresponsible adult yet again who is forced to go through his grades. He portrayed the obnoxious man-child so well that he was soon typecast in similar roles in the future. Something that probably led to the downfall of his career later on. However, 'Billy Madison' was the film that made Adam Sandler a household name back in the day (along with 'Happy Gilmore'). And that probably explains the reason behind naming his production house, "Happy Madison". His spot on performance as a carefree slacker became his trademark later on.
Read More: Best Steve Martin Movies
3. The Wedding Singer (1998)
Adam Sandler was not the typical heartthrob to be cast in a romantic movie. Neither was 'The Wedding Singer' any different from the zillion other romantic films made. And yet, it is one of the best rom-coms ever made and continues to remain as popular today as ever. So what could possibly explain this? Well, it's Sandler's chemistry with Drew Barrymore, for one. The two are just so comfortable with each other that it is just too sweet and lovable. Not only is the soundtrack awesome, so is Sandler's portrayal of a wedding singer who falls for a waitress at one of the weddings. The otherwise cliched story is driven by Sandler's spot on performance that is funny when needed and convincing enough for audiences to accept Sandler playing a non-goofy and non-outrageous kind of role.
Read More: Best Miles Teller Movies
2. Funny People (2009)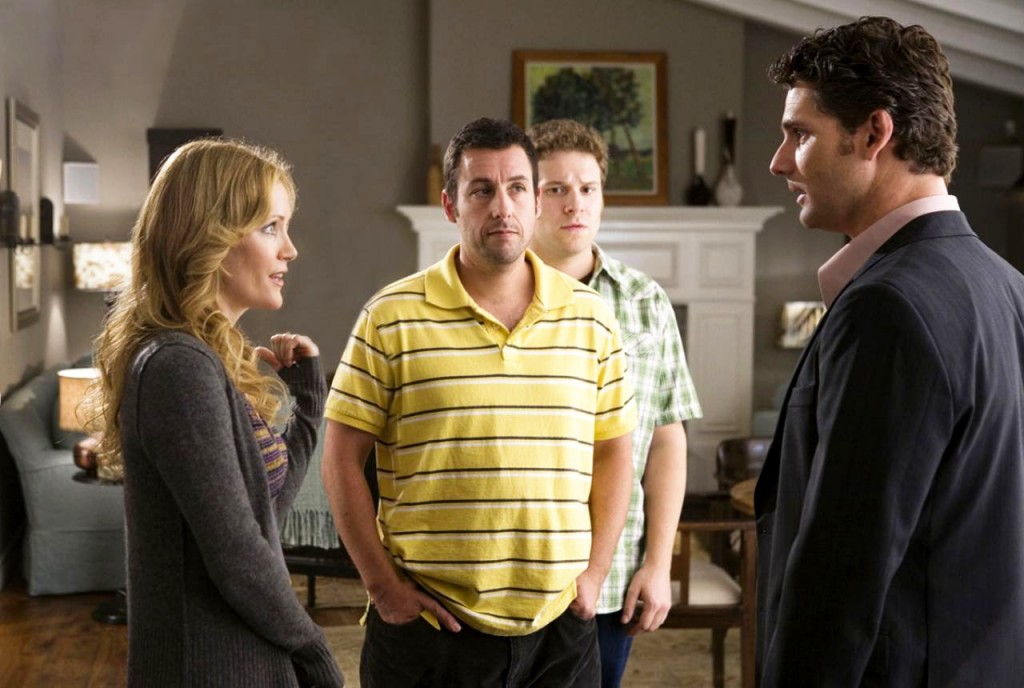 'Funny People' was a rather polarizing movie with some people loving it and declaring it as the best Sandler film, while some people dismissing it as boring and slow. In another serious movie, Sandler basically plays himself (a megastar with a lot of fans and a comedian) except for suffering from an incurable terminal disease. The plot is enough to describe the complexity of the character.
He knows that he only has a few days left and decides to do something meaningful with life while he still has time. Watching him go for a stand-up performance is almost heartbreaking and way too emotional for an Adam Sandler film. Apart from that, his chemistry with Seth Rogen and Leslie Mann are extremely commendable. Sandler should do more such films even if it doesn't go with the image he has created of himself. The box office would say otherwise, but the critics would agree.
Read More: Best Seth Rogen Movies
1. Punch Drunk Love (2002)
Who would have imagined a collaboration between Adam Sandler and Paul Thomas Anderson? Well, the result was the most critically acclaimed film in Sandler's career. Sandler plays a lonely, sad and miserable person in the film. This character of his was much more realistic and relatable than any other. The character also gave him a chance to prove his mettle as an actor. And he delivered. Sandler experimented with this character using the same mannerisms in different scenarios that he was used to. And Anderson put him in challenging situations proving that he was an underutilized and highly potent actor plagued by box office success formulae. The dramatic and suspenseful mystery is engaging from the start despite a slow storyline but it is in those dull moments that we realize that Sandler can do much more than the dim-witted films we are used to seeing him in.
Read More: Mark Wahlberg Movies