Directed by Filip Zylber ('Skazana'), 'Squared Love Everlasting' or 'Milosc do kwadratu bez granic' is a Polish romantic comedy film streaming on Netflix. The plot revolves around Monika Grabarczyk (Adrianna Chlebicka) and Stefan "Enzo" Tkaczyk, a couple who have been together for some time and are ready for a bigger adventure. After several mishaps, Enzo finally succeeds in proposing to Monika, who happily accepts. This is followed by a pregnancy scare, which makes Enzo and Monika realize he is ready for parenthood, but she isn't. As they try to secure the church of Enzo's childhood for marriage, the priest there sends him to make amends with a past girlfriend of his. Much to his surprise, Enzo discovers that the girl in question, 'Ewa, has a son, and she claims he is the father. 'Squared Love Everlasting' is a feel-good film about love, life, and parenthood. If you are wondering whether it is inspired by actual events, we got you covered.
Is Squared Love Everlasting a True Story?
No, 'Squared Love Everlasting' is not based on a true story. It is the third film in the 'Squared Love' franchise of films. The first one, 'Squared Love' or 'Miłość do kwadratu,' came out in 2021. The first sequel, 'Squared Love All Over Again' or 'Milosc do kwadratu jeszcze raz,' was released in February 2023. Zylber directed all three films. The screenplay for the first film was penned by Wiktor Piątkowski and Marzanna Polit. Piątkowski wrote the scripts for the second and third films with Natalia Matuszek.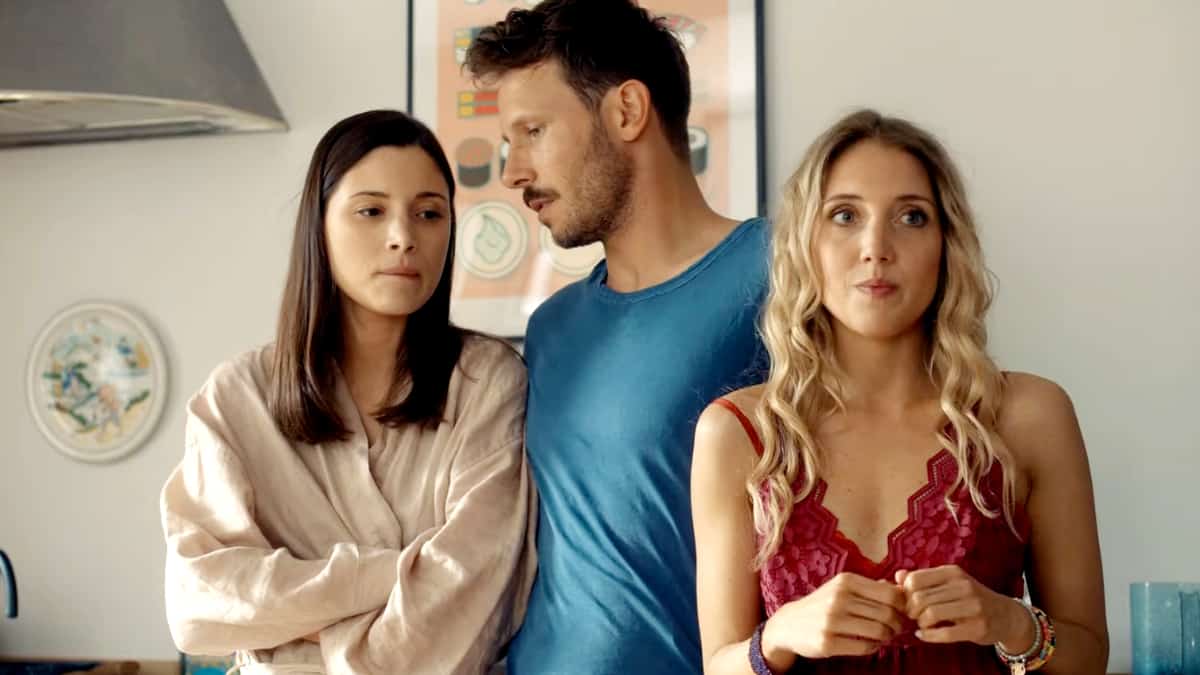 "For me, the project itself and what it brings is important," Mateusz Banasiuk, who plays Enzo in the film series, said in an interview. "It seems to me that we live in such times that we are looking for movies and series that will allow us to break away from reality. 'Squared Love' is a warm and cheerful story. It talks about different kinds of love. Not only between the main characters, but also between uncle and niece, father and daughter, thanks to which many people can identify with her and capture her heart."
The films also required the actors to work alongside children. Banasiuk said, "Children are elemental and in scenes when there were a lot of them, it was difficult to control them! They were in my head for a while. Probably because from the beginning I try to shorten the distance, after all, they are my film partners.
The actor continued, "It was important for me to build a bond between my character and his niece, played by Helena Mazur. I think our scenes turned out very nice, and one of them was created during rehearsals. I think I can reveal that it's the one when Ania can't sleep and I tell her a bedtime story. Enzo, the character I play, is completely inexperienced in relations with children, which is why this fairy tale is unusual."
All three movies are primarily set in Warsaw, Poland. The first one is about dual identities and how love always finds a way. There, Enzo is a popular journalist who falls in love with a woman who is secretly both a model and a school teacher. If the first film is about the inception of love, the second depicts how to sustain it. As Enzo struggles with his career, new opportunities open up for Monika, and they face a critical juncture where they actively have to choose each other. The third film explores the culmination of love as the protagonists consider marriage, children, and their future together. So, to sum it all up, 'Squared Love Everlasting' is not based on a true story, but it's the third entry in the 'Squared Love' film franchise.
Read More: Where is Netflix's Squared Love Everlasting Filmed?