'The Blackening' is a horror comedy film that revolves around nine friends – Allison, Clifton, King, Shanika, Dewayne, Lisa, Nnamdi, Shawn, and Morgan – all of whom go to a cabin in the woods for a reunion and to celebrate Juneteenth. Right in the middle of drinking and eating, the power shuts off, and all of them move in a group together to find its cause, but end up in a room marked "Game Room" instead. Inside the room, they find a board game titled "The Blackening" waiting for them.
As soon as the group opens it, a television sitting nearby lights up, and a man in a black mask tells them to either play the game or die one by one. Directed by Tim Story, the film features stellar performances by Grace Byers, Jermaine Fowler, Melvin Gregg, X Mayo, Dewayne Perkins, Antoinette Robertson, Sinqua Walls, Jay Pharoah, Yvonne Orji, and James Preston Rogers. In the past, there have been many slasher films revolving around a game or other that have taken inspiration from true crimes. But is 'The Blackening' one such film? Let's dive in and find out together.
Is The Blackening a True Story?
No, 'The Blackening' is not a true story. The screenplay, co-written by Tracy Oliver and Dewayne Perkins, is based on an eponymous short film the latter wrote and performed in with his comedy group, 3Peat. The short film addresses the trope of the black character always dying first in horror films and asks what happens when all the characters are black – as does its silver screen adaptation.
"Dewayne Perkins created this short that went viral. I want to say it was 2018 if I'm not mistaken. And [co-writer] Tracy [Oliver] found him and said, 'Look, I think we can make this idea into a feature.' And luckily, he agreed. It took them another year-ish to find the script. Then we ended up finally getting the script. I was a producer on it at the time, but read it and said, 'Wow, this is really great,'" director Tim Story said about how the screenplay came to be in an interview with Slash Film.
Interestingly, Story liked the final draft of the screenplay so much, that he put his own name forward as director of 'The Blackening.' "I thought the script was brilliant, and just hilarious, and just so smart. So I kind of raised my hand and said, 'What if I came on as a director?' Even though, at the time, I was just supposed to be producing," the director continued.
'The Blackening,' being a comedy film as well, utilizes many of the tropes that are typically used in horror and slasher films to great effect — the fact that the killer offers to let them all go if they can offer up the "black-est" among them as a sacrifice, which is the cornerstone of the entire story, Allison retching while trying to say that they should split up (something that white characters do, and end up being hunted one-by-one), et cetera, amongst many of them. Influences of other slasher/horror films that have been made in the past can be clearly seen in many of the sequences in 'The Blackening.'
"I would say from the very beginning Dewayne [Perkins] and I talked about 'Scream,' and just kind of that being the closest thing come up with tonally to what we were going for because 'Scream' is very, like, entertaining and fun, but also has scares," said the story's co-writer, Tracy Oliver, on film's influences in an interview with Halloween Daily News.
Speaking about which films and their tropes and which didn't, Perkins continued, "We wanted to do something really commercial and fun, we knew that, and we also talked about 'Scary Movie,' — we thought it was hilarious, [but] we didn't think it was grounded enough for what we were trying to do here because we wanted these characters to feel like real people, and that the stakes should feel somewhat real. If you don't believe that they're actually in harm's way, then the suspense doesn't really play out…We also talked about 'Saw,' because of like, the game aspect of it, and someone kind of like toying with them, and they don't really know why they've been chosen in this way, and why they're being made to play a game."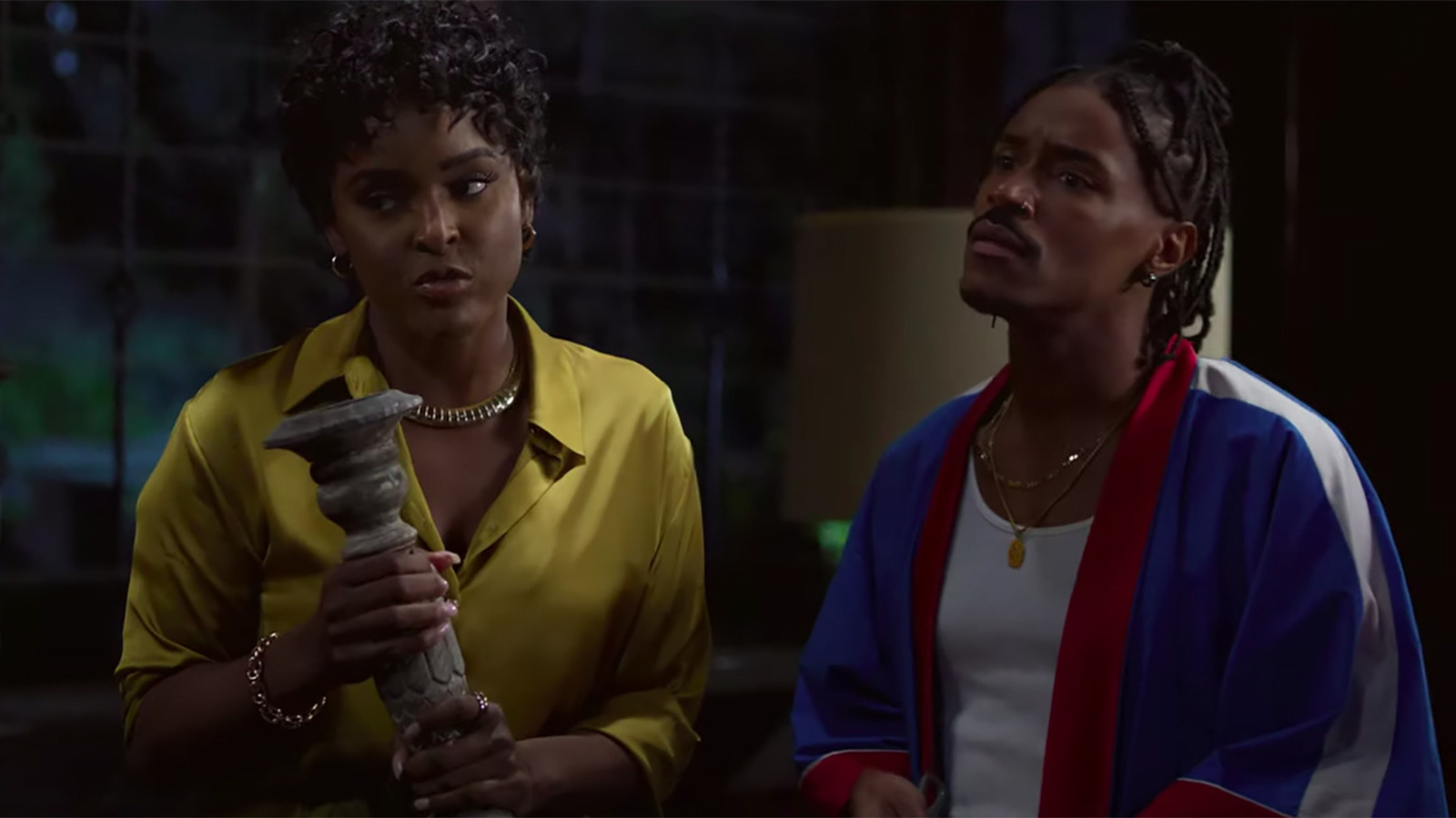 A film with clearly a lot of passion and consideration that went into writing it, 'The Blackening' adds a different perspective to the horror genre. Though it might not be based on a true story, the film does stay grounded in reality with many of its real-life references, such as the current political scenario in the US, the perception of African-American people in popular media as well as in the general populace, et cetera. All of this, combined with an amazingly executed storyline, make 'The Blackening' a definite watch.
Read More: Best Scary Movies on Netflix