Horror and comedy are two genres that don't mix. You can't expect to laugh out loud while you're scared who might be behind the next curtain. That how it is or was if I might say. With the advent of movies like An American Werewolf in Paris and Scary Movie, the popularity of horror-comedy genre has risen substantially. Horror comedies have the right amount of funny bone tickling and bone-chilling moments to keep the audiences of varied interest engaged through the movie. For the fans of this genre, we have prepared a list of top funny scary movies ever made. You can watch some of these best horror comedy films on Netflix or Amazon Prime or Hulu.
12. Jennifer's Body (2009)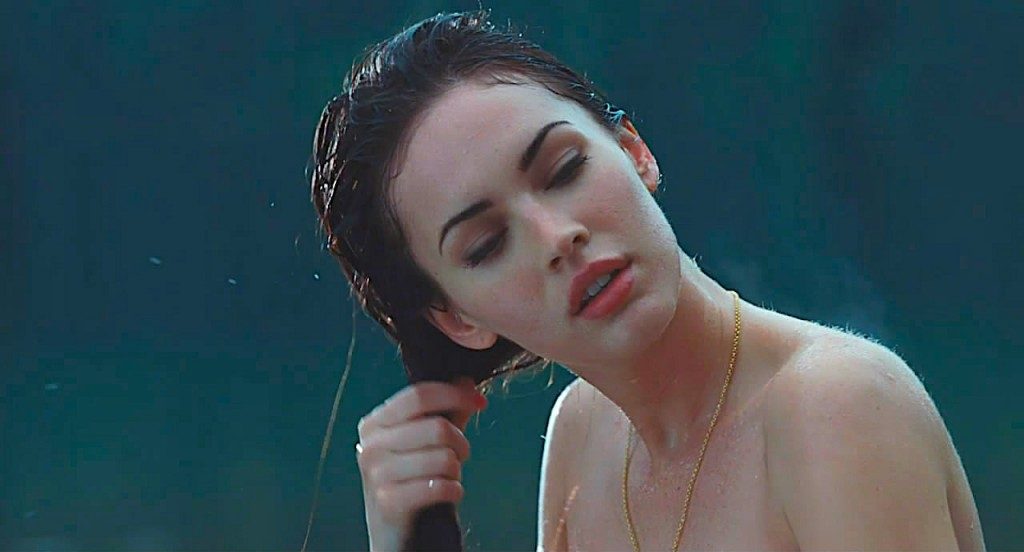 Bookworm Needy (what an apt name) needs to bury her head in the books at all time. When she is not doing that she likes to talk to her best friend the arrogant, sexy and ambitious Jennifer (Megan Fox). One fateful night, however, the ambitions of Jennifer render her a blood-sucking demon. She consequently starts killing the boys in her neighborhood one by one. Now it is up to Needy to stop her best friend turned demon before Jennifer turns on her doorstep and kills Needy's boyfriend. Well looks like another classic horror comedy with the sexy Megan Fox as the cherry on the top.
Read More: Best Horror Movies of 2015
11. Fright Night (2011)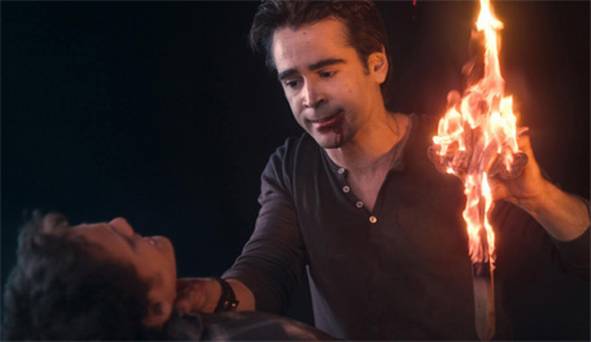 Starring Colin Farrell and the 'Purple Man' David Tennant, Fright Night is a story of an extra-keen teenager who unfortunately stumbles upon a mystery which he shouldn't have touched. After hearing about the mysterious deaths in his neighborhood, Charley Brewster starts suspecting that his new neighbor Jerry might be involved in the wrongdoing somehow. What he finds out, however, is that Jerry is a deadly vampire, who if not stopped will suck dry the entire community. With death threats from Jerry looming over his head and a stranger who claims to be a vampire slayer, Charley must decide whether he wants to live the life of a coward or be a brave corpse. Tough choice indeed.
Read More: Best Horror Movies Set in Woods
10. Dark Shadows (2012)
Starring Johnny Depp, Eva Green, and Helena Bonham Carter this movie starts off with a perfect cast for making a horror slash comedy movie. Its dark but funny plot and cheeky screenplay just add a cherry to the top. Barnabas Collins (Johnny Depp) a rich brat rejects the advances of a witch Angelique (Eva Green) and breaks her heart. In retaliation, she curses him and his whole family burying him alive. Two centuries later Barnabas wakes up as a vampire to find his family suffering due to the same ageless witch. What he does to stop the lustful witch and impress her true love Victoria, is something which has all the elements of fun, entertainment, and horror amalgamated together.
Read More: Best Horror TV Shows of All Time
9. Cabin in the Woods (2012)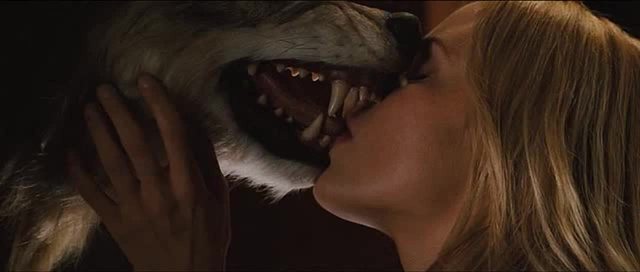 Five best friends are out on a weekend trip to a secluded cabin in the middle of the woods. Sounds like your typical slasher movie with five unfortunate souls dying one by one at the hand of a scorned ghost or mad zombie right? Think again. Even when the five friends are being targeted by a handful of zombies, there is more to the situation than what meets the eye. Several feet down in the basement, a pair of scientists are releasing one by one all the horrors you've ever seen in a horror or slasher movie including a merman (nice). However, their plan seems to get difficult when two of them refuse to die and their plan to sate the big monsters hiding under the surface of the Earth fails. With a plot getting twisted and confusing at every step, this one is sure to tickle your funny bone and the scary muscle at the same time.
Read More: Best Feminist Horror Films of the Decade
8. Warm Bodies (2013)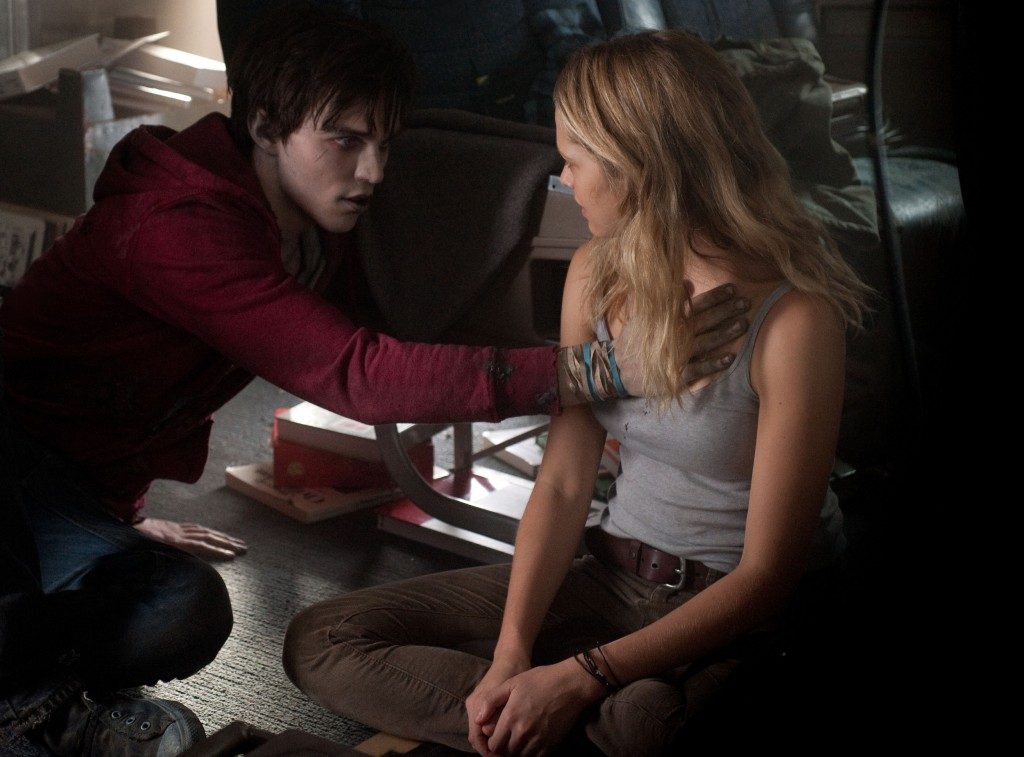 In a dystopic future, a large part of the human population has turned into mindless zombies roaming around in search of food (which is well human brain). One of these zombies is R (Nicolas Hoult) who remembers nothing about his former life but has a piece of consciousness which allows him to form fragmented thoughts. When he meets Julie (Teresa Palmer) something wakes his human side again, and his heart starts beating, unlike other zombies. He feels strange and protective of a human being which is well what he shouldn't be doing. Perhaps this marks a new beginning where the mindless freaks are turning back into humans. The question is whether the stakeholders at the zombie and human side allow that to happen after they are done accepting the impossible.
Read More: Best Horror Movie Villains of All Time
7. The Evil Dead (1981)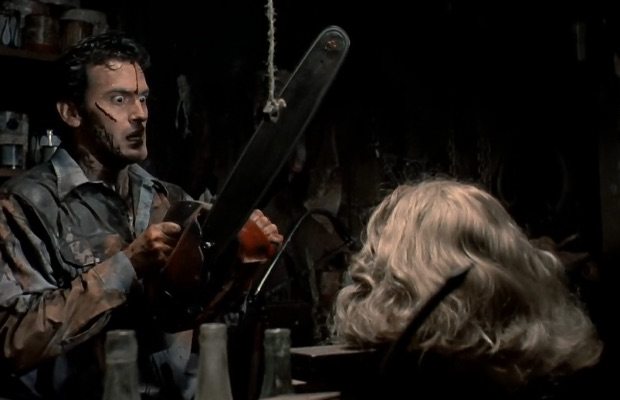 One of the most famous horror movies of Hollywood yet one of the funniest ones. I don't know about you, but every time I watch this supposed horror movie I find myself laughing to a stomach-ache. Perhaps this film was meant to be a combination of horror and slasher genre, but due to the cheesy acting and the rather enjoyable ghosts, it became a horror comedy. Based on the life of five friends who find a book of incantations in a secluded place, this one portrays the lengths of human stupidity. The five friends read the chants aloud and what follows is a series of events which unleashes the evil dead onto them. With everyone dying around him, Ash (Bruce Campbell) must try his best to survive until morning.
Read More: Best Horror Movies of All Time
6. Zombieland (2009)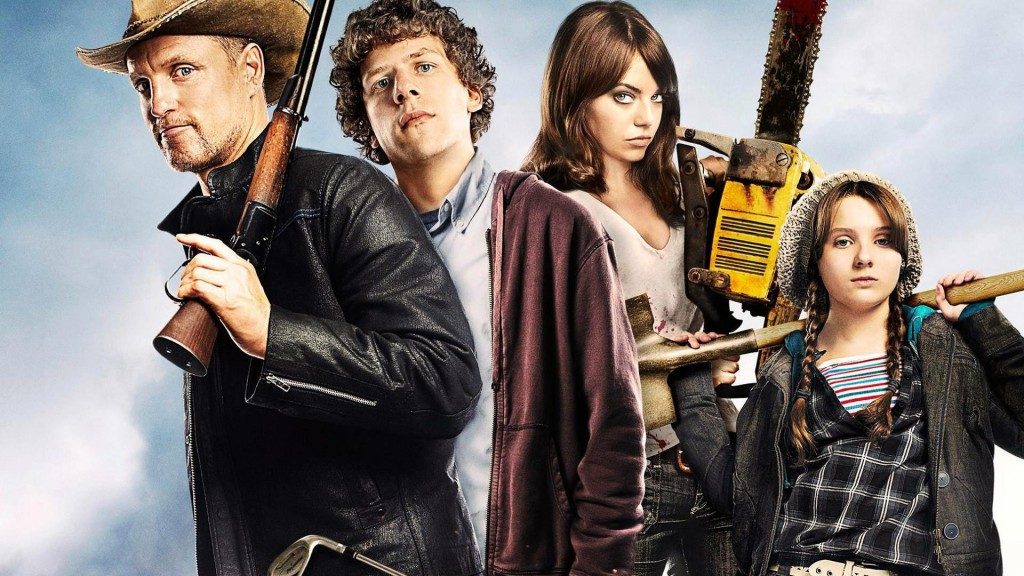 Surviving in a zombie-ridden land is difficult, but if you have a specific ruleset that you follow every time, you'll somehow survive. Well, least if you're Columbus (Jesse Eisenberg). Surviving amidst dumb zombies and dumber people, Columbus (not the one who discovered America) stumbles upon three survivors like him. A blazing gun and maniac Tallahassee (Woody Harrelson) searching for the last Twinkie and two sisters who are trying to get to an amusement which is rumored to be zombie-free. Can the ill-fated traveling companions come to terms with each other's selfishness and realize the comedy in their dire situation?
Read More: Best Horror Movies of the 2010s
5. Goosebumps (2015)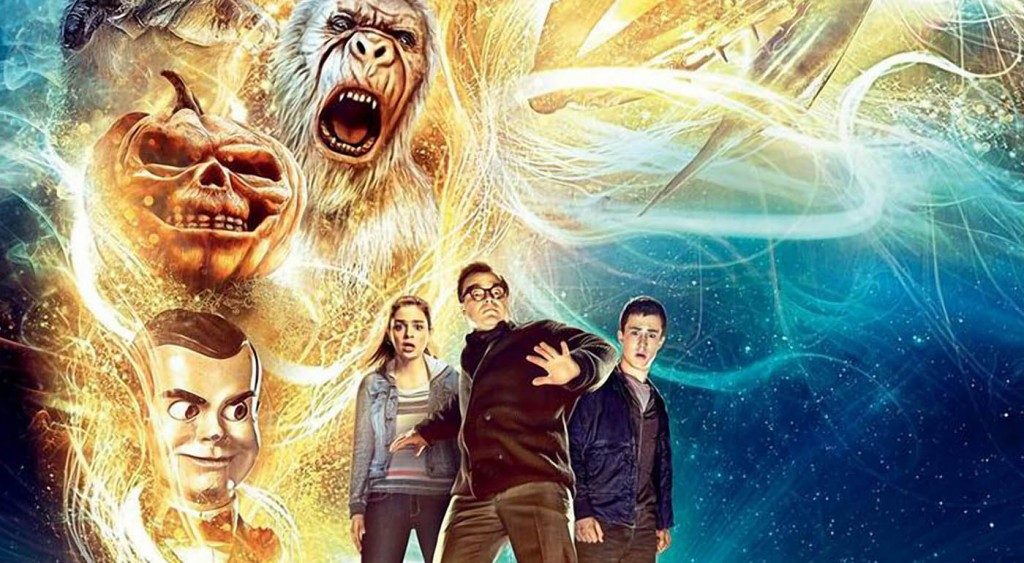 Based on R.L. Stein's famous children's horror novels, Goosebumps is one a movie which is sure to bring -you guessed it- goosebumps on your body. Well, if you ask me, the name of the film is quite apt because you get goosebumps when you're scared as well as when you're excited. Featuring famous comedian Jack Black as R.L. Stine the author of Goosebumps series, this movie is based on a fictional scenario where the harrowing book characters come to life when the guarding spell on the original manuscripts are broken. Now it is up to R.L. Stein, his daughter Hannah (Odeya Rush) and her friend Zach to make sure that the dangerous ghosts and monsters are put back into the books before they become permanently alive and destroy the little city of Delaware. Along with Jack Black, venture out onto a journey of self-preservation and to-die-for fun.
Read More: Scariest Horror Movies of the 21st Century
4. Scary Movie (2000)

A parody series ripping-off many famous horror franchises including Scream, I know what you Did Last Summer and others, Scary Movie series is perhaps one of the best horror comedies made till date. In the first installment of the franchise, a group of dumb teenagers is being stalked by a scary yet nutty maniac who they killed a year ago. Starring Anna Farris and Regina Hall in the lead roles, this one is sure to leave you rolling on the floor, as it makes fun of the very best horror movies of Hollywood.
Read More: Best Horror Movies Based on Real Life Stories
3. Bhool Bhulaiya (2007)

A masterpiece made by Indian filmmaker Priyadarshan and the famous all-rounder of Bollywood Akshay Kumar, Bhool Bhulaiya is a must-see for every horror lover. With bone-chilling scenes and well placed comical reliefs, the movie has every element a hit movie should have. When Siddharth (Shiney Ahuja) an American architect comes back to his hometown in India with his newly wedded wife Avni (Vidya Balan), he starts living in his ancestral home which is thought to be haunted, without caring for the superstitions that exist in his family. However, when mysterious events start happening around the house at night, Siddharth is forced to call his psychiatrist friend Aditya (Akshay Kumar) to solve the mystery. With the right amount of horror, suspense, and comedy thrown into the mix, Bhool Bhulaiya is a perfect horror-comedy, if there was ever one.
Read More: Best Foreign Horror Movies of All Time
2. Ghostbusters (1984)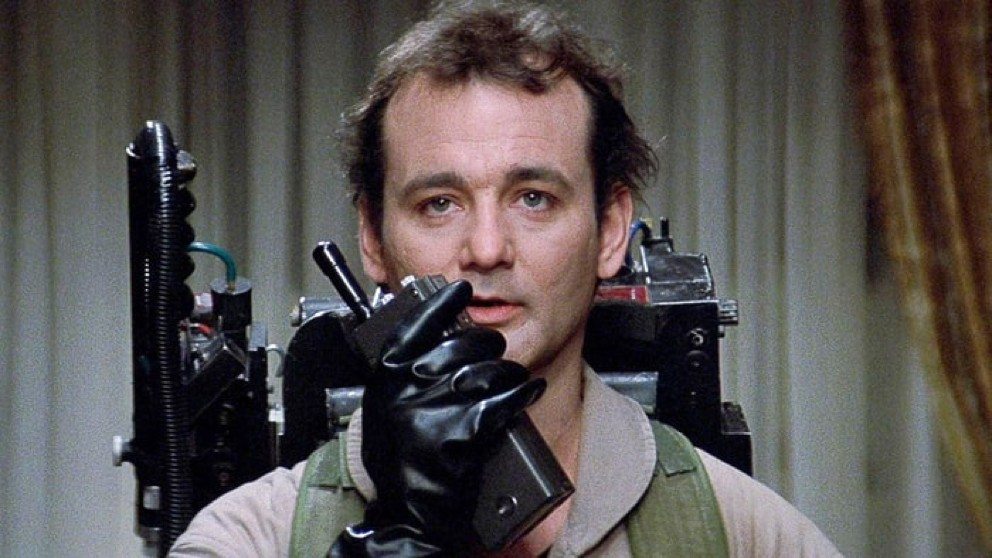 Peter, Raymond, and Egon are three parapsychology scientists who use their knowledge of the paranormal sciences to catch ghosts and imprison them. However, the press makes it appear that they are the cause of the newfound paranormal activity in the city and as a result, they are thrown into prison. Unknown to all, there is a third-party responsible for these events, which is trying to raise an ancient horror capable of destroying the world. The three Ghostbusters are called upon to make a final stand against the dead and the man trying to exhume them. Will the team of hilarious misfits be able to stop the attack on humanity?
Read More: Best B Rated Horror Movies of All Time
1. Shaun of the Dead (2004)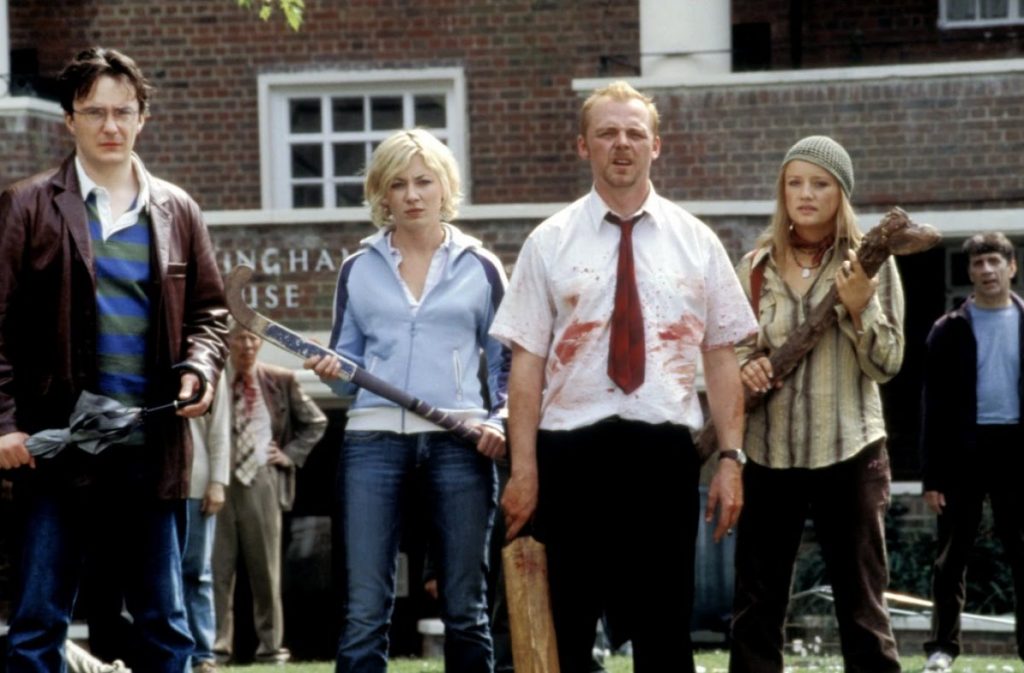 Shaun (Simon Pegg) is a salesman in an electronics store. He is neither charming nor does he possess any special skill set. Moral of the story? Shaun leads a very dull life and is pretty much ignored by everybody around him. The chance for redemption presents itself when an army of zombies threatens to kill everybody around him. Turning into a savior for all, downing undead with one strike -or two atmost- Shaun becomes the man he always wanted to. Or does he? In this cult classic starring Simon Pegg watch the story of a man who shows his real character in dire circumstances, never letting the comedy of his life let go.
Read More: Best Found Footage Horror Movies of All Time