'To Leslie' is a drama movie directed by Michael Morris, marking his feature film directorial debut. It stars Andrea Riseborough ('ZeroZeroZero') as Leslie Rowland, a single mother who quickly burns through all the prize money she receives after winning the lottery. As a result, Leslie turns to alcoholism affecting her relationship with her son. However, she finds a chance at redemption after getting a job at a motel.
Anchored by a scintillating performance by Riseborough, the film is a realistic depiction of the struggles a working-class single mother faces. As a result, curiosity about the inspiration behind the movie is understandable. If you are wondering whether 'To Leslie' is based on true events, here is everything you need to know!
Is To Leslie a True Story?
'To Leslie' is loosely based on a true story. The film is written by screenwriter Ryan Binaco who also serves as an executive producer. Binaco drew from his personal experiences to write the story of a woman seeking redemption after losing all the money she won in a lottery. The screenplay is inspired by Ryan Binaco's real-life mother and the writer's experiences growing up with her. However, Binaco has not publicly shared personal details about his mother's life.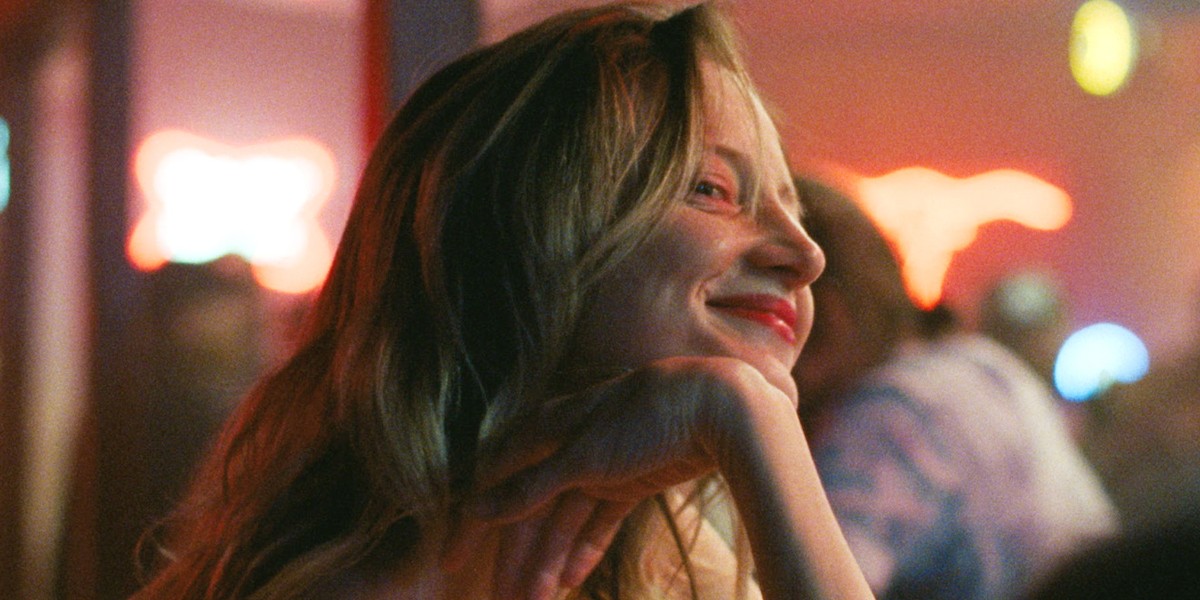 In an interview with the National Board of Review, director Michael Morris opened up about the real-life inspiration behind the film. "Ryan wrote this script and had been brought up by a version of Leslie. But it's important to note that Leslie, as embodied by Andrea (Riseborough) in the film, is not Ryan's mother," Morris stated. "This is very much a film, and a character that was built by Andrea in every beat of the film Ryan wrote this script to try and understand his mother and the pain she dealt with, often by herself, and to work through the pain he had growing up without his mother for much of his young life."
Similarly, Andrea Riseborough, who plays Leslie Rowlands in the movie, spoke about the inspiration behind her character in an interview with Deadline. "It's written from the perspective of a child who watched their mother experience this very same thing. It's as if Ryan has given his mother, who was from a very different place and background, a chance at redemption," she stated. Riseborough also discussed the film's primary themes in the same interview.
The 'Amsterdam' actress explained that the film explores the highs and lows of Leslie's life through her relationship with her son. "So often a film gives you all the answers before you've even asked the questions, but here it's about trying to understand how Leslie has lost her compass and how the one true direction — her North Star — is her son," Riseborough stated.
Similarly, Riseborough pointed out that while the film explores the theme of redemption, it does not serve as the narrative's backbone. "The film doesn't rely on her being redeemed. She will continue to pull out a bottle and put it away for the rest of her life. It's a realistic depiction of what the aftermath of that maelstrom looks like," she said. Meanwhile, addiction and alcoholism are the other themes the film touches upon through Leslie's story. From Riseborough's words, it is safe to deduce that the movie is primarily the story of a mother's relationship with her son.
Nevertheless, by showing Leslie battling real issues like addiction, the narrative is grounded in reality. All things said, 'To Leslie' is not a biographical movie. The film is loosely inspired by the real-life experiences of writer Ryan Binaco and his mother. However, the real events are heavily dramatized, and the version of Leslie we see in the movie does not directly represent Binaco's mother. Instead, the film tells a fictional story with emotional beats, a solid mother-son relationship, and relatable themes, adding a semblance of reality to it.
Read More: Best Parenting Movies