While there's no denying every single relationship involves consistent hard work, things definitely seem a bit easier for couples with parallel cultural, traditional, religious, and spiritual backgrounds. This much is actually something Netflix's 'Jewish Matchmaking' perfectly evidences, especially as it follows singles from across the US and Israel as they strive for love within their community. So now that season 1 of this captivatingly cozy original has landed on our screens in its entirety, let's find out precisely what its intriguing cast members have been up to these days, shall we?
Where is Dani Bergman Now?
Although one of Dani's core requirements in a potential partner was for him to match her incredible brow game, it was characteristics, lifestyle, as well as values that mattered the most to her. It thus comes as no surprise her pairings with either David Behar or Shaun Civin didn't pan out — the former apparently wanted a mere hook-up situation, whereas distance was an issue with the Hawaii-based surfer. After all, the South Africa-rooted Jew is a California native based in Miami, Florida, at the moment, where she's honestly thriving as the CEO and Managing Director of 1084 Media, an advertising/marketing agency.
Where is Ori Basly Now?
If we're being honest, Ori did come across as a little douchy at first due to his uncompromising stance on his likely suitors' looks, yet he soon proved their family beliefs were his top priority. He ultimately did get both in the form of blonde-haired, blue-eyed attorney Karin, but it's unfortunately unclear whether or not they're still together owing to their preference for privacy these days. In fact, this Los Angeles, California, residing Moroccan Jew — currently serving as the Creative Director of his mother's event planning business, plus a freelance graphic designer — even keeps his Instagram profile set to private.
Where Are Harmonie Krieger and Ben Bakondi Now?
Despite the fact Harmonie concluded her 'Jewish Matchmaking' journey being cautiously optimistic about date #3 Ben Bakondi, it doesn't seem like they were able to make their connection last. We actually claim this because while the latter follows the New York-born, Los Angeles-based, self-proclaimed high-energy unicorn on her online platforms, she does not, which in itself says a lot.
Plus, it does appear as if both Harmonie and Ben are single at the moment, dedicating all their time to their respective families as well as professions. She's a motivational speaker, the host of the 'Life With Harmonie Pod' podcast, and the founder of Pop Up Shop Agency brand consultancy, whereas he's a Postdoctoral Scientist at Cedars-Sinai Regenerative Medicine Institute.
Where is Cindy Seni Now?
As a proud Sephardic Jew in every sense of the term, it was over four years ago that Cindy chose to leave her home in Canada to make Aliyah — a Jewish tradition of immigrating to Israel. However, her experiences in this Middle Eastern country have not always been positive owing to the men she has encountered — her ex got cold feet once they began discussing marriage following three years together, and her dates with matchmaker pick Daniel left a sour taste in her mouth. Nevertheless, this digital creator/writer/actress's social media platforms make it evident she's still completely in love with what the nation truly stands for and now deems herself a true Jerusalemite.
Where Are Noah Dreyfuss and Ophir Gross Now?
While we first came across Noah as a resident of Jackson Hole, Wyoming, this "flexidox" Jew has since relocated to Denver, Colorado, in the hopes of expanding not just his ease but also his investment advisory company. Coming to his relationship status, from what we can tell, it looks like the divorced father of one is still single despite his incredible date with Ophir Gross, whom he'd met through the matchmaker after his time with potential partner Eliana Stepansky had fizzled.
"[Noah] is so sweet," Ophir had candidly said at one point after their first date. "And I love kids — I definitely want to have a family, and he wants to have a family too. So who knows? You know, could be a blended family [with his son included]." Yet alas, considering the financial industry expert and the rising Phoenix realtor do not even follow one another on Instagram as of writing, it seems rather evident they weren't able to convert their experience into a deeper connection.
Where is Fay Brezel Now?
Although Fay hails from quite a conservative Jewish community in Brooklyn, New York, and considers herself devoutly Orthodox, she is also modern in the sense of her personal independence. After all, she obtained her Mental Health Counselor license at 21 before gradually evolving into an entrepreneur; she's now the proud founder of the mental health/wellness directory OKclarity. This company is actually doing wonders at the moment thanks to her brand knowledge as well as social media presence, but her personal life has seemingly remained the same following her failed affiliation with likely match, Shaya Rosenberg.
Where Are Nakysha Mays-Osadchey and Evan Carmusin Now?
It was when Kansas native Nakysha had been friend-zoned by actor/model Ryan Mitchell following a single date that she was introduced to North Carolina-based Evan, only for them to immediately hit it off. "Oh, I'm feeling really giddy," the former had said upon meeting him. "This date did go super well… He's honestly everything I feel like I've been looking for. We seem to like match up perfectly, like a puzzle."
Nevertheless, because this duo doesn't follow one another, let alone interact via likes, comments, or stories, on their respective social media platforms as of writing, it appears as if they've since ended things. In fact, they both look single yet perfectly content with their lives, especially as Nakysha now has her career in Content Creation, whereas her once-potential beau continues to work as a Wedding DJ/Grocery Store Manager.
Where Are Stuart Chaseman and Pamela Rae Schuller Now?
As someone who has been active in the dating world for nearly three decades without any real success, then-51-year-old Stuart Chaseman described himself as a "professional dater" in the series. It hence comes as no surprise matchmaker Aleeza Ben Shalom suggested he get a small makeover to break his cycle before even setting him up with anyone, just for it to be a success the second time around with Pamela Rae Schuller.
These two shared a lot of laughs, managed to be vulnerable, and expressed their future expectations within a few hours together, making it appear as if there was a genuine spark between them — but it doesn't look like they were able to make it last once the cameras stopped rolling. So, all we know is that while Illinois-based Stuart continues his quest for love while also working on his rock music as a singer-songwriter, New York resident Pamela is still dedicated to her comedy, public speaking, and mental health advocacy.
Where Are Noah Del Monte and Tav Gross Now?
Last but definitely not least, we have the only international pairing from this entire series, Israel's Noah and US' Tav, who showed a lot of maturity in their time together despite being quite young. The former was actually growing a little disappointed in the entire shidduch process (arranged dating with the purpose of marriage) as his first two dates were near disasters, but it all changed with Tav.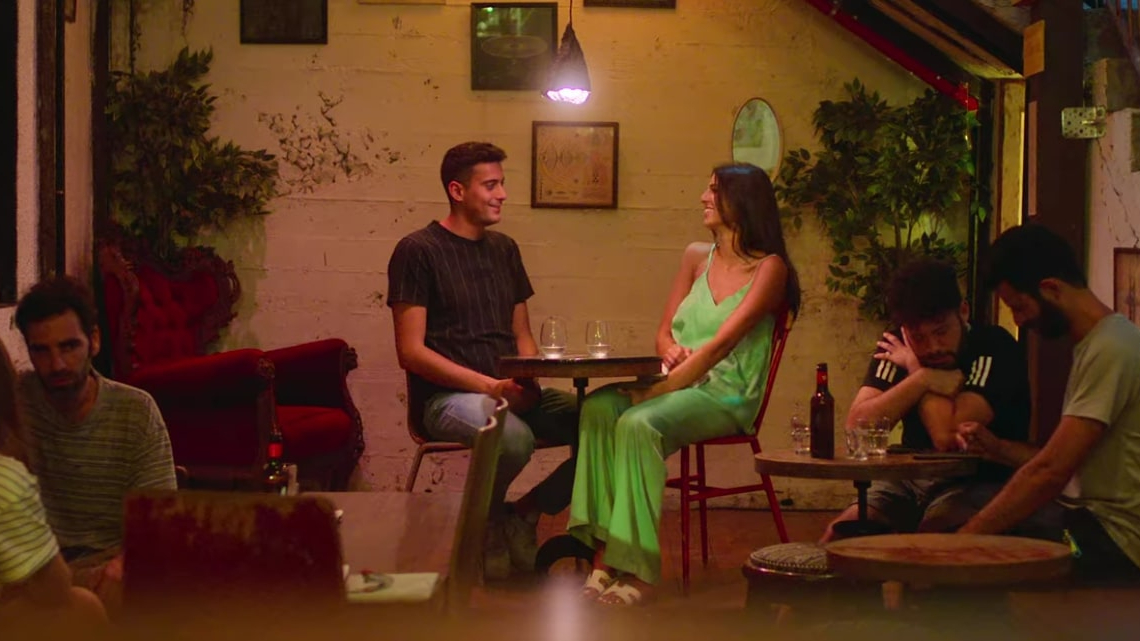 That's because the diplomat's son quickly realized she was not just beautiful, confident, independent, as well as strong, but their familial and religious values also aligned to a large extent. Therefore, we're happy to report it appears as if Noah and Tav (aforementioned Ophir's sister) are still together at the moment – if not, the Tel Aviv resident and the Arizona native are at least still on good terms, as made evident through their mutual follow on social media.
Read More: Aleeza Ben Shalom: Where is the Jewish Matchmaker Now?