With Netflix's 'Zombieverse' living up to its title in every way imaginable, we get a semi-unscripted reality production that can only be described as equal parts baffling, engaging, and intriguing. After all, it revolves around a group of local South Korean personalities as they suddenly find themselves battling for survival during a "zombie outbreak" that has taken over the entirety of Seoul. Amongst them was actually none other than Congo-born refugee turned immigrant Jonathan Thona Yiombi — so now, if you simply wish to learn more about him, we've got the details for you.
Jonathan's Zombieverse Journey
It was reportedly in 2008 when the family of Democratic Republic of Congo politician Patrick Yiombi arrived in Korea upon fleeing their homeland due to safety concerns, just to never look back. The truth is Jonathan was merely 8 at this point as the second son amid at least three kids, meaning he primarily grew up in this wondrous nation before stepping into the limelight on his own. In fact, prior to featuring in the aforementioned apocalypse-driven original, he was already a well-established YouTuber and television figure most known for his role in 2021's 'Racket Boys' drama.
Coming to Jonathan's time in the zombie overrun world, he was initially left stuck in a supermarket alongside his younger sister Patricia as they were buying snacks when the beings began to attack. Little had the duo realized this pit stop during a driving lesson for the latter would result in them not being able to return home for a long time since the half-dead individuals were everywhere. That's when they came across others like them, only to realize they all needed to stick together and gather some supplies (in small teams) before fleeing the scene if they wished to really survive.
Jonathan was subsequently paired with an injured Park Na-Rae under the assumption his undeniable strength would help her along the way, yet he outrightly abandoned her once a zombie got on his tail. Thankfully, their castmates were quick to jump into action to rescue the comedian, just for her to sadly get infected in the parking lot while trying to find a vehicle to take them far, far away. However, he absolutely made up for this through his rescue of Tsuki once the group found themselves in Hwangchon-Ri, where the town's chief soon chose to hold her captive in a sea of hungry zombies.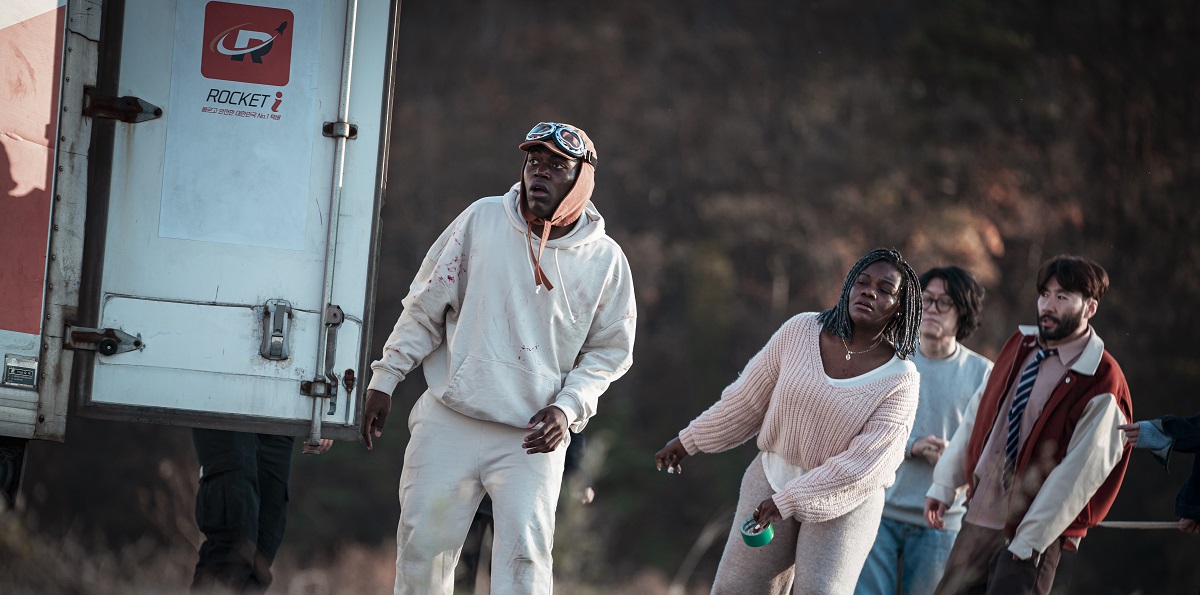 Jonathan didn't volunteer to save the youngster, but he also didn't argue once picked via a fair game of rock-paper-scissors despite the fact it meant covering himself in zombie blood in the sheer hope they wouldn't recognize him as human. But alas, the desired effect didn't last for as long as they would've liked — he was mere feet away from the exit door when the half-dead beings hounded him to ensure he got infected too; he was bitten all over without any mercy. Therefore, in the end, even restraints to maybe hinder his quick transformation didn't help; he turned within a day.
Where is Jonathan Yiombi Now?
From what we can tell, ever since his stint in 'Zombieverse,' Jonathan has proudly returned to being a content creator and actor with complete determination to gradually expand his wings too. We state this because not only has he continued to upload on his YouTube channel regularly, but he has also seemingly begun working on other projects, all the while pursuing additional endeavors. In fact, the lifelong soccer (football) enthusiast was recently appointed as an EA SPORTS FC24 Fan Ambassador, plus it appears as if he's even building himself as a fitness influencer these days.
As for Jonathan's personal experiences, although he prefers to keep them on the down low at the moment, it's evident he remains close to his entire family (especially Patricia) to this day. It's hence no surprise there's little to no information available regarding his relationship history as well as present dating status either, yet if he ever does admit anything publicly, we'll keep you updated. On the other hand, we should mention that in 2022, he'd announced his plan to become a naturalized Korean citizen prior to fulfilling his mandatory military service as a form of gratitude for how the nation had once protected him.
Read More: Zombieverse: Who is Dex? Did He Also Appear in Single's Inferno?