According to Norse Mythology, 'Jormungand' is a Midgard Serpent and in this case, it represents the main protagonist of the anime who is more or less like a serpent. She is a cunning and yet quite vibrant arms dealer who serves her own self-interest and wisely leads a group of bodyguards through her impeccable intelligence and leadership skills. 'Jormungand' is the kind of anime that can make any action lover go weak in the knees as it has the most epic blood shedding fight scenes, gunslinging rapid dominance and most of all, a very compelling storyline.
Adapted from a manga that goes by the same name, 'Jormungand' does an amazing job in the portrayal of all the brutality that the characters go through as they pursue a very dangerous illegal business. At the same time, it also finds ways to take a break from the gore by offering some funny and heart touching moments. Even the music and art of the show are really stunning with multi-cultural background scores that fit right in with the fast-paced imaginative combat styles. Overall, 'Jormungand' is definitely one of the best Seinen anime of this decade and I would highly recommend it to anyone who enjoyed watching 'Black Lagoon'.
Jormungand Season 3 Release Date: When will it premiere?
'Jormungand' Season 1 premiered on April 11, 2012 and went on till June 27, 2012, featuring a total of 12 episodes. This was then followed by a season 2 titled 'Jormungand: Perfect Order', which was first aired on October 10, 2012 and came to an end on December 26, 2012. Anime fans who watched it were really impressed by the epic gunfights and the cool circumstantial setting that it offers. It has gained quite a lot of fans who are extremely loyal to the anime and would do anything for a new season.
But sadly, all this while, the anime was following the manga and it has exhausted all the existing chapters of it. There is absolutely no source material left to be covered by the anime and though its ending was a little underwhelming, it was quite conclusive as well. The chances of getting a new season, in this case, are very slim and we can hope for one only when new volumes of the manga are released. If that happens and the show gets commissioned again, we will update this section with 'Jormungand' Season 3 release date.
Jormungand English Dub:
The English Dub of 'Jormungand' is available on Funimation and Amazon Prime.
Jormungand Plot:
Jonathan "Jonah" Mars is a child soldier who has grown up in an environment that is full of war and conflicts. But ironically, he hates weapons and the people who make them too. But when he is hired as one of the bodyguards of an international arms dealer named Koko Hekmatyar, he is forced to pick up arms and use them for protecting his boss. Along with all the other bodyguards, who are mostly former special ops soldiers, it's on Jonah now to protect her from harm's way and eventually, only he can help her reach her idealistic dream of world peace.
The anime follows the adventurous journey of Koko, Jonah and the rest of the crew as they travel around the world to sell arms, representing a shipping company named HCLI. Despite the fact that this business is illegal with respect to the international trading law, Koko is an expert and very well knows how to sidestep a little to get her business going with local armies and the military. The CIA is always right behind them on their trail and they somehow have to stay just one step ahead of them all the time. Apart from that, even assassins wait for them to make one wrong move and they must dodge them all to somehow make their idealistic dream of world peace a reality. They live by only one analogy throughout — get sh*t done or die trying.
Jormungand Characters:
Lehm Brick
Lehm is a former Delta Force officer and second in command of Koko's squad. He is one of the most senior members in the group of bodyguards who protect Koko. He is a fair-skinned middle-aged man who has greying hairs and also a slight stubble. Before he became Koko's bodyguard, he had blond hair. He has various bullet and knife scars all over his body from his previous jobs and also from his current profession where he keeps Koko out of harm's way by putting his own life in danger. He is a chain smoker and can always be seen with a blazing cigarette in his mouth, even during combats.
Being the mature one in the entire group, his actions are usually backed up with a lot of logic. With all the combat experience that he has had in the past, he is able to remain calm even in the gravest situations and often acts as a voice of reason when everyone else seems to be panicking. He completely understands the seriousness of his work and has very well accepted that someday he might even die while serving as a Koko's bodyguard. He makes sure that everyone on the team is living up to the expectations that have been set by him and also maintains soldierly standards for everyone.
Koko Hekmatyar
Koko Hekmatyar is the main female protagonist of the series who is the daughter of shipping magnate Floyd Hekmatyar. She is an international arms dealer and manages HCLI's European/African Weapons Transport Division. Along with her group of bodyguards, she conducts an arm dealing business all over the world that has a special mission title as the "Jormungand". She is a fair slim light skinned woman who has long light colored hair. She is very sharply dressed all the time and is usually seen in business suits and fancy neckties. She is also very sensitive to the sun and avoids getting burns on her skin by wearing a straw hat.
She acts really immature when she's around her bodyguards and often throws fits of anger and frustration. But her true nature and intentions are always hidden and she never reveals what's on her mind. Strangely, she smiles when she is in a dangerous situation and is somehow able to keep a very clear mind at all times. When it comes to getting her work done, she is ruthless and will do anything to destroy whatever that stands in her way. Weapons don't scare her at all as she has been in this business for a while now. She strongly believes that nothing can harm her unless it is her time to die. She has accepted that death will one day come to her but till then, she will remain unscathed by even the most dangerous situations.
Jonathan Mar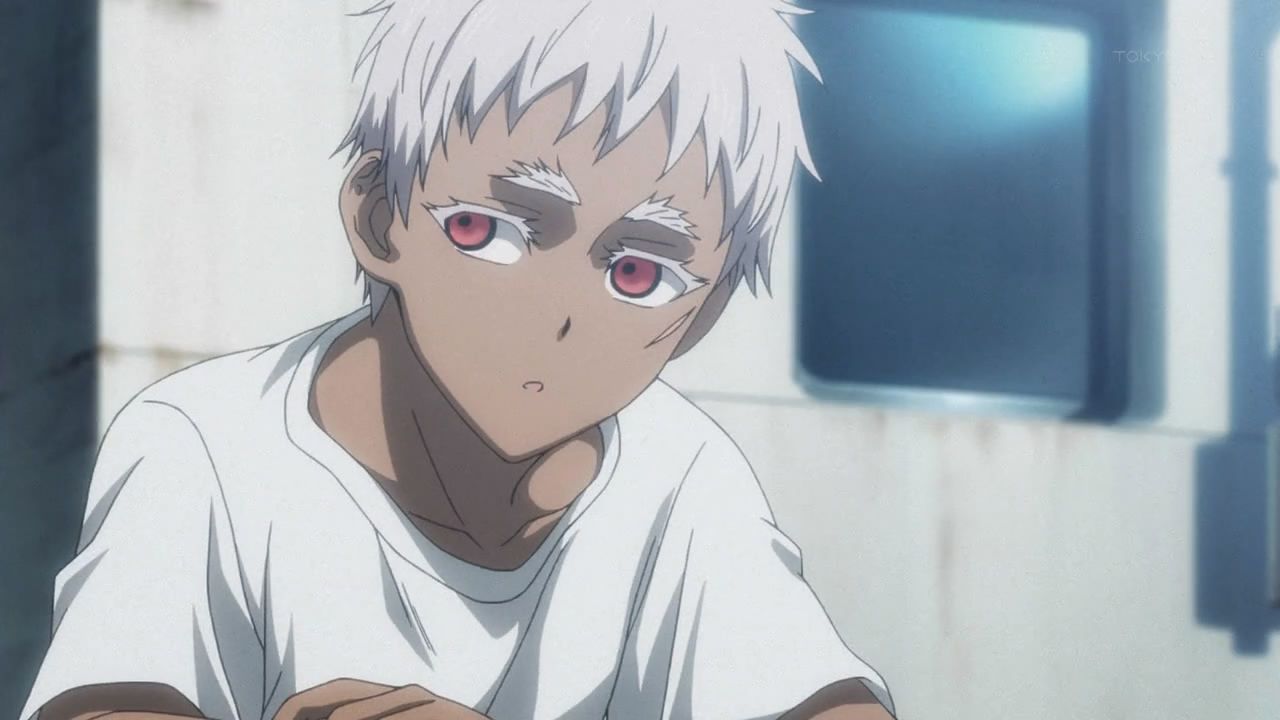 Jonathan Mar, more commonly known as Jonah, is another main character of the series who was formerly a child soldier and is now the newest member of the team of bodyguards who protect Koko. He has a slightly dark complexion with short white hair and reddish colored eyes. He has a scar under his left eye that could possibly be from his days serving as a soldier. Initially, he is shorter than most people on the team but is still considered to be cute by many female characters. He later grows almost as tall as Koko Hekmatyar.
He has had a very rough childhood and because of this, he rarely smiles. His parents were killed in an attack on his village by its enemies who possessed weapons supplied by Koko's elder brother, Casper. His experience with Casper and his other subordinates have made him develop a strong hatred towards weapons and arms dealers, but after working with Koko, he softens up a little. After everything he has been through, he has become extremely mature mentally and has immense control over his emotions. He shows no interest in the opposite sex as he's still not an adolescent and does not react at all when Koko joins him during his bath. He hates the idea of studying or getting tutored and often tries to find ways to somehow get past these.
Sofia Valmer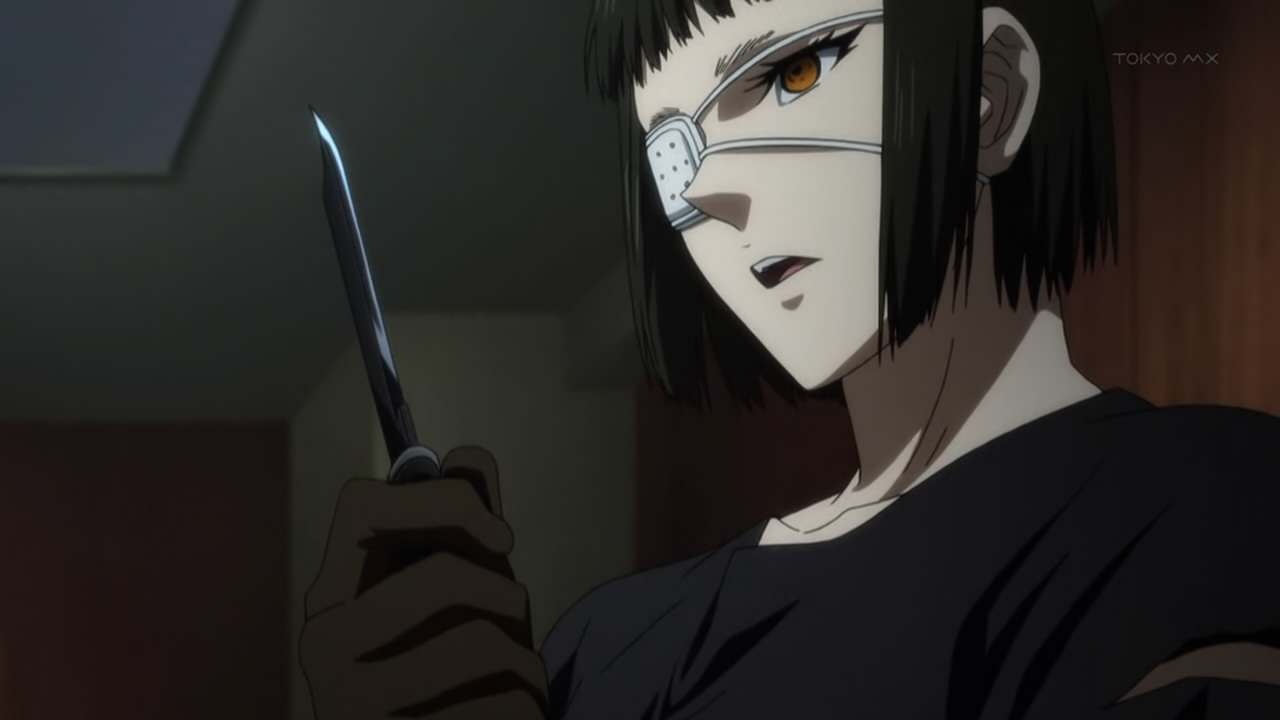 Sophia Valmer, more commonly known as Valmet, is the only female member of Koko's squad. She is a tall, fair-skinned woman who sports short black hair with a sharp fringe that covers her forehead. She lost her right eye in an accident and now she wears a white eye patch over it. She has very well toned muscular built and looks much stronger than most other characters. She is also considered to be a very attractive woman because of her amazing curvy body. She is a really tough and fierce woman who knows how to stay calm when necessary. She is also Koko's most loyal subordinate and is willing to sacrifice her own life for her. She seeks Koko's appreciation and her sole purpose in life is to receive compliments for her work from Koko. The whole squad has a fair idea about how Valmet feels for Koko but no one really talks about it. Koko even takes her attitude for granted sometimes and touches her inappropriately.
Read More in Anime Preview: YuGiOh Season 5 | My Love Story Season 2