It was in the early hours of July 29, 2016, that Dawn and Antonio Armstrong were shot inside their own home, only for their son Antonio "AJ" Jr. to almost immediately be accused of the murders. However, as charted in ABC's '20/20: I Have Been Watching,' not only has he not been convicted despite two trials (with a third already set), but there are also allegations against his half-brother. So now, if you wish to learn more about Joshua "Josh" Armstrong in particular — with a focus on his reported hand in the matter as well as his current whereabouts — we've got you covered.
Who is Joshua Armstrong?
Although not much regarding Joshua's early years is publicly known, it's evident he has been a part of the Armstrong family from the day his mother Dawn married former NFL athlete Antonio. In fact, the latter ultimately adopted him to cover even the legalities, meaning he was primarily raised around Houston, Texas, alongside the couple's own two children; son AJ and daughter Kayra. Nonetheless, according to the youngest member of the blended brood, the relationship between the eldest and the couple had drastically soured by the time he was a university student in 2016.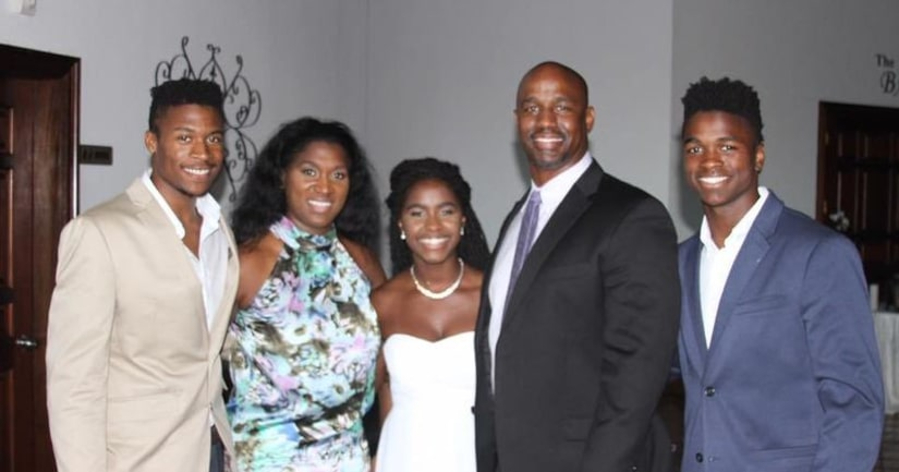 "[Josh] was there, but he wasn't there," Kayra once revealed, referring to when he'd moved back home in May 2016 upon leaving college, just to get an apartment close by weeks before the killing. "He acted like he was the black sheep of the family. He acted like our parents loved us more because we were biologically related to both of them," which caused serious conflicts in the family. She further divulged that in spite of the fact she was merely 12 back then, she knew Josh abused drugs to such an extent "he stopped caring about things like his appearance or getting haircuts."
As if that was not enough, it has been reported Josh also struggled a lot with his mental health both before and after the July 2016 homicides, especially in terms of violent, psychotic episodes. This, combined with the fact he lived doors away from the family residence, seemingly had unrestricted access, and was likely high that night, led many to place the entire blame directly on him. After all, one of the primary pieces of evidence authorities have against then-16-year-old AJ is still the indication it was an inside job since the home's set security system had not even gone off.
Where is Joshua Armstrong Now?
When AJ stood trial as well as retrial on two counts of capital murder in 2019 and 2022, respectively, his defense predominantly relied upon the possibility of his half-brother Joshua's involvement. Therefore, even though detectives testified they'd cleared the latter for good, they brought on evidence indicating his troubles and instability at every step of the way, starting with the drug abuse. Then, through Kayra's statements, they also made it clear he'd not just grown increasingly forceful following the incident but also claimed to have "demonic voices" and mixed personas in his head.
A few of Josh's medical records were made public as well, with the one quoted by the defense being, "[Josh] is extremely psychotic with command voices to hurt self and others… The patient experienced watching the murder of both parents in 2016." Yet this declaration of "watching the murder" has never been clarified by the man who asserted so to the doctors himself because he has never been called to the stands by either the prosecutors or the dense.
On the flip side, prosecutors indicated Josh had to be admitted into a mental health facility around six months after Dawn and Antonio's homicides since he'd spiraled while looking for answers. He apparently became paranoid and obsessed before starting to have "suicidal thoughts. [He] is hearing voices, gradually deteriorating, there's a woman in his head he wants to hurt; depressed, withdrawn, no motivation, dropped out of college October 2017."
Coming to Josh's current standing, he was diagnosed with schizophrenia a couple of years ago when he was " "hallucinating, hearing voices, had a plan to sacrifice an animal, and had homicidal ideations." The Houston, Texas, native hence evidently continues to reside in his hometown, but sadly not much else is known about his recent personal, educational, or professional experiences. He does have a presence on social media, as seen above, yet even that is very limited and reveals nothing regarding his feelings toward the allegations against him or the loss he has endured.
Read More: Kayra Armstrong: Where is Dawn and Antonio's Daughter Now?