While there's no denying makeover reality productions have been all the rage over the past few years, Netflix's 'Queer Eye' definitely stands out from the lot owing to its personal approach. After all, it revolves around five incredibly skilled professionals (aka the Fab Five) as they lend their respective expertise to help people (or Heroes) reach their full potential through confidence. Amongst them in season 7 were actually brothers from the University of New Orleans' Lambda Chi Alpha fraternity — so now, if you simply wish to learn more about them, we've got you covered.
Lambda Chi Fraternity Brothers' Queer Eye Journey
It was seniors Ian Raybourn as well as Josh Allen who'd nominated their frat for a transformation because they really wanted to move in the right direction but had no idea where even to start. That's because despite the fact the brothers were young adults far from home in university, they'd never learned how to be independent, let alone take care of themselves or their surroundings. Though since they — Ian, Josh, Cooper Lemons, Demario Struiken, Josh Johnson, Marco Barahona, and Ryan Parker — did know the kind of men they wished to be, they decided to seek some much-needed aid.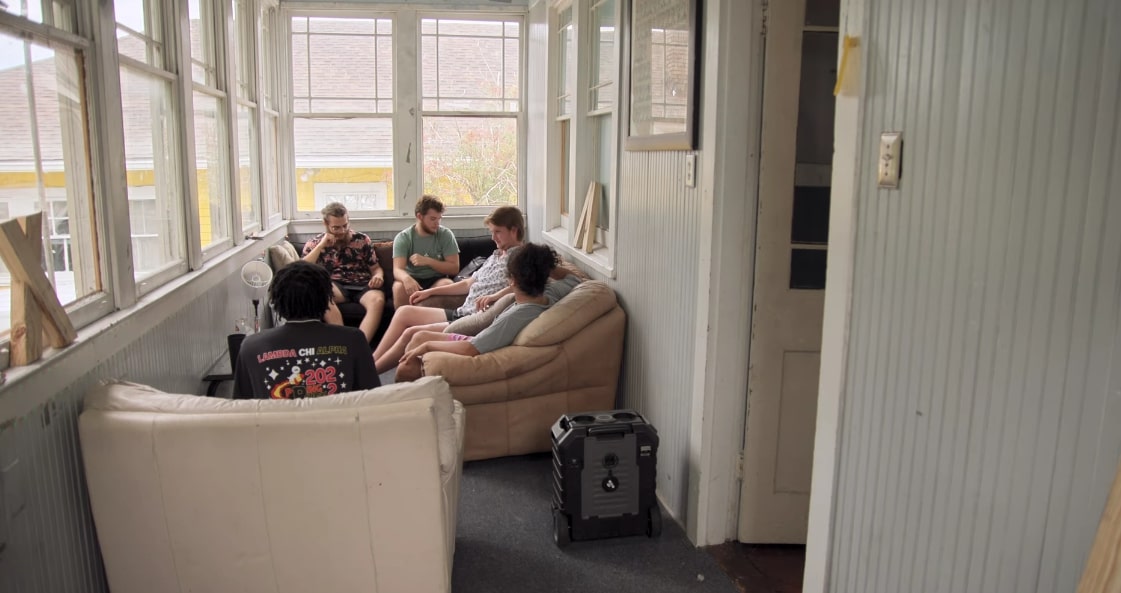 That's when the Fab Five came in ready to give the seven brothers a serious wake-up call, just to realize they already had the means to be great through the genuine bonds they'd established. The group weren't brothers in name only; they were truly one another's chosen family — something neither of them was shy to admit even though they all once thought they weren't the frat type. Instead, they claimed this club gave them a support system, a purpose, life-long friendships, and more care than they could've ever imagined, which was evident throughout their time together.
In fact, when the brothers were browsing for a new wardrobe with fashion expert Tan France, they were not just comfortable enough to compliment and criticize one another but also confident enough to head to the women's section for accessories. This utter lack of toxic masculinity in them even came to light during their grooming session with Jonathan Van Ness and while they were inquisitively learning new techniques with food specialist Antoni Porowski. Culture expert Karamo Brown further helped the boys break any remaining walls by proving it was okay to express their emotions before interior designer Bobby Berk worked his magic to represent everything they stood for in their house.
"You should be so, so proud of yourselves," Tan said to the brothers in the end. "If this is what the future of men looks like for our nation, I'm very excited about where we're going." Then, in a confessional, he added, "It's so hard to find your chosen family, and that is what they are to each other. They're caring. They're loving. They support each other." Even Jonathan at one point stated, "Watching these young people step into this journey with whole, full hearts, asking questions, supporting each other, and also being kind to themselves at the same time, it's really heartwarming."
Where Are the Lambda Chi Fraternity Brothers Now?
As for where the Lambda Chi Alpha Fraternity Brothers stand today, it appears as if they're doing quite well for themselves at the moment and have even managed to stick to the Fab Five's directions. Plus, as evidenced by each of their social media accounts, they're closer than ever these days, whether it be with senior graduating members like film majors Josh Allen as well as Ian Raybourn or new pledgees. Coming to Cooper Lemons, it seems like this Tolmas Scholar Intern will be graduating in 2024 with a double Bachelor's degree in Political Science and Interdisciplinary Studies.
Then we have aspiring graphic designer Demario Struiken who'll graduate in 2025 with a Bachelor's in Studio/Fine Arts and experience as a Marketing Intern at Leadership Institute. On the other hand, while Josh Johnson is expected to leave the University of New Orleans in 2024 with a degree in Mechanical Engineering, Marco Barahona is expected to pass out the same year. Finally, we have Chapter President Ryan Parker who will likely be graduating this year with a Business degree.
Read More: Where is Stephanie Williams From Queer Eye Season 7 Now?