With Netflix's 'Selling the OC' living up to its title and parent production in every way conceivable, we get a reality realty drama that can only be described as equal parts fierce and entertaining. After all, it centers around some of the most competitive realtors under the banner of Oppenheim Group in Orange County as they navigate not just their professional but also personal endeavors. Amongst them was actually the admitted over-the-top dealer Gio Helou, yet it was honestly his mother who captured our attention the most — so, let's simply find out more about her, shall we?
Who is Lisa Helou?
It was reportedly back in 1976 when Los Angeles native Lisa kickstarted her journey as an entrepreneur broker shortly upon graduating from California State University by earning her license. As per her official profile, she then happily tied the knot with residential builder Carl Helou, only for them to ultimately settle down in Newport Beach and welcome three children into their lives. However, despite what many may believe, no aspect of this waivered her long-held reputation as an assertive as well as relentless agent whose sole aim was to make her kids proud of her hard work.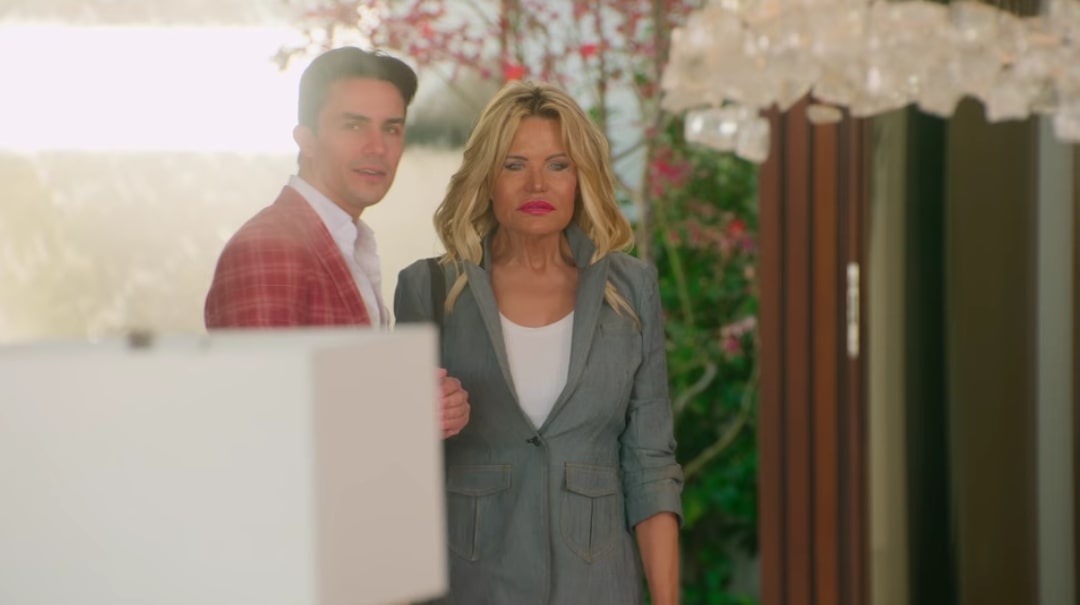 Though Lisa never expected these tables to soon turn — her son Gio and one of her daughters Fianna actually chose to evolve into realtors to make her equally as proud as she makes them. In fact, after clarifying he'd begun his career working alongside his father, the former conceded he has learned everything concerning the actual trading of properties from his dedicated mother. "My dad is a builder," he recently told Real Tea. "I actually started working with him. And it was really great learning the building side of things and understanding how much things cost for clients if they want to remodel or build their dream home from scratch."
Gio then added, "So it was great to be able to bring that to the sales side when I joined my mom about four years ago [in 2019]. Since then, she's taught me almost everything I know about real estate sales. We're very different in that we both have very different styles. And I think that plays [in] our favor. I'm definitely not a carbon copy of her, and I think she loves and appreciates that I've grown into my own, so to speak, but it was a family business. Still is, and I just naturally fell into their footsteps and never looked back." In other words, Lisa is not only a mother but also a true inspiration to her three children, most especially to her son Gio.
Where is Lisa Helou Now?
Following a few years as the Global Luxury Advisor at Engel & Völkers and a Luxury Agent at Coldwell Banker Global Luxury, Lisa finally became a Realtor Associate at The Oppenheim Group in February 2021 — a post she holds to this day. In fact, with her background in sales as well as customer service, alongside her self-motivated goal to match people with their dream homes, she's thriving in her professional life at the moment. That's partly also because, according to her bio on the company's site, she prides "herself on her old-school approach and tactics," "brings an invaluable and proven skill-set to her clients," and places a lot of "emphasis on integrity and character."
Coming to Lisa's personal experiences, despite the fact the show made it clear she's going through a divorce following decades of togetherness, it appears as if she's doing as okay as she can. The fact her kids, their respective parents, and her entire family have unwaveringly served as her support system definitely has a role to play in this, and so does the fact her son is currently expecting his first child.
This beauty, fitness, plus real estate enthusiast actually took to Instagram in July to share her thoughts on this utterly wholesome baby situation, penning in part, "My son @giovannehelou words fall short to tell you how proud I am to be your mother and soon, a granny for your first-born son. You are the son that every mother can only dream of and I thank God every day for giving me such a precious gift in my life. I promise you that I will be the best grandmother for your children. Know that you and your family will always be welcome and loved unconditionally. I thank you with all my heart for being the man you are. 💙💙" So, of course, we wish her all the luck for her upcoming ventures.
Read More: Are Gio and Tiffany From Selling the OC Still Together?