If there's one thing absolutely nobody can deny, it's that Netflix's 'Selling the OC' star Gio Helou is one of the most competitive, intense, over-the-top, and proud realtors at the Oppenheim Group. However, despite the fact many of this generational agent's co-workers have openly referred to him as challenging, he has rarely directly been engaged in interpersonal drama or office politics. In fact, the only time he did go head to head with someone was when his wife Tiffany was involved — so now, if you simply wish to learn more about this marriage, we've got the details for you.
Gio and Tiffany's Selling the OC Journey
Although Gio first came across Tiffany in high school, they only got involved in their mid-20s — since at least 2013 — while they were still figuring out where they stood in this expansive world. They've thus helped one another grow as not just individuals but also professionals; he followed in his mother's footsteps, whereas she's a publicist, interior designer, as well as fitness enthusiast. Though arguably the most beautiful thing between this duo over the years has been how they've unwaveringly supported one another no matter what, ultimately leading to their engagement in 2019.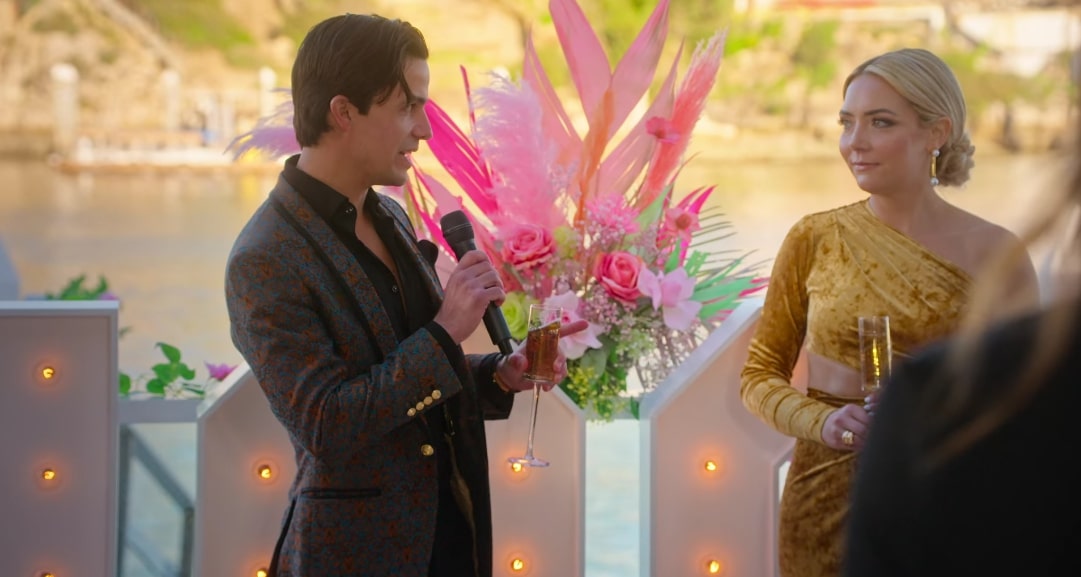 According to Tiffany's social media accounts, Gio actually proposed while they were enjoying a romantic getaway at Solage, Auberge Resorts Collection in Napa Valley just before the start of fall. Then, by the end of the year, the latter conceded he was deeply thankful for his partner because she stuck by him even when he didn't deserve it owing to mistakes, vowing to cherish her forever. It turns out the couple soon planned to make these promises official; they tied the knot on August 8, 2020, in a beautifully intimate, near-ocean ceremony at The Inn in Laguna Beach, California.
Gio and Tiffany have since admittedly been enjoying married life while also progressing in their respective careers; yet again, their support for one another has never once swayed even an inch. This much is perfectly evidenced in season 1 of the Netflix original production, especially through the former's reaction when he believed his colleague Alex Hall had snubbed Tiffany at an event. Then there was a casino night she helped organize, alongside his 100 million in sales celebration in season 2, all the while helping him through his parents' divorce plus the selling of his childhood home.
Are Gio and Tiffany Still Together?
Despite the fact Gio and Tiffany have experienced more than their fair share of issues in the decade or so they've shared a connection, they're still going strong and doing their best to remain this way. The truth is they don't really have a secret to success as things do get hard, yet they indicate communication, understanding, as well as trust are the primary aspects you need to make any relationship work. That's why they even started attending couples therapy around the start of summer 2023, shortly upon succeeding in expanding their family to that of three like they genuinely wanted.
"Marriage isn't always easy (duh). It can be the hardest thing in the world sometimes. Maybe it's supposed to be because it's that important," Gio penned in a remarkably candid post in June. "Tiff and I have been going through a tough time and decided to start marriage counseling. I wanted to share this because I think it's important we don't feel alone with our problems. The versions of ourselves we share on social media can make one feel otherwise (I'm most guilty of this!)."
Gio added, "I've made a lot of mistakes and would do some things differently. I don't know how she puts up with me. I'm so grateful for this woman, my partner, and my wife. You and our life together are worth everything. ILYSM." Then, in the comments, Tiffany actually responded, "You have my whole heart for my whole life, and I thank God for you every single day. I love you forever and always ❤️," making it clear the couple is determined to get through this dark phase as one unit. In fact, it was only after this that they announced the publicist-designer is pregnant.
Gio and Tiffany are expecting a baby boy in late September, and they're both admittedly more than excited to start this new chapter of their lives together, even though things have been rough. "On a scale of one to 10, I'm a f—ing 15," the Newport Beach-based realtor told People in July. "But in all honesty, it's a mix of excitement and nerves. I've always known I wanted to be a dad someday, and I know it's going to change our life in the most amazing ways, but I can't deny it's also a bit scary!"
As for how he found out, Tiffany revealed, "I took a pregnancy test on a whim, fully expecting it to be negative, like the countless others had, and was shocked in the best way. I'm terrible at keeping secrets, but somehow I managed to wait a few days to tell Gio, because I wanted it to be really special. I took him to a spot near where we got married in Laguna Beach to share the news. I think he nearly fell out of his chair." And since then, it appears as if they're in a much better place, especially with Tiffany expressing she loves him now more than ever before.
Read More: Are Austin and Lisa From Selling the OC Still Together?