Netflix's 'Muscles & Mayhem: An Unauthorized Story of American Gladiators' is a documentary series that tells the story of the beloved reality show called 'American Gladiators.' The latter premiered in 1989 and ran for seven seasons until 1996, with the featured "Gladiators" becoming larger-than-life figures in the mind of the American public. One such star is Michael "Myke" Horton, who most know as Gemini. If you are among those who are curious about where he is these days, worry not because we have your back!
Who is Michael Horton?
Myke grew up in Yakima, Washington, and decided to move to California in order to play football for the University of California. Due to his strong performance, he was even drafted into the NFL as a member of the New England Patriots. However, due to a tear in his Achilles tendon, he had to quit the game. After that, he tried to make it big in the entertainment industry and briefly appeared in shows like 'Card Sharks' and 'Press Your Luck.'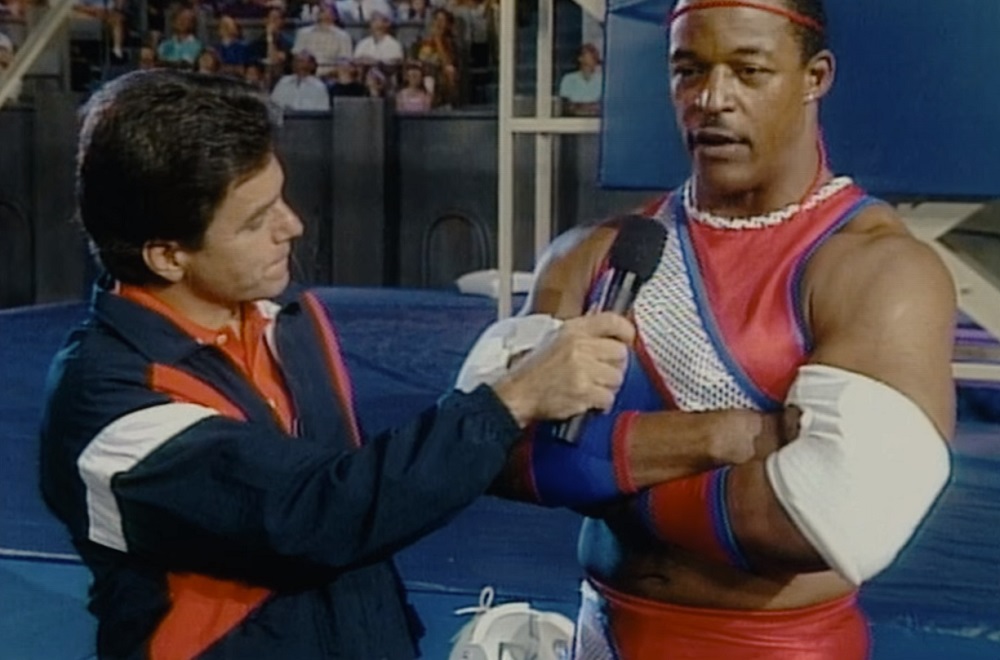 It was not long before Myke was contacted to be a part of a new show called 'American Gladiators' whose pilot had yet to be shot. Along with him, there were five other professionals who had to compete against several contenders. Given the various issues that cropped up during the filming of the show's pilot, leading the producers to revamp the whole series after it got was given a chance to shoot its first episode of 13 episodes. However, out of the 6 "original gladiators" who were in the pilot, only Myke remained a part of the show going forward, leading to the creation of Gemini.
Due to his association with the show from a very early point, Myke took up some leadership duties when it came to recruiting new gladiators, and he was the one who picked out some of the most famous of the show's stars to be part of the whole project. Over the years, Mike shared that he sustained many injuries, and the work conditions were far from ideal during the show's initial phase. While some things did get better, others remained a point of contention for him.
Following the "American Gladiator" live tour, Myke decided to take a stand against The Samuel Goldwyn Company, the show's production company. He, along with Danny Lee "Nitro" Clark, Raye "Zap" Hollitt, and Lori "Ice" Fetrick, apparently asked the company to give them a share in the merchandise profits that had their faces on them or they would not continue working with the show. In return, they share in the documentary that they were. Overall, Myke was a part of 'American Gladiators' from 1989 to 1989 and was beloved for his work. The fame that he had attained due to his career led him to become a household name with fans in every house in America.
Where is Michael Horton Now?
As of writing, Myke is a family man who enjoys spending time with his loved ones. Following his time on the beloved reality show, he returned to being a bouncer for some time. He then went into private training and became well-known as a personal trainer. Additionally, he has appeared in other entertainment projects like 'Matlock' and 'Murder, She Wrote.' Presently, Myke does not seem to be active on social media but is certainly on good terms with his fellow gladiators.
From what he has shared in the Netflix series, it is evident that he is quite happy in his role as a father and grandfather. His son, Wes Horton, actually followed in the footsteps of his father by playing football for the University of Southern California and then becoming a part of the Carolina Panthers, though he was also affiliated with New Orleans Saints for a brief time. He ended up announcing his retirement from NFL on February 4, 2020. Similarly, Myke's other son, Shane Horton, also played for the USC and the Toronto Argonauts.
Read More: Jim Starr AKA Laser: Where is the American Gladiator Now?