'My Secret Valentine' is a romantic comedy that encircles the life of Chloe, a restaurant manager in Portland, who is experiencing career stagnation. To snap out of it, she returns to her family's winery for a week. Upon reaching, she learns that her father is considering selling their winery to a cask-wine company Stratosphere, which sends a suave salesman Seth at the Grange residence, to seal the deal.
The two engage in friendly banter over their motives and sparks fly. But there's a catch. Chloe is also pursuing the chalkboard notes that are left by a tenant who is renting out their cabin. Who is this secret admirer Chloe's crushing on? Will Seth and Chloe grow close, or will their be a third angle to this love story?
Helmed by Bradley Walsh, the Valentine special garnered huge popularity because of its striking resemblance to 'You've Got Mail,' and also because of the beautiful backdrops where it was filmed. Want to know where they are located? Read on for the details on 'My Secret Valentine' filming locations.
Where was My Secret Valentine Filmed?
'My Secret Valentine' is a romance set in a vineyard. In reality, the production unit filmed the movie on two different wineries in Prince Edward County, Ontario, Canada. It is Canada's largest wine-producing area (along with British Columbia). Most of its wine comes from the Niagara Peninsula, and also from Lake Erie's north shore, and Prince Edward County. Currently, Ontario is home to over 180 wineries that produce about 71 per cent of total Canadian wine. No wonder the location scouts finalized Ontario as the primary filming site.
The filming wrapped up on November 20, 2017. Tara Yelland, who plays Leanne, shared a picture confirming the same.
https://www.instagram.com/p/Bbr_tAehlRV/?igshid=63swjfsa8ilg
Here are the specific filming locations.
The Grange of Prince Edward, Ontario
Several scenes of the movie were filmed in The Grange of Prince Edward, Ontario. Located two hours east of Toronto, The Grange of Prince Edward are known for making wines that capture the essence of the county.
Here's a still from the movie. If you look closely, you can see "Grange Family Vineyards" written on it.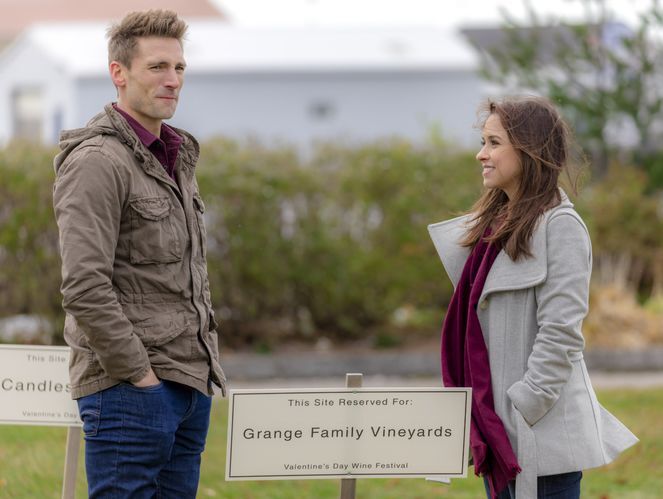 The wines are made by Caroline Grange and her daughter, Maggie who make the perfect light and crisp white wine, and fruity and flavorful red wine. The owner states that all the wines are grown with love, on their family farm in Prince Edward County. You can visit the place and also take a tasting tour.
By Chadsey's Cairns Winery & Vineyard, Ontario
On a 141-acre heritage farm that overlooks Lake Ontario, sits the renowned winery By Chadsey's Cairns Winery & Vineyard. The winery served as a filming location for a major chunk of the film.
Andrew Walker shared a few behind the scenes pictures for the fans, while filming in Prince Edward County.
https://www.instagram.com/p/BbFsKAdny0C/?igshid=17jmvdj8260iq
Here's a calm and tranquil look from the inside.
https://www.instagram.com/p/Ba6elNtn17q/?igshid=kj7n7xeteia6
Tara posted a picture of a friend she made, during their stay at Prince Edward County.
https://www.instagram.com/p/Ba62rcnBSBU/?igshid=utuuir0y9nbc
The Chadsey's are among the first ones to establish the wine business in Prince Edward County, in 1990. It boasts an annual production of 2,000 to 2,600 cases of Gamay Noir, Pinot Noir, St. Laurent, Riesling, Muscat, Chenin Blanc, Chardonnay, and Gewürztraminer. It is currently looking for buyers for their winery.
North Bay, Ontario
The filming unit drove a few hours north of Prince Edward County, to begin their fourth day of shooting, in North Bay, Ontario, also known as the Gateway of the North.
Here's a picture posted by Tara Yelland, featuring the director Bradley Walsh and Lacey Chabert.
https://www.instagram.com/p/BbfxsEmBRYa/?igshid=wxenl2mn7idc
Andrew Walker spoke to a local website narrating the obstacles that hindered the shooting process. As the filming began for the picnic scene and the scene where Chloe and Seth are walking in the field, conversing about their professions, the weather dropped down to -15 degrees. Since the scene demanded light and breezy clothing, it was difficult for the actors to brave the cold. Despite having a heated tent on set, the location had to be changed and the scene was ultimately shot inside a truck.
Here's a picture of the truck scene shared by Lacey on her Instagram profile.
https://www.instagram.com/p/Bbe5TD7Dc-S/?igshid=1nmwl39wjraq4
Here's the same view from the inside.
https://www.instagram.com/p/Bbe38mGDd7N/?igshid=ymfwa31jn553
On top of that, Lacey was nursing, which caused her to stay up all night and work all day. Truly a super mom! Now that you are aware of the filming locations of 'My Secret Valentine,' when are you planning a trip to the wineries?
My Secret Valentine Cast
Lacey Chabert headlines the cast as Chloe Grange, a restaurant worker, who is tired of her mundane life and decides to visit her family. A Hallmark regular, Lacey is known for 'All of My Heart,' 'Moonlight in Vermont,' and 'The Sweetest Christmas.' Her other works include 'Mean Girls,' 'The Color of Rain,' 'Ghosts of Girlfriend's Past,' etc.
Joining her as Seth, the charming and slick salesman, is Andrew Walker. His notable works include 'CSI: Miami,' 'CSI: New York,' 'Without a Trace,' and 'The Big Bang Theory.' The other cast members are Peter MacNeill as Chloe's father, Truman Grange, Tara Yelland as Chloe's longtime friend Leanne, Kevin Claydon as Jeff, Cindy Sampson as Seth's boss, Taylor, Richard Young as Snobby Restaurant Owner and Carrie Schiffler as Nancy.