Quite simply, there are video game franchises that have managed to stay relevant in the current times of every changing technology and user interests, but the truth is that franchises as expansive as Resident Evil, Mortal Kombat, or even Assassin's Creed simply cannot exist if a potentially hit game were to begin setting up now. Honestly, not all games in these franchises are knockouts, but the key here is consistency, and therefore the costs of production of a new game almost yearly is what it takes for multimedia giants including EA, Ubisoft and Capcom to keep these successful franchises running. 'Resident Evil' may not be a yearly one, but it is pretty close with a new game out nearly every two years. Speaking of which, we are here to talk about the possibility of a third one.
This game franchise has come a long way since its first game in '96, with a total of seven canon games and a number of spinoffs, additional games and expansion packs, making it one of the most illustrious game franchises ever. 'Resident Evil' has been pretty active on every other front too, including films, especially, comic books, novella, and merchandise, and with the series revival following the seventh one and the remake of the second game that many critics remarked as a turning point for the franchise, things are looking ever upward. But, when will a new core Resident Evil game happen? In the wake of Project Resistance being announced, here is everything we know of the current prospects of an eighth Resident Evil game possibly in the works.
Resident Evil 8 Plot: What Can It Be About?
'Project Resistance', a new spinoff game by Capcom set in the same universe as Resident Evil is currently just finishing up its Beta run, and while it certainly does look fun, fans have displayed a certain desire or expectation regarding its release, since they were expecting the newly announced title to be the remake of the third Resident Evil game, 'Nemesis'. While we have close to no information on that even if there are chances that as part of Capcom's new revival series of older remakes it is bound to happen as one of the more popular ones, there is still greater indication that Capcom's next game in the franchise would be an eighth main entry in the RE franchise.
Resident Evil 7's executive producer Jun Takeuchi revealed the studio's tentative plans for a "next game", stating that "We're already thinking about various plans for the next game, but we also want to see how we can continue to evolve survival horror itself. In the next few years technology will continue to advance and what players want may also change."
In terms of what the game would or could be like, I believe we already have a very favourable direction in clear view in the form of the seventh core game in the franchise that got several things right, and it is near confirmed that since it was intended as a turning point for the franchise, all future games would build up on everything that RE7 established, something that is already clearly visible even in the gameplay trailers for the spinoff asymmetric 1v4 confined survival game, 'Project Resistance'.
Needless to say, 'Resident Evil 7: Biohazard' changed things in a much more favourable direction for Capcom and the franchise, undertaking many firsts, including the series going back to its roots in horror survival as opposed to the action based approach of the fifth and sixth main titles, with a clear focus on environments, resourcefulness and puzzles required to be solved for a player to get out of a particular situation as opposed to a straight shoot 'em up kind of scenario. Ofcourse, bits of the latter too are present, and while that may be what made the game fun, the former is what made it involving enough to invest in.
Moving forward, Takeuchi has confirmed that 'Biohazard' was "the start of a new kind of survival horror, and of a new series", and that they "always want to create horror experiences where the characters overcome a difficult situation. The next Resident Evil game, and the one after that, every future Resident Evil, will feature characters getting through crises like this. It's this essence of core survival horror, the concept of people overcoming the odds that the series will always retain." Along similar lines, what we would like to see is a new location and definitely a bigger location to fully explore, or even multiple ones tied to the main universe. Akin to the molded, more zombies, or their types specifically wouldn't be a bad idea either.
Resident Evil 8 Cast: Gameplay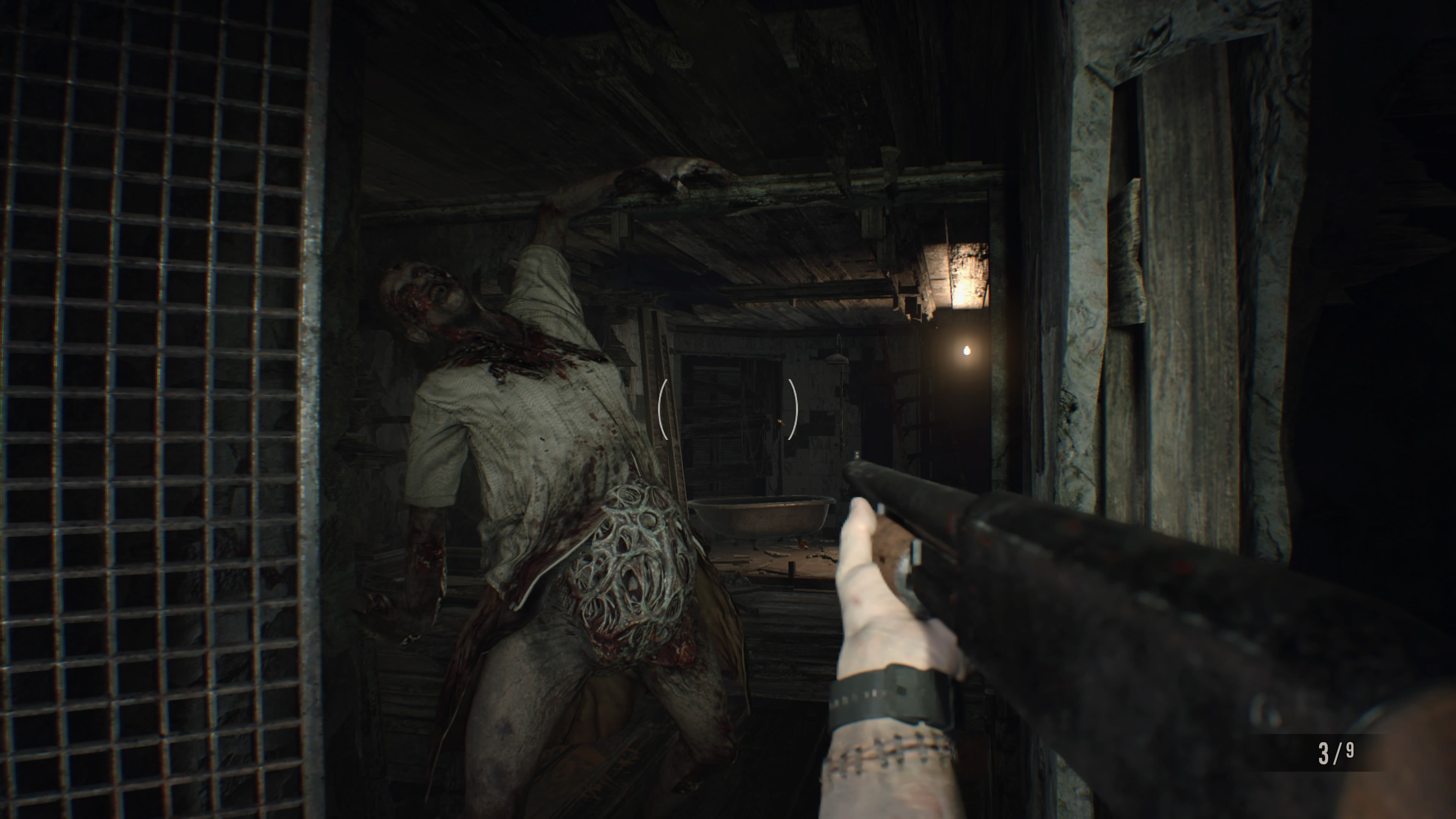 As I have stated in a number of my articles before this, any of the games that stand to release post 2020 will ride on the cusp of being either parting titles for the current generation of consoles, which is a tough deal since they always face being obsoleted when the new console comes out, in which case they have to inevitably be re-mastered and released; or being the newest titles for the new generation. The latter poses an entirely new set of challenges, since games that are touted for a 2020 or later release date would obviously be in some stages of development right now, and unless they are SIE or Windows original titles, like this one that belongs to Capcom, it is impossible for them to predict what changes the new generation of consoles is going to usher in, and therefore, equally tough for makers to optimise an upcoming game's gameplay according to that.
Regardless of whichever category a possible eighth game in the franchise belongs to, there are some canon things that I don't believe are going to change, and those are core to the RE experience. The two biggest changes that 'Biohazard' brought along apart from the already stated shift in tone and theme included VR compatibility that was one hell of a scary experience and a first person shooter format, both of these things essentially doubling up on each other.
Apart from sensing where the story might go on this, I am pretty sure that these two elements in the gameplay will make a comeback regardless of the console they are released on. Moreover, just like the seventh, an eighth title is also bound to include more interactive environments and puzzle solving to get through.
Resident Evil 8 Crew: Who Can Be Behind It?
There has been an outcry among fans who have been hoping for Shinji Mikami, a veteran to the series to make a comeback in the director's chair for the game. Nothing has yet been confirmed though, and the same may be stated for Takeuchi in executive producing a possible eighth game in the franchise.
Resident Evil 8 Release Date: When Can It Premiere?
My best bet is late 2020, especially seeing that 'Project Resistance' doesn't have a release date yet and is still testing out Beta versions, and a 2020 release date would similarly mark three years since the release of a canon title, and a year from the remake, something that seems like a characteristic break.
Read More: All Resident Evil Movies, Ranked