The third season of 'Only Murders in the Building' brings Oliver, Charles, and Mabel together to solve another compelling murder mystery. In season 3, Oliver tries to resurrect his Broadway career but faces a major setback when his lead star, Ben Glenroy, is killed in the Arconia. In the third episode, Charles and Mabel search for the killer while Oliver tries to salvage his play by turning it into a musical. However, Mabel's encounter with a missing figure reveals an important clue. If you are wondering what Mabel learns and what it means for the group's investigation, here is everything you need to know about the ending of 'Only Murders in the Building' season 3, episode 3! SPOILERS AHEAD!
Only Murders in the Building Season 3 Episode 3 Recap
The third episode, titled 'Grab Your Hankies,' opens with Oliver working on music for his play to convince producers Donna and Cliff Demeo to back his reinterpretation of 'Death Rattle.' Meanwhile, Charles and Mabel start working on the new season of their podcast while investigating the murder of Ben Glenroy. Oliver pitches 'Death Rattle Dazzle,' a musical interpretation of his murder mystery play, to Donna and Cliff. However, Donna is unconvinced and does not want to invest any more money in the play.
Donna suggests Oliver craft a showstopping musical number to convince her that the play can work as a musical. Elsewhere, Charles and Mabel realize the crew member who is missing the handkerchief gifted by Ben is most likely the killer. As a result, Charles decides to check the crew's handkerchiefs while Mabel searches Ben's penthouse for further clues. However, Mabel runs into Tobert, the documentary filmmaker who also sneaks into the apartment to collect his equipment.
Oliver gathers his crew to rehearse for the musical play, and Charles uses the opportunity to convince his coworkers to bring handkerchiefs and use them to create a memorial for Ben. Oliver starts rehearsal, but the crew is not on board with his vision for the musical take on the murder mystery play. Loretta, who has been missing from the practice, arrives later and reveals she had an audition for a major network television show. Loretta helps Oliver craft the showstopping song for his musical. Things become complicated when Dickie, Loretta's new agent, reveals she has been cast in the show. However, she must leave New York and move to Los Angeles.
Oliver enforces Loretta's contract to prevent her from leaving his play. Mabel and Tobert realize they are both lying to each other. They have their individual agendas for searching through Ben's apartment. Eventually, Tobert reveals he left behind a flash drive that contains footage from the night Ben died. Tobert wants to use the footage from his documentary to tell the story of how famous actor Ben Glenroy was killed by his biggest fan, Gregg. However, Mabel convinces Tobert that Ben was murdered and steals his flash drive to find clues about the true killer.
Only Murders in the Building Season 3 Episode 3 Ending: Were Ben and Kimber Together?
In the episode's final act, Mabel and Tobert go through the flash drive together after agreeing to work together and solve the mystery of Ben's death. The video footage from the flash drive reveals someone in Ben's dressing room on the opening night, moments before the actor went on stage. Moreover, the conversation hints that Ben is talking to someone he has been romantically involved with. Meanwhile, Loretta decides to attend the rehearsal for Oliver's play and sings the showstopping song she created with Oliver.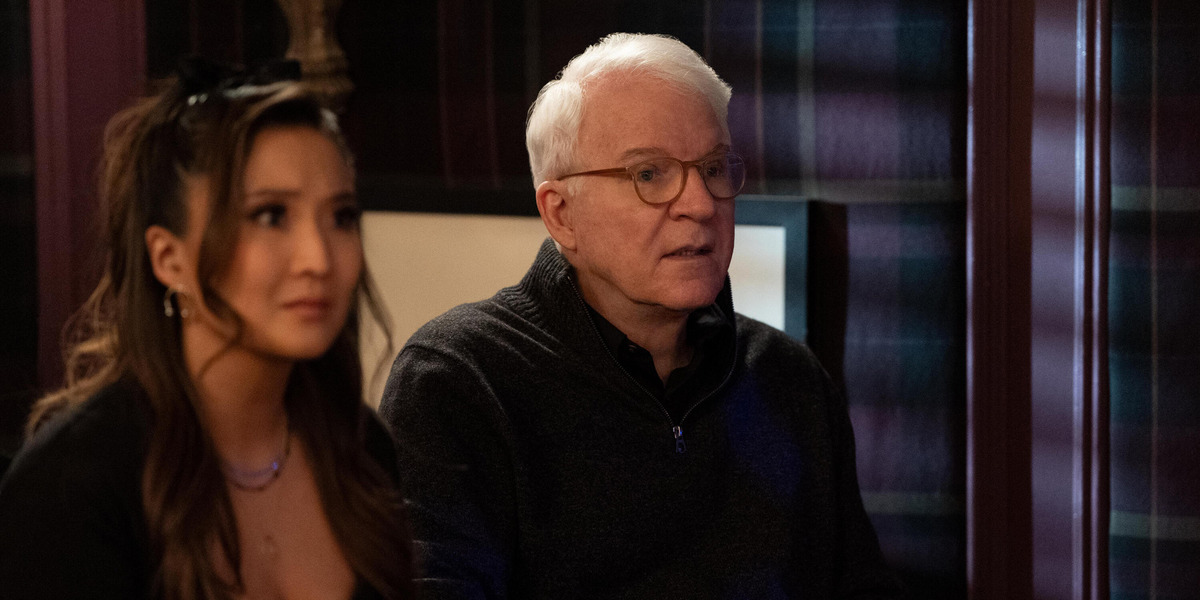 The song convinces Donna and Cliff to invest in the play's new iteration and the crew of Oliver's vision. Thus, they work on the play with renewed spirits. Loretta decides against moving to Los Angeles and turns down the role in the new series. She appreciates Oliver for discovering her and wants to help him realize his vision for the play. As a result, Oliver and Loretta admit to having a romantic interest in each other and share a kiss. On the other hand, Charles puts together the memorial for Ben using the handkerchiefs.
However, he realizes Kimber is missing her handkerchief, confirming his and Mabel's theory about the young TikTok star being linked to Ben's death. After being revived, Ben apologized to Kimber for making things between them awkward, implying that they were hooking up. The footage from the flash drive and the missing handkerchief hint that Ben and Kimber had a relationship that soured, leading to Kimber killing Ben. The episode's ending frames Kimber as the prime suspect in Ben's death but Charles and Mabel will have to do further investigation and find concrete evidence to prove that Kimber is indeed the killer.
Read More: Only Murders in the Building Season 3 Episode 1 and 2 Recap and Ending, Explained