Hulu's 'Only Murders in the Building' is a mystery comedy-drama television series created by Steve Martin and John Hoffman. The show's third season picks up after season 2's cliffhanger ending sets up a new murder mystery for the unlikely trio of Charles, Oliver, and Mabel to tackle. The first two episodes deal with the aftermath of actor Ben Glentroy's death and its effect on the trio. Meanwhile, Charles, Oliver, and Mabel each find their own motivation to solve the latest case of building murders at hand. If you are looking for answers about Ben's death and the trio's investigation, here is everything you need to know about the ending of 'Only Murders in the Building' season 3, episodes 1 and 2! SPOILERS AHEAD!
Only Murders in the Building Season 3 Episode 1 and 2 Recap
The third season episode, titled 'The Show Must…,' opens with a recap of the events leading up to the death of actor Ben Glenroy (Paul Rudd) on the opening night of Oliver's new Broadway play. A montage reveals the background of Loretta (Meryl Streep), an aspiring actress who has dreamed of being on Broadway since childhood but faced rejection for years. Her streak of failures breaks when Oliver auditions and casts her in his upcoming murder mystery play, which will mark his grand return to the stage after the failure of 'Splash.'
The story then picks up on the opening night after Ben collapses on the stage and is presumed dead. Meanwhile, Oliver holds a sad afterparty at his apartment in the Arconia. A series of flashbacks reveal how Oliver set up the production of his new play, 'Death Rattle.' He reunites with Charles and Mabel a few months after solving the mystery of Bunny's murder. Oliver meets with his producers Donna Demeo and her son, Cliff Demeo, at the first table read for the play. At the table read, the group is first introduced to Ben, a popular mainstream actor who is excited to make his Broadway debut.
Ben also reveals he is working with Tobert, a documentarian who will be filming his experiences. In the present, Oliver and his staff deal with Ben's death and its impact on their play. However, Ben arrives at the apartment and reveals he is alive, having survived after choking on his tongue after a stomach ache. Oliver is overjoyed and prepares to resume work on his play. Meanwhile, Ben promises to be a better person to everyone on the crew. However, the night ends with Ben falling down the empty elevator shaft and dying for real.
The second episode, titled 'The Beat Goes On,' opens with Ben struggling to grasp his character during rehearsals with Oliver. In the present, Oliver fights to keep his play on Broadway despite losing his lead actor on the opening night. Meanwhile, it is revealed that Mabel is a fan of Ben's television show 'Girl Cop' and had a crush on him in her teen years. It is also revealed that Mabel clicked photos of Ben's dead body and the crime scene. On the other hand, it is revealed that Charles had Ben fired from his show 'Brazzos,' when the latter was only eight years old. As a result, Ben harbored animosity towards Charles, leading to tensions during the production of Oliver's play.
Mabel accompanies Charles and Oliver to Ben's funeral, hoping to find clues about who killed the famous actor. However, Oliver leaves early to convince a theater critic to publish her review of his play's preview night so that his producers will keep the show on Broadway. Meanwhile, Mabel meets Gregg, who claims to work in Ben's security detail. As a result, Mabel and Charles follow Gregg to his apartment, hoping to learn more about Ben's sudden death. On the other hand, Oliver receives a scathing review of his play, resulting in a minor heart attack. Therefore, the doctor asks Oliver to give up directing to control his stress level.
Only Murders in the Building Season 3 Episode 2 Ending: Who Killed Ben Glenroy?
In the episode's final act, Charles and Mabel find themselves in trouble when they realize that Gregg is not who he says he is. Gregg did not work for Ben. Instead, he is a fanatic stalker who adored Ben to the point of worshipping. Moreover, Gregg believes that Charles and Mabel had a hand in killing Ben, especially since they were present near the elevator shaft where Ben's dead body was discovered. Gregg knocks out Charles and Mabel and drags them to his basement, where he plans to kill them. Thankfully, Detective Biswas, an associate of Detective Williams, arrives just in time to apprehend Gregg. Detective Biswas reveals he had been keeping tabs on Gregg since the latter was spotted fleeing the Arconia after Ben's death.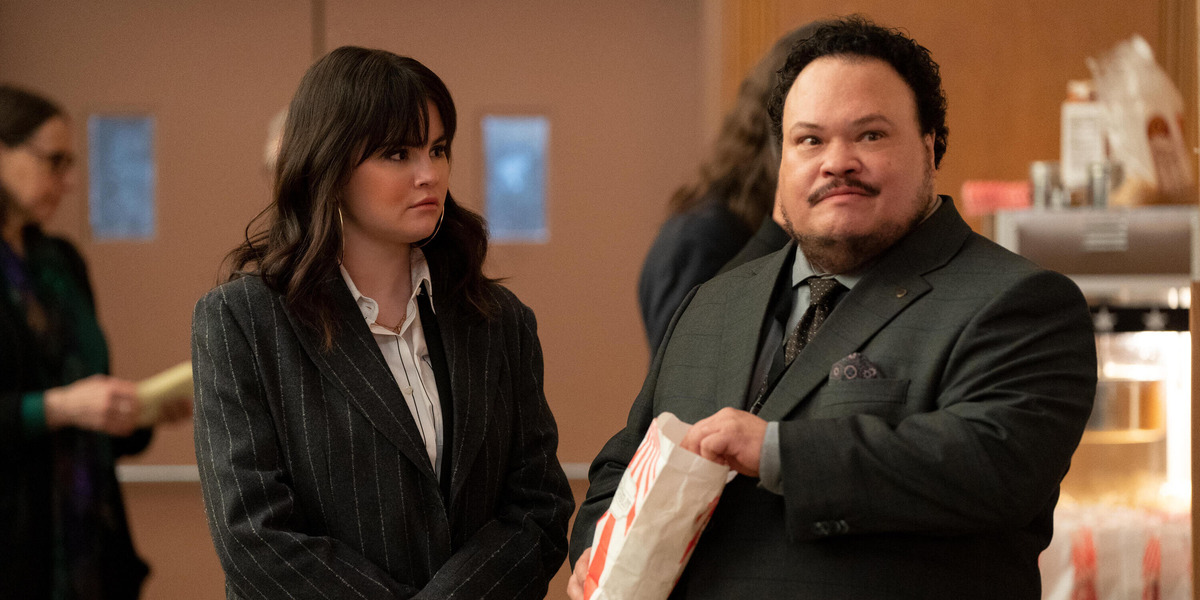 Ultimately, Gregg is apprehended by the police for Ben's murder. However, Mabel argues that despite Gregg's psychotic behavior, he could not have been the killer. Gregg admired Ben and had also stolen Ben's memorial handkerchief, which the actor had gifted to his crew on the opening day. The photos Mabel clicked of Ben's dead body reveal he was holding a similar handkerchief when he died. As a result, Mabel deduces that Ben was holding the killer's handkerchief and the killer is someone who worked among the crew for Oliver's play. The episode ends with Charles and Mabel relaying the information to Oliver and dragging him back to create another season of their podcast. However, it is also implied that Mabel's loneliness is behind her push to solve the murder mystery and continue making the podcast. Nonetheless, the mystery of Ben's killer is perfectly set up, the game is afoot, and the gang of amateur sleuths is back together to solve another tantalizing case.
Read More: Only Murders in the Building Season 2 Finale Recap and Ending, Explained