Thanks to Netflix's 'Pamela: A Love Story,' the public's interest in the story of Pamela Anderson and Tommy Lee has once again become quite high. From the very start of their time together, the dynamic between the duo easily captivated the masses, who could not help but be eager to know more about their life together. However, the two were also at the center of some of the biggest controversies in the entertainment industry that left a massive impact on their lives.
With well over 25 years since the celebrities first met, the public is eager to know about the current status of their bond. Are Pamela Anderson and Tommy Lee on amicable terms, or has their history together created a rift? If you are wondering about the same, we have you covered!
Pamela Anderson and Tommy Lee's Journey
The first time Pamela met Tommy, the two were attending a New Year's Eve party at a club in 1994. She ended up sending drinks to everyone at the party, one of which happened to be her future husband. He came to learn the actress was there, approached her, thanks to the drink, and immediately fell head over heels. In fact, thinking he was the only one she'd sent the drink to, Tommy ended up licking the side of her face. Laughing, Pamela did the same to the woman sitting next to her, creating a chain.
After the party, the Mötley Crüe star persistently remained in contact with Pamela and wanted to meet her again, though the latter did not agree to the request. Therefore, in February of 1995, when she had to fly to Cancun, Mexico, for work, Tommy chose to follow. While there, he actively tried to meet up with her, but he could not gain access to her hotel. Ultimately, Pamela conceded, and the two did end up meeting, leading to a memorable night for both.
Tommy knew he'd found his life partner in Pamela by this point, so mere days later, on February 18, 1995, he proposed. He asked her the question at a disco called La Boom and used a skull ring from his friend's finger as their engagement ring. The very next day, Pamela and Tommy married each other while surrounded by people they barely knew in Cancun itself. The bride was wearing a swimsuit, whereas the groom was in board shorts.
The couple's marriage was obviously massive news as every media outlet tried to understand just how the beloved 'Baywatch' star met and married the drummer. Then, soon after Pamela started working on 'Barb Wire,' she and Tommy announced her pregnancy. However, the two unfortunately lost their child to miscarriage, according to the documentary. Despite the pain it caused them, they remained determined to keep trying to start a family.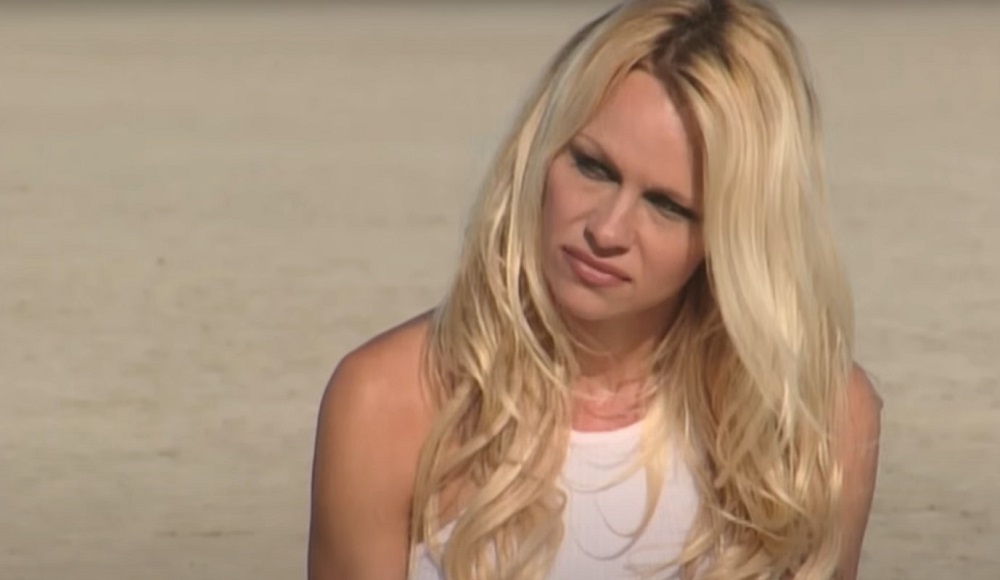 Yet everything changed in 1996 when Pamela and Tommy's sex tape was leaked. The video was not an exact sex tape; it was essentially a compilation of footage of the two being naked from their 1995 honeymoon, but it was private and explicit nonetheless. After multiple lawsuits to hopefully limit the distribution of the same, the two ultimately ended up begrudgingly signing over the rights to their video to Internet Entertainment Group (IEG). Though not all was bad for the duo in this duration as they also welcomed their sons, Brandon and Dylan Lee, into the world on June 5, 1996, and December 29, 1997.
Despite the affection between Pamela and Tom, their marriage was far from smooth. In fact, when the former filed for divorce in November 1996, it was on the grounds of his abuse of alcohol. However, they reconnected in December of the same year. However, this was not the case after the rock star was arrested from their home on charges of spousal and domestic abuse on February 24, 1998. Following Tommy's arrest, though the child abuse charges were later dropped, Pamela filed for divorce on February 26, 1998. On May 20 of the same year, Tommy was sentenced to six months in jail for his crimes.
Are Pamela Anderson and Tommy Lee Still Friends?
Despite getting divorced, Pamela and Tommy continued to be seen together as they co-parented their children. Often, the two reconciled as romantic partners though they would soon separate. We should also mention that since this union ended, as of writing, Pamela tied the knot with four other men, though these relationships also soon fizzled out. Presently, the two seem to maintain an amicable bond and often lean on each other for support. In fact, around the time of the release of Hulu's 'Pam & Tommy,' the rock star apparently advised his ex-wife not to let any of it hurt her anymore.
As of today, Tommy is happily married to Brittany Furlan, whom he happily made his wife on February 14, 2019. Though Pamela has since stated that the love she felt for her ex was incredibly unique, she maintains that his behavior and alcohol usage contributed to why she never actively pursued their reconciliation, but the initial feelings were like magic. However, the 'Baywatch' star has also gone on record to state she's genuinely happy about the fact Tommy has found true joy with his Brittany.
Read More: Barry Anderson: Where is Pamela Anderson's Dad Now?