As a semi-unscripted reality production living up to its title in nearly every way conceivable, Netflix's 'Zombieverse' can only be described as equal parts bewildering, intriguing, and haunting. That's because it centers around a group of unwitting local personalities as they fight for survival upon suddenly finding themselves in the midst of a zombie apocalypse around Seoul, South Korea. Amongst these was actually refugee turned immigrant Thona Yiombi family's daughter Patricia — so now, if you simply wish to learn more about her, we have got the necessary details for you.
Patricia's Zombieverse Journey
Although born in the Democratic Republic of Congo on June 16, 2002, as the daughter of former diplomat and politician Patrick Thona Yiombi, Patricia primarily grew up in wondrous East Asia. The truth is she, her two siblings, as well as her mother had arrived at his base here in 2008 owing to growing concerns for safety in their homeland due to civil war, unaware they'd never return. In other words, the now 21-year-old completed her studies from this Land of Morning Calm, all the while gradually establishing a place for herself in entertainment as a YouTuber and actress.
Coming to Patricia's time in the world overrun by zombies, she was initially stuck in a supermarket alongside her elder brother Jonathan as they were buying snacks when the beings first attacked. After all, little did this tight-knit duo ever think their pit stop during her driving lesson would render them unable to return home for a long time since these half-dead bogeys would be everywhere. That's when they came across eight others like them, just to realize they needed to stick together and find a way to gather some essential supplies before fleeing the scene to ensure long-term survival.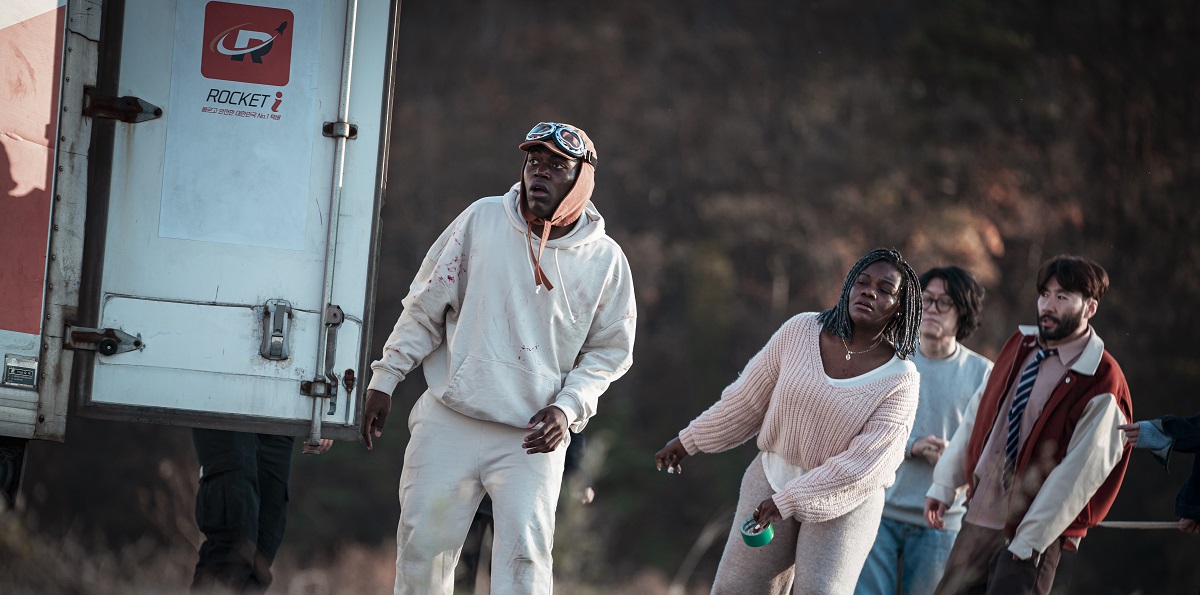 However, Patricia didn't play a significant role at any point throughout the group's survival run — she actually managed to remain very under the radar by not asking and hence not being asked for much. She didn't step out to gather stock, wasn't actively involved in the hunt for a getaway car, didn't really do much while stranded in a nearby town, and avoided coming up with any immediate plans. Though, if we're being honest, her lack of aid following Hwangchon-Ri village was completely understandable considering that's where her brother was bitten/infected in one of the most brutal manners.
Nevertheless, in the end, Patricia's fear of water/drowning while attempting to sneak onto a boat is what resulted in her, Dex (Kim Jin-Young), as well as Lee Si-Young getting on the right survival boat. As for fellow non-infected castmates Tsuki (Fukutomi Tsuki) and DinDin (Lim Cheol), they did step onto the wrong vessel, but it technically didn't matter because they too escaped the zombies for good. So, all we can say is that maybe it's okay for us not to be the leader or hero at every step of the way to achieve wonders; maybe we can be our quiet selves, observe, and then do the right thing.
Where is Patricia Yiombi Now?
From what we can tell, the moment Patricia's stint in 'Zombieverse' came to an end, she returned to her life as an already well-established television figure while being based near Seoul, South Korea. This means she has since resumed work alongside her brother Jonathan for his YouTube channel and continued to be a proud cast member of the variety show 'HyeMiLeeYeChaePa' until it came to an end. It's thus no surprise that even though she prefers to keep her personal life on the down low, it's evident she has an undeniably strong support system comprising friends as well as family by her side.
We should also mention that over the past few years, Patricia has even featured in several other television originals, whether as a guest or a regular. They include; 'Omniscient Interfering View' (2017), 'Amazing Saturday' (2018), 'Yoo Quiz on the Block' season 3 (2020), 'Turkids on the Block' season 2 (2022), and 'Han Moon Cheol's Dashcam Review' (2022), amongst many more.
Read More: Yoo Hee-kwan: Where is the Zombieverse Participant Now?