Plastic surgery is known to have been growing to a bigger extent over the years and seems to have become a standard normalization in today's society. Nevertheless, cinema has been including this topic in its plots and scenery for quite some time, varying the nature and purpose through different styles and approaches. We often charge plastic surgery with negative connotations and see it as something unnatural and quite terrifying when thinking of the process of going under the knife. Although we shouldn't forget that this gives the opportunity to reconstruct accidental disfigurement, movies tend to shine a dark and criminal light onto this process, involving it into horrifying and often disturbing stories.
Eternal youth, crime and murder, hunt for perfection, search or rejection of identity are aspects that can be found in these top movies that feature plastic surgery. You can watch some of these best plastic surgery movies on Netflix, Hulu, or Amazon Prime.
10. The Human Centipede (First Sequence) (2009)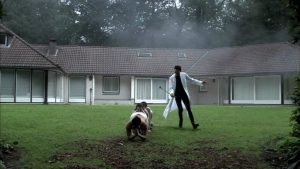 This dutch horror movie is known for its extremely weird and disturbing plot, where the core concept is simply repulsive and sickening. However it isn't visually as gruesome and nauseating as you might think, which still doesn't stop it from being a good film. The story revolves about three characters, two young American girls and a Japanese man, that are held captive by a german surgeon called Dr. Heiter (Dieter Laser), because he intends to perform surgery that will connect their mouths to each other's rectums in order to create a human centipede. In this case, it features surgery as a mere tool for expressing the doctor's madness and abnormal insanity, which then again, is the central root for this story to exist.
Read More: Best Hacker Movies of All Time
9. Faceless (1988)
Originally called " Les Predateurs De La Nuit", this Jesús Franco movie presents a crime thriller featuring plastic surgery as a criminal act in order to reconstruct the damage created by a past aggression. Dr. Flamand's (Helmut Berger) sister Ingrid (Christiane Jean) is mistakingly thrown acid to by a former patient who intended to seek revenge for a mismanaged operation. This violent act leads to a new crime when Dr. Flamand kidnaps Barbara Hallen (Caroline Munro) in order to give his sister a new face. But Barbara's father comes in the picture and won't let the disappearance of his daughter go unnoticed. A graphic and energetic movie at the heart of Paris' flamboyant lights and movement that screams action and deaths, just like the trailer says " If you have only one life, you can have several ways to die".
Read More: Best Movies Set in Paris Ever
8. Dark Passage (1947)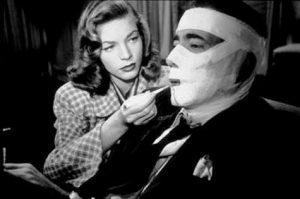 With this film-noir thriller starring Humphrey Bogart, here's the oldest movie of this list, directed by Delmer Daves. Filmed in San Francisco, it tells the story of a man wrongly convicted for his wife's murder who manages to escape prison and takes the serious decision to undergo surgery in order to become unrecognisable to the authorities. It is only after the operation that the audience is able to see the main character's face (Bogart) having previously been forced to see things from his point of view. After a psychedelic type of imagery overlapping sequence, he wakes up to a chapter of wider possibilities that will enable him to pursue a quest for justice and righteousness. The aspect of surgery in this movie is therefore a passage, a necessity, to enable the character to attain his mission and goal.
Read More: Best Movies About Lolita Complex of All Time
7. Stolen Face (1952)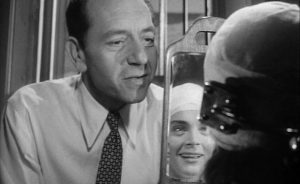 "Stolen Face" features plastic surgery in the realms of obsessional love and seek of perfection. Directed by Terence Fisher, this film noir reminds us of Hitchcock's "Vertigo" and you'll see why. The plot presents Paul Henreid as Dr. Ritter, a plastic surgeon who becomes involved in an impossible romance with Alice Brent (Lizabeth Scott), a beautiful engaged woman who soon flees the relationship back to the man she will soon marry. The devastated doctor decides to improve the disfigured face of his new patient, a female convict, in order for her to resemble Alice. Naturally, the nature of one's identity isn't merely physical and things start to get complicated when one tries to fake the reality of things.
Read More: Best Teacher-Student Relationship Movies of All Time
6. Eyes Without a Face ( 1960)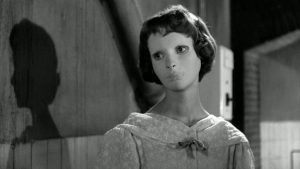 Georges Franju shocked his era with this french novel-adapted horror film, which caused controversy in Europe before travelling overseas to the US two years later. Although this black and white movie doesn't visually impress as much anymore in our times, plastic surgery is once again plunged into a dark and macabre atmosphere where the obsession with mending and perfection leads to a fatal ending. Living with the responsibility of a car accident that left his daughter's face disfigured, Dr.Génessier (Pierre Brasseur) has one goal only : repairing the young woman's profile no matter what it takes. Although Edith Scob, as Christiane, the doctor's daughter, is mostly seen with a plain white mask leaving only the eyes on show, we can still get through to her character's feelings and thoughts by the simplest movement of her body and the tragic insecurity her eyes transmit.
Read More: Stockholm Syndrome Movies
5. Shi gan (2006)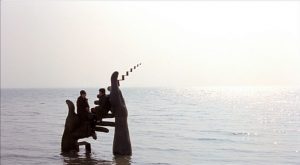 With its english title translation into "Time", this South Korean movie depicts how today's world of physical insecurities and societal pressures can evolve into drastic and impulsive decisions. In a time where plastic surgery is a corner away from people's house and has advanced into limitless possibilities, the story of See-hee (Sung Hyun-ah) shows how dangerous and influential this modernity has come to be. In a two-year relationship with Ji-woo (Ha Jung-woo), the young woman fears that her partner will soon become bored waking up to the same face every day. This leads her making a radical change, by having cosmetic surgery in order to receive a newly sculpted face with the objective of winning her love's interest back. However, she'll soon realise that her previous insecurities will only grow stronger in the new body she now lives in.
Read More: Best Chick Flicks of All Time
4. Ash Wednesday (1973)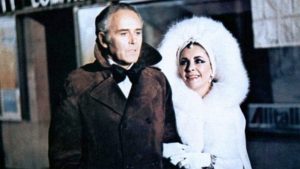 This movie features cosmetic surgery as a form of embellishment due to psychological insecurities. It focuses on the reasons that can be found behind it and questions the results of such body modifications. In order to dive into this topic, there's Barbara Sawyer (Elizabeth Taylor), a pretty miserable woman in her 50's who's marriage makes her feel the need to undergo an extensive plastic surgery in order to gain a younger look and please her uninterested husband. This character doesn't end up getting a lot of positive changes in the end and I guess that could be the whole point. Ageing is part of life and this movie proves that the attempt of medically "cutting off" a few years might not get you what you want. The surgery scenes have some lightly gruesome close-ups that together with Taylor's excellent performance realistically conveys the feeling of desperation and the painful process the character has, or should I rather say wants, to go through.
Read More: Best Female Revenge Movies of All Time
3. The Face of Another (1966)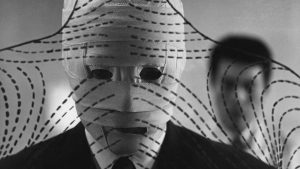 Hiroshi Teshigahara and the Japanese New Wave brought us this piece of drama fiction that follows Okuyama (Tatsuya Nakadai), a disfigured man, who finds a clinic which will provide him with a detailed realistic mask (modelled from another man's face) in order to become the face of another. Nonetheless, this mask does not only alter his physical appearance inside out. His personality also plays the game. A surreal movie that explores the depths of identity and self-division, the reflective imagery of oneself often symbolised by mirrors revealing the character in the scene and the duality between altered repetitions and opposite artistic visuals.
Read More: Best Movie Detectives of All Time
2. Seconds (1966)
Welcome to the bizarre and unusual setting of "Seconds", directed by John Frankenheimer in which the dangerous dreams of an unhappy middle-aged man come true. We all know that at times, people might wish they could be somebody else and start their life over through a clean fresh start and that's exactly what Arthur Hamilton (John Randolph) will have the opportunity to do. All because of a mysterious secret organisation called the "Company" which offers new faces and identities through plastic surgery. In seconds, he becomes a young attractive man with a new life ahead of himself. Even so, he becomes unsure about this sudden change of identity and finds himself struggling and regretting his transformation.
With a pretty high rating overall and by some considered a classic cult film, this movie contains a strong topic that comes quite close to some people's realities and an incredibly magnetising cinematography. The way this story is shown brings the audience right in the middle of the character's inner state of mind, with distortion and exaggeration being central properties of this movie's visual techniques. The general sombre and unsettling feeling we get only metamorphoses into a more disturbing ending that is nevertheless, worth watching.
Read More: Movies That Are Way Better Than the Books They Are Based on
1. The Skin I Live In (2011)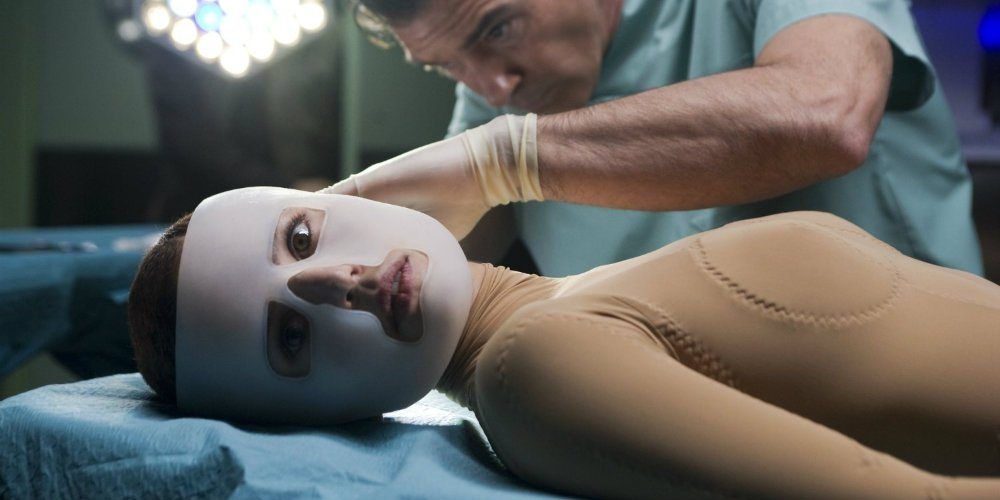 This 2011 Pedro Almodóvar movie is a mind-blowing experience. Identity, sexual abuse, violence and the feminine figure are central points of his filmography, once again found in this psychological drama thriller. It recounts the story of an excellently bright plastic sergeant, Robert Ledgard (Antonio Banderas) who succeeds at creating an artificial skin, which he uses and experiments on his captive victim, locked in his dwelling, a young woman called Vera (Elena Anaya). However it becomes much more complex than this, and as every good movie demonstrates, there is always a reason behind someone's actions. As disturbing and sick as it might be, it is a beautifully intense piece of art worth diving into for two hours time.
Read More: Torture Porn Movies