For Skydance Media, known for producing 'True Grit,' 'Star Trek Into Darkness,' several 'Mission Impossible' films, and 'Top Gun: Maverick,' much is riding on the success of 'Luck,' a computer-animated film helmed by Peggy Holmes and penned by Kiel Murray. The $140 million behemoth project is the inaugural film produced by Skydance Animation. The film suffered multiple setbacks during the developmental period. Some of that seemingly stemmed from Skydance's decision to hire industry veteran John Lasseter, who was ousted from his position as the Pixar Animation Studios and Walt Disney Animation Studios CCO amidst workplace allegations. Eventually, Apple TV+ secured the distribution rights to 'Luck' and 'Spellbound,' another animated project being developed by Skydance.
So, here are the good things about 'Luck.' Developed by Spain-based Skydance Animation Madrid (formerly Ilion Animation Studios), the animation in 'Luck' is stunning, seamless, and fluid. It's compelling enough to leave an impression on the audience but doesn't overpower the narrative. The problem is that this isn't a good thing for a film like 'Luck,' where the paper-thin plot needs as much help as it can get.

Because of this, what you have at the end is a good-looking animated film without any substance, though admittedly, that's not from lack of trying on behalf of the filmmakers. 'Luck' revolves around Sam Greenfield (Eva Noblezada), who just might be the unluckiest person in the world. An orphan, she has grown up at Summerland, a home for girls. Now that Sam is 18 years old, she must step beyond the threshold of the orphanage and find her place in the world. Sam is one of the few girls that never found her "forever home" (that's how the process of adoption is referred to in the film). As the world beyond the orphanage is largely unknown to her and due to her chronic bad luck, Sam is tentative — even afraid — about what terrible experiences might be awaiting her.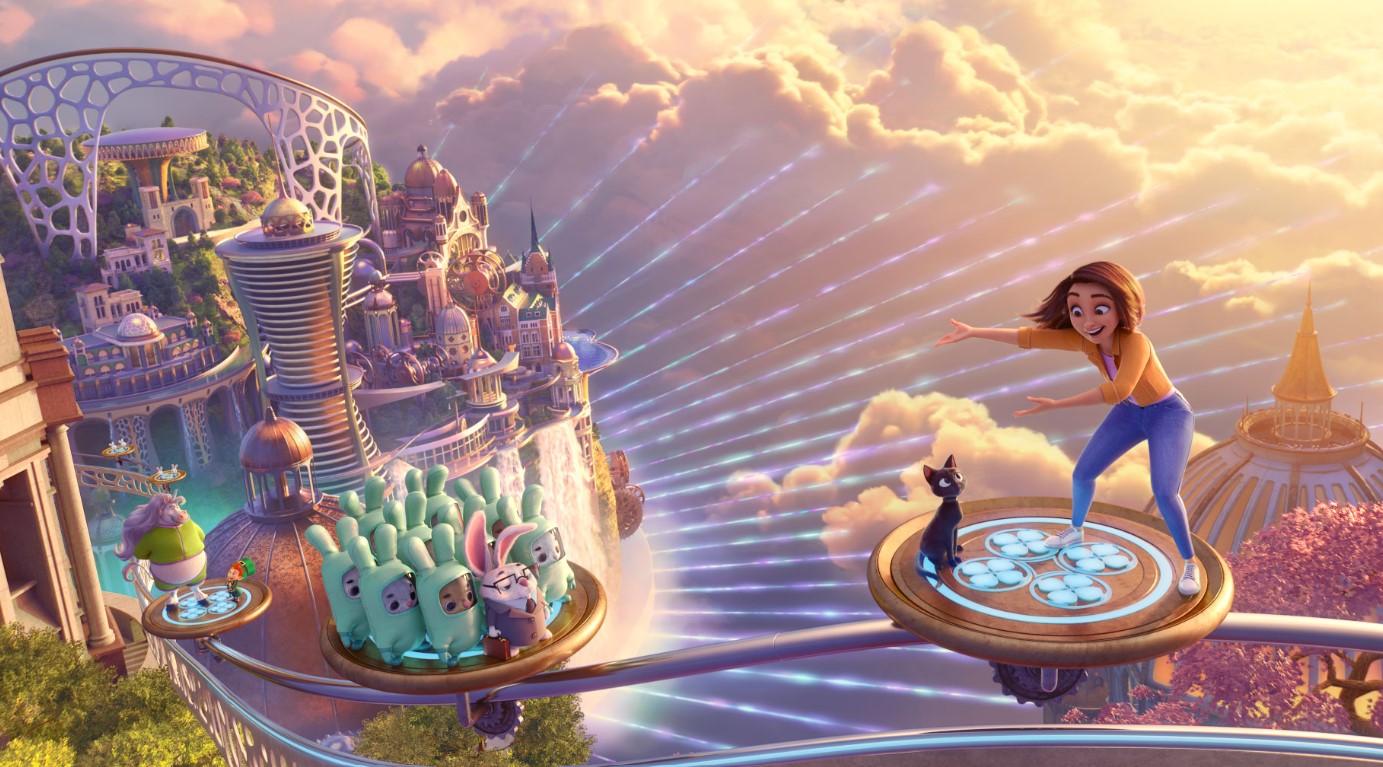 Sam's initial experience of living on her own turns out to be just as she expected — chaotic and filled with mishaps. But then, she meets a stray black cat and shares half of her sandwich with him. When the cat departs, he accidentally leaves behind a very special penny. Sam picks it up, and her luck immediately changes. The windows of her basement apartment close on their own before leaves from the streets are blown in. She finds a matching pair of socks on her first try. The jam-lathered piece of bread always lands on the plate with the right side up no matter what she does. Sam correctly surmises that the sudden turn of fortune has something to do with the penny she has found and decides to give it to Hazel (Adelynn Spoon), her younger best friend, who can't wait to go to her forever home.
Unfortunately, Sam loses the penny. When she encounters the cat again, she discovers that he is Bob (Simon Pegg), a talking, apparently Scottish, magical cat from the Land of Luck. Sam and Bob make a deal — she will help him get another lucky penny if she can give it to Hazel for a couple of hours. 'Luck' also stars Jane Fonda as Babe the Dragon, Whoopi Goldberg as The Captain, Colin O'Donoghue as a leprechaun named Gerry, Flula Borg as Jeff the unicorn, and Lil Rel Howery as Sam's boss Marv.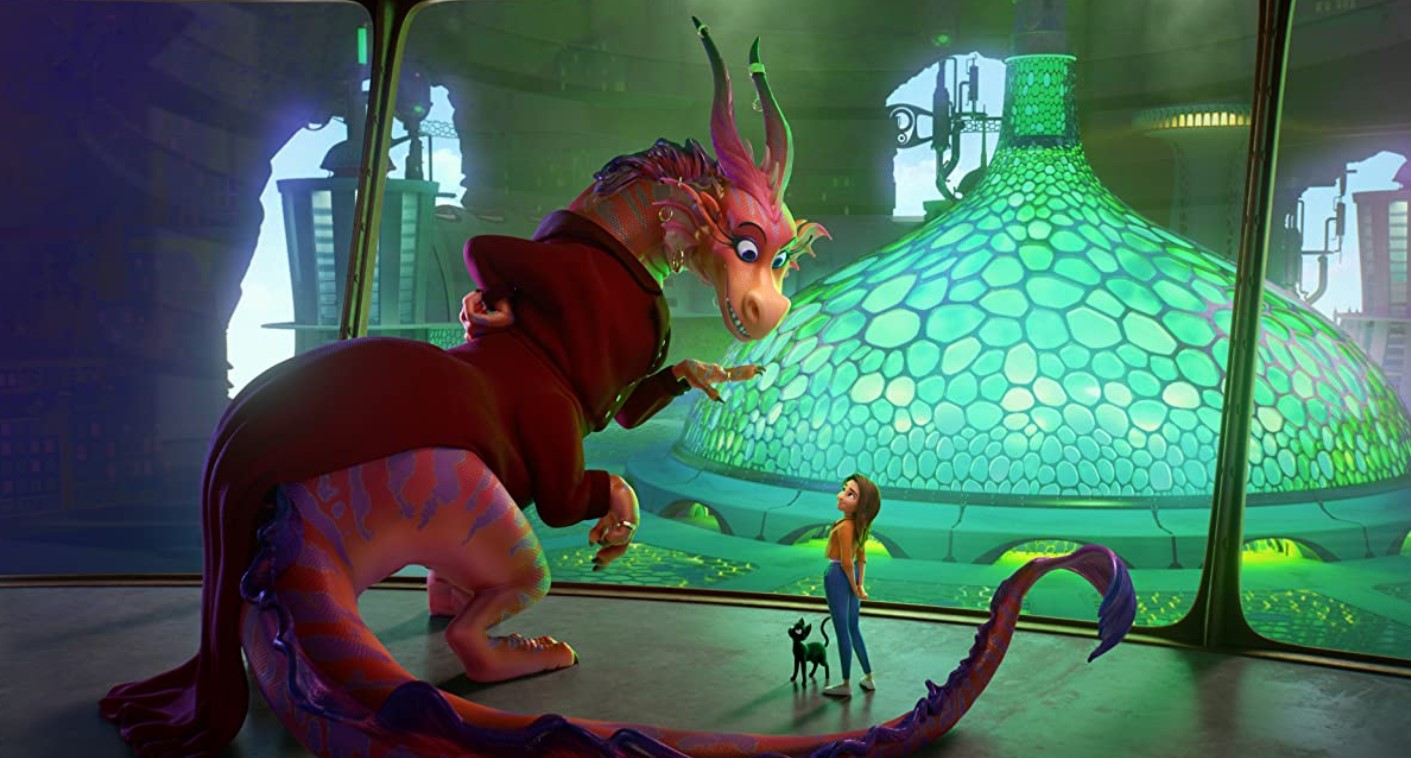 'Luck' is a film about adoption, about the concept of family, and about longing and loneliness. It's also about how we perceive the good and the bad moments in life. The comparison with Pixar's 'Inside Out' and 'Soul' is inevitable and unfortunately projects' Luck' in a negative light. Like these two films, 'Luck' takes abstract concepts and infuses them with life. It also makes heavy usage of Scottish folklores and legends. However, due to this, the film becomes exposition-heavy, and that disastrously impacts its pacing. You know a film has problems when there is a break from the action in the climactic scene so the characters can explain the newest element introduced in the narrative.
Another big issue is the protagonist herself. 'Luck' seeks to project Sam as kind and considerate to a fault, a young woman who always puts the needs of others before her own. But she can't be all that and the main driver of the plot, the source of the central conflict. Her actions — however well-intentioned — cause great turmoil in the Land of Luck. Although she predictably learns a valuable lesson at the end, that seems drastically disproportionate and lacks any form of emotionality.
Rating: 2/5
Read More: Best Animated Films