'Arrested Development' had initially run for three episodes, but it was enough for the show to garner a cult following and receive widespread critical acclaim. The show was a sitcom, but had a unique approach to it. It uses a narrator's voice and handheld camera, something that is quite uncommon in sitcoms. The show was so popular that Netflix recommissioned it in in 2011 and it released on their streaming platform in 2013. The series follows a dysfunctional family called the Bluths. Jason Bateman is the protagonist of the story and serves as the "straight man". His father, a real estate developer who indulged in unlawful practices, gets arrested in the very first episode of the series. His mother is a mean, drunkard woman who always finds faults with others. Michael has two brothers, one of whom has a crush on their cousin Maeby. The family is problematic, but the show is funny, entertaining, and manages to keep the audiences hooked.
Over the years, there have been several shows that thematically resemble Arrested Development, but let's be honest nothing compares the uniqueness of AD. Anyway, here's the list of TV series similar to Arrested Development that are our recommendations. You can watch several of these shows like Arrested Development on Netflix, Hulu or Amazon Prime.
10. Community (2009-2015)
Created by Dan Harmon, 'Community' is another highly acclaimed comedy show, and it tells the story of a group of students in a community college. The story starts off with the character of Jeff Winger (played by Joel McHale), who has enrolled himself in Greendale Community College after being fired from his law firm for falsely claiming that he has a bachelor's degree. He falls for a girl in his class called Britta Perry, but she does not seem to be that interested in him. There are other students who also play a significant part in the show. Critics have praised the show for following a solid structure and having an existential undertone in the writing. Interestingly, 'Community' was inspired by 'Arrested Development' to follow the single-camera style.
9. 30 Rock (2006-2013)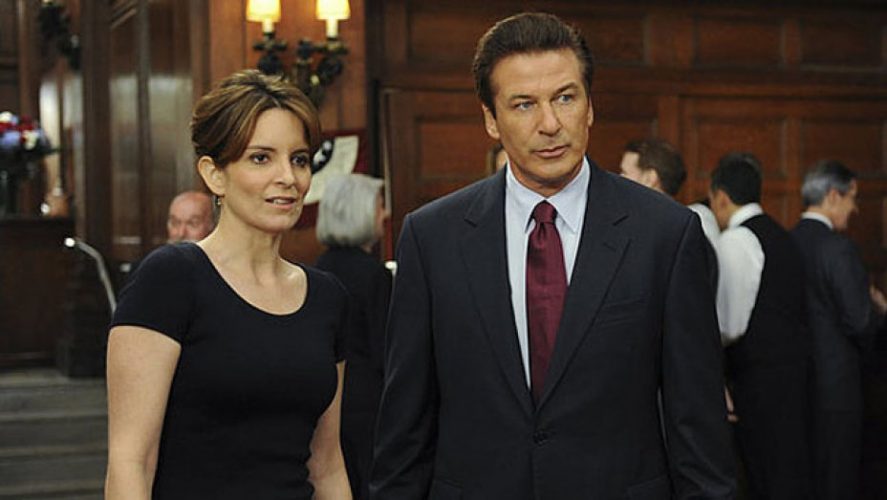 '30 Rock' is a self-referential show by NBC where the lead character of Liz Lemon (played by Tina Fey) is showrunner for a comedy sketch shown on the network called 'TGS with Tracy Jordan'. Fey is also the creator of '30 Rock' herself. The Tracy Jordan character is played by Tracy Morgan, who is also best friends with Lemon. Alec Baldwin plays the role of Jack Donaghy, a bossy network executive who always forces his decisions upon others. The show makes fun of NBC itself, along with their practises and customs. Critics have widely praised the writing of the show, with many popular publications calling the series finale one of the best finales in television history.
8. Life in Pieces (2015-)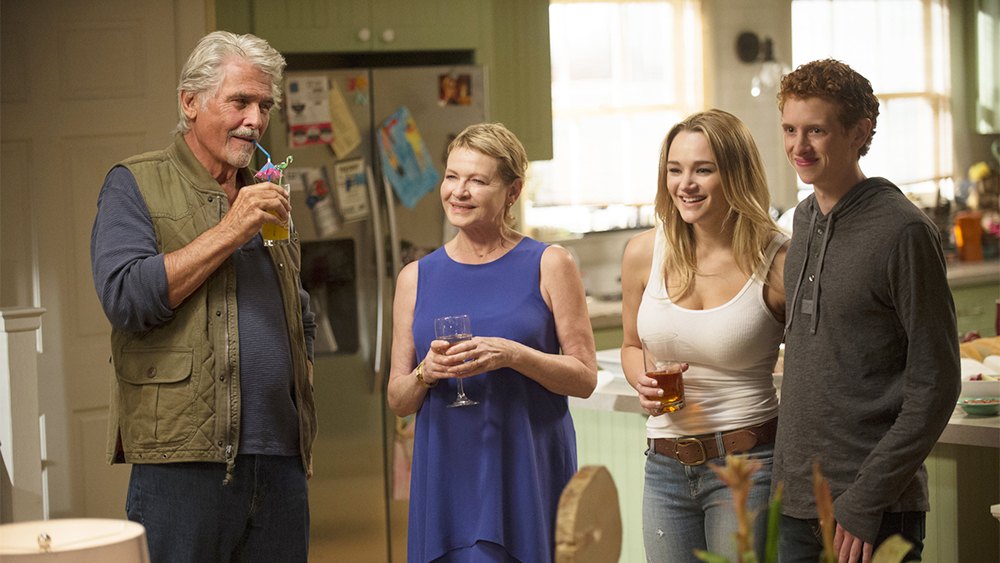 'Life in Pieces' was created by Justin Andler and deals with the life of the Short family. The story follows three different generations of the family, and the story is told through numerous perspectives. Each episode has four short snippets dealing with different stories. Ann Gilbert, Jordan Peele, Fortune Feimster, and Martin Mull are among the leading actors in the series. The cast of 'Life in Pieces' has been widely praised for their strong performances, and the offbeat approach to presentation. Betsy Brand of 'Breaking Bad' fame plays the role of Heather in the series.
7. Family Guy (1999-)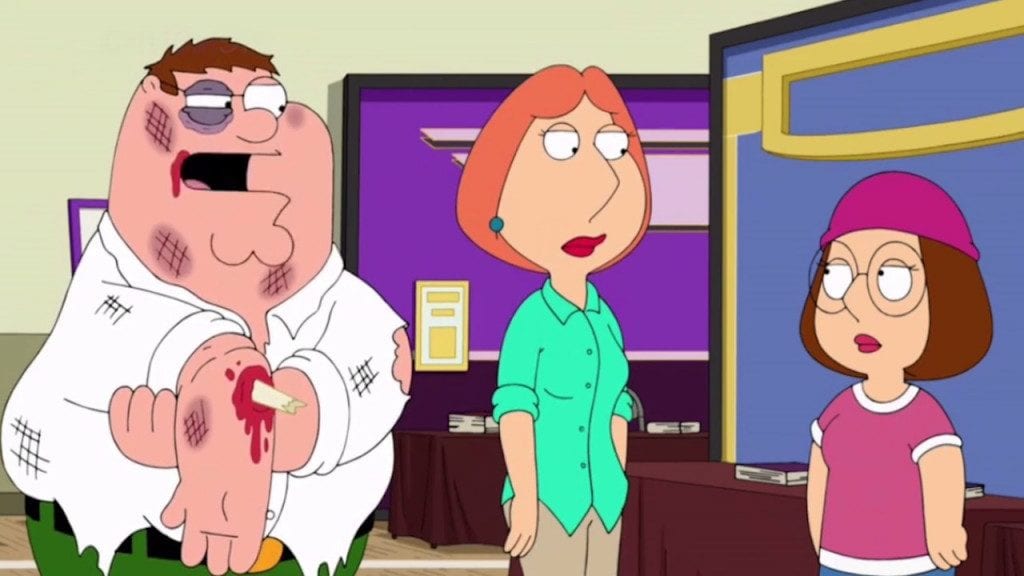 Created by Seth MacFarlane, 'Family Guy' is one of the most popular animated sitcoms ever, and has developed a cult following since its inception. The series tells the story of the Griffin family comprising of Peter and Lois Griffin, parents of three children- Meg, Chris, and Stewie. They also have a dog, Brian, who can talk, and always enjoys a martini at times. The show uses a lot of metafictional humor, where a character breaks the fourth wall to make a joke within scenes. Interestingly, decrease in ratings made Fox cancel the show in 2000, but it was bought by Cartoon Network, aired again, and suddenly became a phenomenon, and has now been successfully going on since. The highly satirical tone of the show has received widespread acclaim. Many celebrities like Robert Downey Jr., Rihanna, and Britney Spears have admitted of being fans of the show.
6. Modern Family (2009-)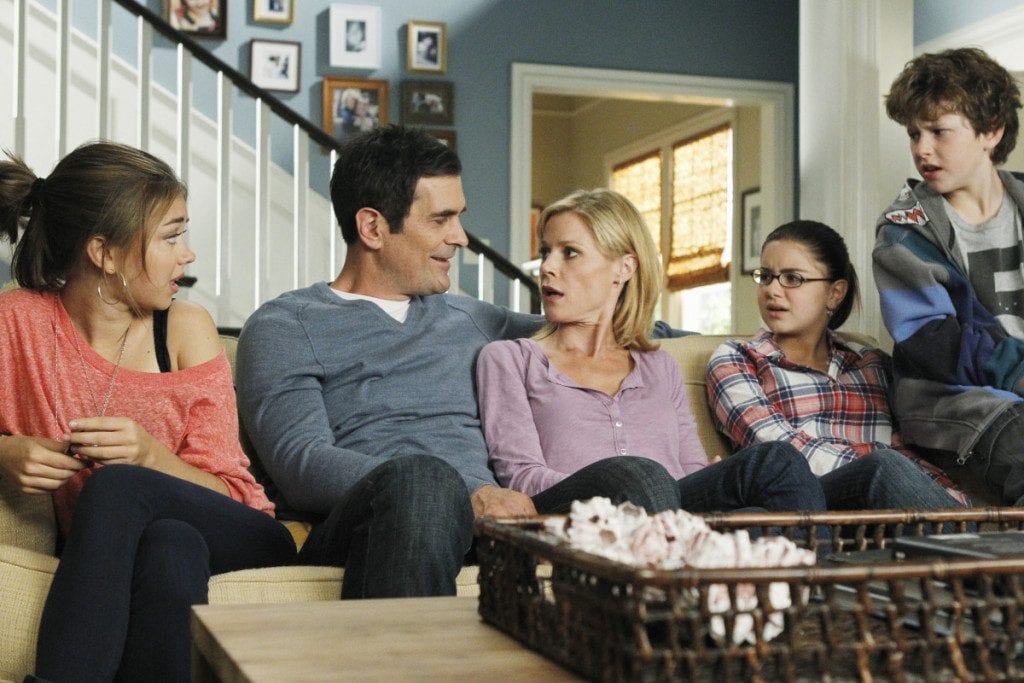 'Modern Family' was created by Christopher Lloyd and Steven Levitan when the two of them were one day discussing their own families and the problems they face have changed through the ages. The show is told in a mockumentary form, and is about three different modern families- one is a nuclear family, other one is the family of a same-sex couple, while the third one is where a man and his children live with his wife and stepchildren. The series won the Emmy Award For Outstanding Comedy five consecutive times. Critically and commercially successful, it is a must-watch for audiences who enjoy family-based sitcoms. The mockumentary style also adds a unique flavor to the series, something hardly seen in sitcoms.
5. M*A*S*H (1972-1983)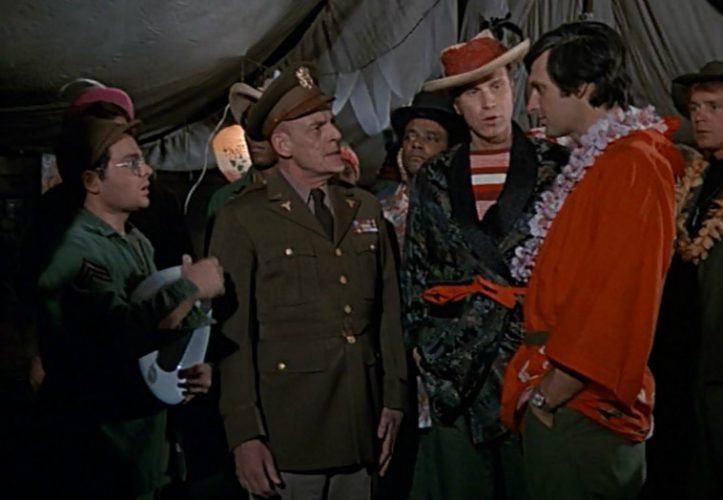 M*A*S*H was created by Larry Gelbart who based it on the famous 1970 movie with the same name by Robert Altman. MASH stands for Mobile Army Surgical Hospital. The show, though a sitcom, deals with dark and serious subject matters, and is one of the most outstanding comedic shows in television history. The story plays out in the backdrop of the Korean War (1950-53). The unique thing about MASH is that it changes moods from sometimes hilariously funny to serious and dramatic. Oftentimes, a character narrates an episode in the form of a letter she/he will be sending home. A spinoff of the series called AfterMASH was created and ran from 1983 to 1985. The series finale of the show created a record by being watched by more than 105 million people in total.
4. Bob's Burgers (2011-)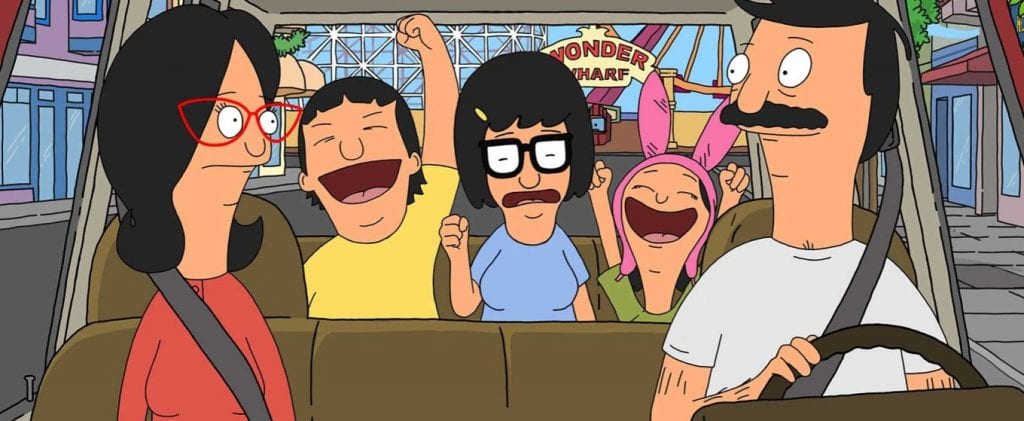 Widely considered one of the greatest cartoon shows ever, 'Bob's Burger' deals with the story of the Belcher family. The family owns a burger restaurant which Bob's family has been running for three generations now. Bob's unique characteristic is that he never smiles, probably a result of growing up unhappy as a child after his mother's demise. His wife Linda is of a contrasting character. She is a warm, good-natured lady. She is so supportive of her family that she even encourages their daughter Tina to write erotica. The show has received wide acclaim for its great writing. There is a deadpan tone to its humor, and that is probably what makes the show stand out.
3. BoJack Horseman (2014-)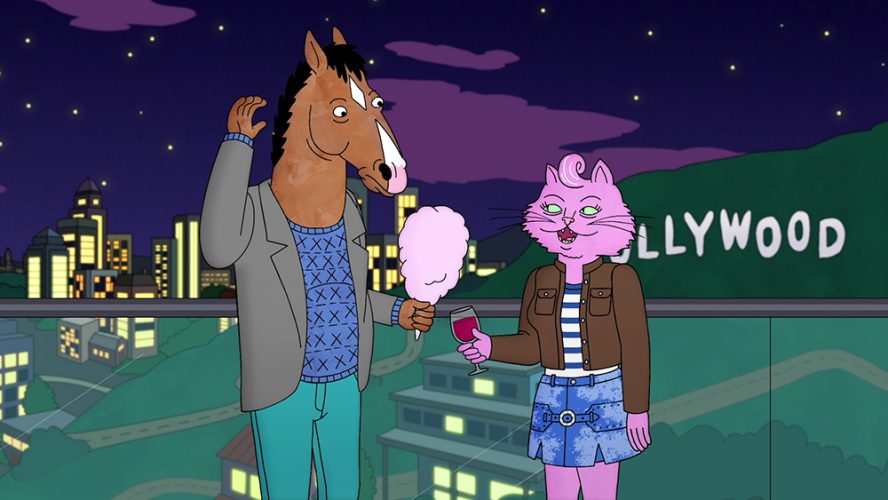 This Netflix animated comedy premiered in 2014 and since then has been widely appreciated for its content. 'Horsin' Around' is a show within the show in which its lead character, an anthropomorphic horse called BoJack Horseman had starred in. He was a hugely success then, but his story starts when he is in his middle age, and only drinks away his time. BoJack never managed to bypass the success of 'Horsin' Around'. The show's content is definitely adult, as it discusses topics like racism, depression, trauma, existential crisis and others. All of these are said in a very dark humorous way. Even issues like sexual molestation, mass shootings and others of grave social concern have found themselves being spoken of in the show. The second season onwards, 'BoJack Horseman' received thunderous praise from all corners, with critics praising its writing and the humor which is always rich in philosophy and social observation. Some have called it one of the best shows on television right now.
Read More: TV Shows Like Big Mouth
2. Seinfeld (1989-1998)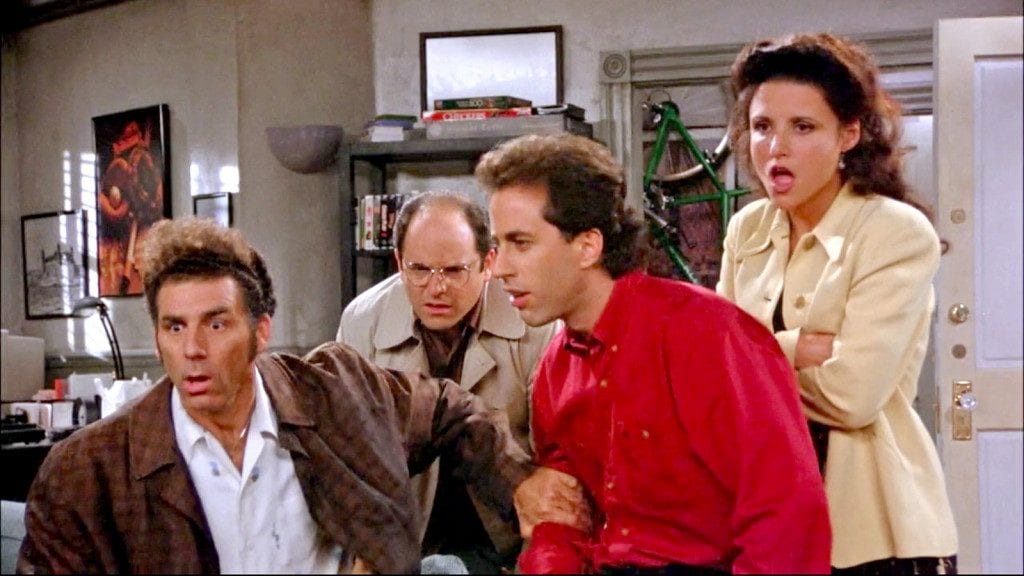 When it comes to sitcoms, it simply does not get better. Seinfeld has been regarded as one of the best television shows ever. Created by Larry David and Jerry Seinfeld, it centers around the lead character played by Seinfeld using his own name. He is a stand-up comedian, though not as successful as the off-screen Seinfeld. Along with him, his former girlfriend and now friend Elaine Benes, neighbor Cosmo Kramer, and Seinfeld's best friend George Costanza as the central characters of the show. Many of the episodes of Seinfeld are based on the experiences the writers had. In talking about what the theme of the show was, Seinfeld had once said, "The pitch for the show, the real pitch, when Larry and I went to NBC in 1988, was we want to show how a comedian gets his material." Critics have always praised the show, with some saying that it is the first sitcom which came close to becoming an art.
Read More: TV Shows Like The Big Bang Theory
1. The Simpsons (1989-)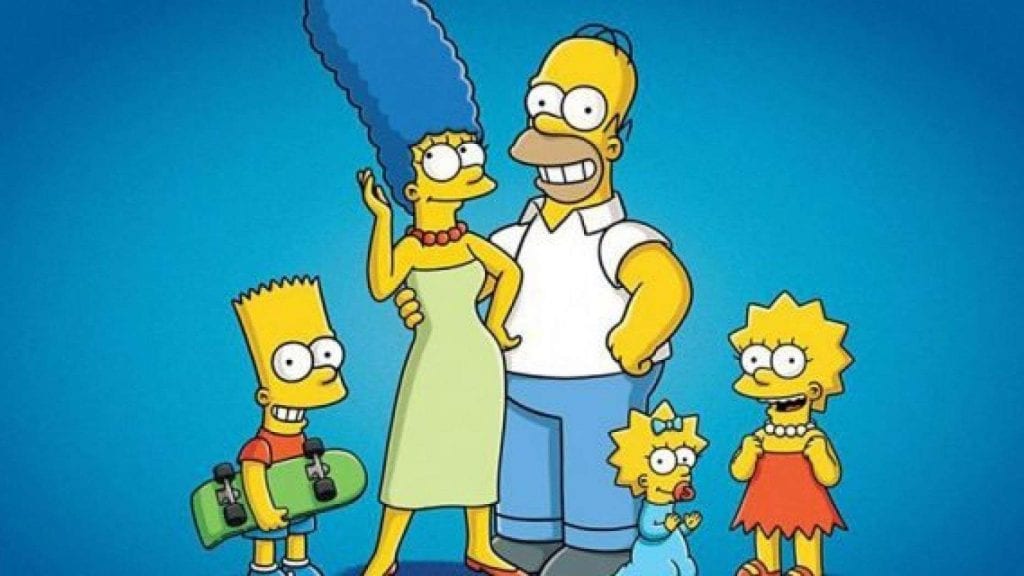 'The Simpsons' is probably one of the most culturally influential series to ever come out of America. The series has won a mind-boggling 31 Emmy Awards along with a host of other accolades. This animated comedy show follows a sitcom pattern, with it being centered around a family of five along with their dog who live in the fiction town known as Springfield. Homer and Marge are the parents while Bart, Lisa, and Maggie are their three children. The show heavily parodies American popular culture, and many iconic celebrities have made guest appearances via animation in this series. Simpsons have also scathingly commented on the government's wrongdoings, problems persisting in the entertainment industry, education, and other such issues. The writing has been so good that Simpsons ended up predicting a lot of things that did not even exist then. They also predicted Donald Trump becoming the President of the United States. Numerous publications and critics have called the show one of the greatest ever.
Read More: TV Shows Like The Simpsons