Paramount+'s 'Special Ops: Lioness' is an action-thriller series starring Zoe Saldaña as Joe, a station chief of the CIA's Lioness program. The sixth episode sees Joe and her QRF team coming under fire from their seniors for their involvement in the unsanctioned missions in Texas. The episode introduces Morgan Freeman's Edwin Mullins, whose powerful presence forces Joe to reconsider her field tactics. Meanwhile, Cruz's growing relationship with her mark could pose a threat to Joe's overall mission to neutralize a terrorist threat. If you wish to catch up on the episode's events and ending, here is everything you need to know about 'Special Ops: Lioness' episode 6! SPOILERS AHEAD!
Special Ops Lioness Episode 6 Recap
The sixth episode, titled 'The Lie Is the Truth,' opens with Cruz Manuelos driving to East Hampton, Long Island, to meet her mark, Aaliyah Amrohi. Cruz speaks to Aaliyah on the phone, and the latter reveals she has planned a surprise for Cruz. Aaliyah is excited to spend the weekend with Cruz without any of her friends or fiancé present at the mansion. Cruz contacts Bobby and seeks a status update about the surprise. Bobby, who is already keeping surveillance on the mansion, reveals Aaliyah has arranged for a spa day.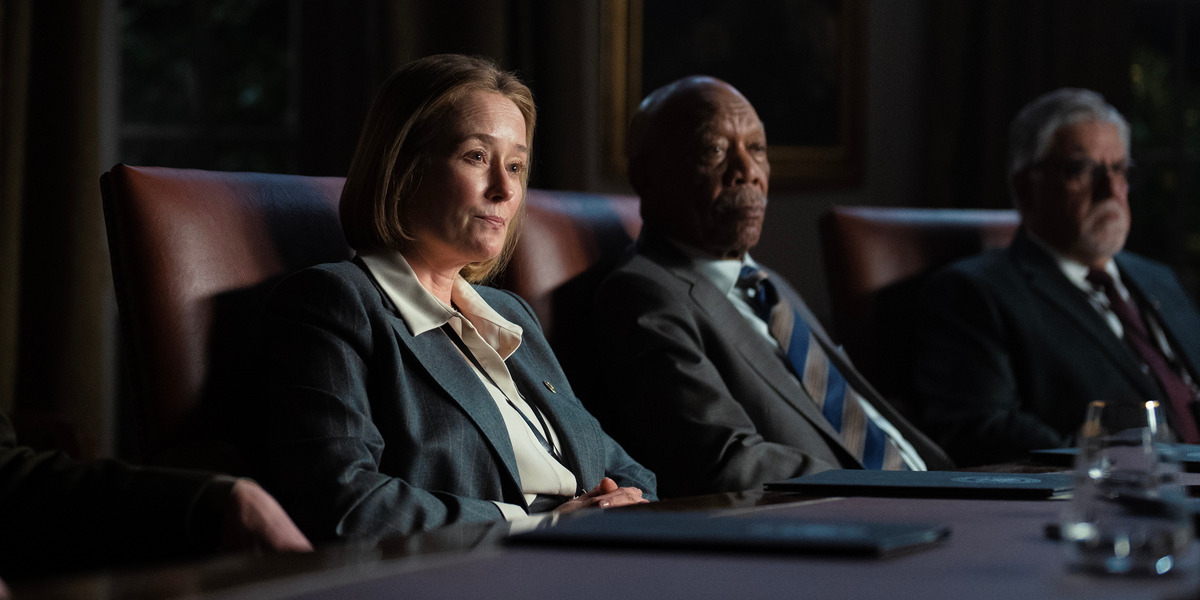 Joe briefs Cruz about establishing contact with Aaliyah and warns her about the risks she will be taking. Joe instructs Cruz to answer Aaliyah's queries about her personal life truthfully with minor changes to the details. Joe insists that Cruz must be very careful and not reveal too much about her personal life. Meanwhile, Kaitlyn Meade calls Joe about the debriefing session scheduled to take place at the White House. Kaitlyn expects heat from the higher authorities following the Lioness QRF's operation in San Antonio, Texas.
Kaitlyn speaks with her husband, Errol Meade, about the debriefing session. She expresses her concerns about the meeting, especially since it was moved to the White House. Kaitlyn asks Errol whether he knows who will be attending the meeting. In exchange, she promises to give him useful information. Errol reveals that the Secretary of State has canceled his trip to Poland, implying the latter will be present at the White House for the meeting. Errol also states that he received a call from the Secretary enquiring about Kaitlyn's visit to San Antonio. Later, Kaitlyn reveals that she has tabs on Asmar Ali Amrohi, a wealthy billionaire who funds terrorist organizations in the Middle East.
Joe and Kaitlyn arrive for the debriefing session, where a panel led by Edwin Mullins, the US Secretary of State, meets them. During the session, Mullins scolds Kaitlyn, Joe, and Byron Westfield for carrying out a kill operation on US soil. However, Byron insists that the Lioness QRF's actions saved countless lives as the CIA had strong intel about the terrorist targets and their plans to blow up a public gathering in San Antonio. Moreover, Byron argues that Mullins has no proof of the QRF's involvement in the explosion and the kill mission in San Antonio. As a result, Mullins cannot take any direct action against the Lioness squad.
Mullins also gathers intel about Joe's mission to catch Asmar Ali Amrohi. Joe reveals she has planted an asset close to the target's daughter and is waiting for the point of interception – a wedding that will take place in December. Joe is also willing to sacrifice her asset to neutralize the target. However, Mullins' panel takes command of the mission, citing the Lioness QRF's past failures in Texas, carrying out unsanctioned extraction and kill missions. Meanwhile, a group of college students finds the safe house Joe's squad is using to keep tabs on Cruz. As a result, Joe turns to Kyle and uses the favor she owes to get rid of the students. Kyle threatens the students and ensures they remain silent about their knowledge of a military operation in the Hamptons.
Special Ops Lioness Episode 6 Ending: Are Cruz and Aaliyah in Love?
In the episode, viewers see Cruz and Aaliyah spending some quality time with each other without any disturbances. Aaliyah's nosey friends are gone, and she can finally be free around Cruz. Cruz and Aaliyah take a spa day and watch a romantic movie together. After watching the movie, Aaliyah breaks down as she is unhappy about having to marry not for love but for her father's business deal. The emotionally vulnerable moment sparks a connection between Cruz and Aaliyah, and that exceeds the boundaries of their casual friendship. By sharing their thoughts on love, Cruz and Aaliyah form a deeper connection, and the tension between them is evident. The next morning, Aaliyah is overjoyed and reveals that the destination for her wedding has been finalized.
The wedding is scheduled to take place in Mallorca, Spain, and Aaliyah is static about it. In her excitement, Aaliyah kisses Cruz, which results in Cruz acting upon her feelings and kissing Aaliyah back. However, Cruz quickly realizes she has crossed boundaries and steps away, leaving Aaliyah awkward and embarrassed. The episode ends with Joe returning home and spending time with her family. However, it seems like Joe will have her hands full in the coming weeks as the CIA now knows the destination of the wedding and must plan to take down Aaliyah's father. Moreover, Cruz and Aaliyah seemingly have romantic feelings and unresolved tension that could derail Joe's mission. Therefore, it will be interesting to see whether Cruz has fallen for the person she was sent to keep tabs on.
Read More: Special Ops Lioness Episode 5 Recap and Ending, Explained