When it comes to time travel, there's not a lot that we know about. That's probably the reason why so many writers are drawn to the idea because it simply allows one to use creativity in such a way that all the paradoxes that are involved in time travel are somehow resolved. Some movies and TV shows have really impressed us with fascinating time-traveling ideas that add a speck of reality to a concept that may be scientifically impossible. However, when it comes to anime, the whole idea of exploring time travel has not been great. But 'Steins; Gate' changes everything and brings to you a surprisingly well thought-off plot that brilliantly manages to implement the idea of cause and effect. All of it gets even better when scientific terms like the Butterfly Effect, Schrodinger's cat and the Observer effect are thrown around to back up everything that's going on.
If you had a choice, what would you go for? A visual novel where you get to choose your own adventure or a show of the same plot where you don't get to decide the fate of the protagonist? I am sure most people would agree that the idea of a visual novel sounds much better. But hold that thought for a moment because 'Steins; Gate' is one of those few anime shows that prove to be much better than their visual novel source materials. Unlike visual novels, the anime 'Steins; Gate' follows a linear storyline, which makes it even harder to resolve all the complications that come with the concept of time travel. But it still manages to be as clean as a whistle and has almost no major plot holes till the end.
When it comes down to other aspects of the anime like its animation style and the music, honestly, I didn't even pay a lot of attention to it because I was completely lost in the storyline and the characters. But I would say that they aren't particularly striking or awful — it's just somewhere in the middle. And considering the fact that it comes from White Fox Studio, the animation had to be at least average, if not extraordinary.
It's the ending of a story that can make or break it and more often than not, even some really good anime suffer because they lack a good ending. But this one has an ending that is almost close to perfection and leaves absolutely no loose strings. All in all, 'Steins; Gate' can be a little hard to get into when it starts off but once things begin to escalate a little, you get addicted to it. It's the kind of anime that can be enjoyed by pretty much everyone, especially sci-fi lovers. It's so good that if I could go back in time, then I would just rewatch it all over again, for the first time (pun intended).
Steins; Gate Season 2 Release Date: When will it premiere?
'Steins; Gate' season 1 released on April 6, 2011 and came to an end on September 14, 2011 with a total of 24 episodes. This was then followed by an OVA that came out on February 22, 2012. A new version of the anime titled 'Steins; Gate 0' was released on April 12, 2018 that went on till September 27, 2018. After the popularity that this one gained, it became very clear that the attention of the fans is no more on the original series and everyone is looking forward to a season 2 of 'Steins; Gate 0' now. So, as fans of the anime, we can't really expect more from the original, but there sure is going to be more of the new version. If things change, we will update this section with 'Steins; Gate' season 2 release date.
Steins; Gate English Dub:
The English Dubbed version of 'Steins; Gate' is available on Funimation, Crunchyroll, Netflix, and Amazon Prime.
Steins; Gate Plot:
Time travel and its misuse can have some serious unforeseeable consequences. 'Steins; Gate' is all about that. It revolves around a scientist named Okabe Rintarou, who claims himself that he is mad. He stays in a rented room of an old building where he makes freaky gadgets of the future along with his team. His two team members include a girl named Mayuri Shiina, who is his childhood friend, and a perverted hacker codenamed as "Daru". They work day and night on a weird project titled "phone microwave" that converts bananas into a thick gel.
What this "phone microwave" does is quite promising but not solid enough to be appreciated by the world. But soon, a certain set of chain reactions lead them to mysterious events where their phone turns into a gadget that can send emails to the past. Okabe and his team now hold the power of controlling time but all of it comes with a cost. As he dives deeper into this realm between the past and the future, he comes across various familiar scientific concepts and theories. He even considers using a fixed calculated method of time travel and tries to help his friends in the past. But in the end, the long term consequences of these reckless actions get back to him and make him question whether all of it was even worth it.
Steins; Gate Characters:
Itaru Hashida
Itaru Hashida is a very experienced hacker who knows all about software and hardware. He is also known as "Daru" because that's what people call him in the cyber world. He is well versed with everything about the Otaku Culture and has been with the team for a very long time. Daru is short and fat and for some strange reason, no one really takes notice of his fat body in the beginning; but later, it becomes quite a big plot point. He always wears a plain olive t-shirt and blue jeans below it with yellow cap resting on his head. His English isn't so good but that never disables him from being the professional hacker that he is. He has vast knowledge and interest in programs and computers and is capable of hacking top organizations.
Itaru enjoys making new gadgets but his enthusiasm is never too high. He is also terrible at giving names to his models and often ends up adding irrelevant numbers and alphabets to them. Daru also tends to find something perverted in anything someone else has to say but despite this, he is the most down to earth person in the group.
Kurisu Makise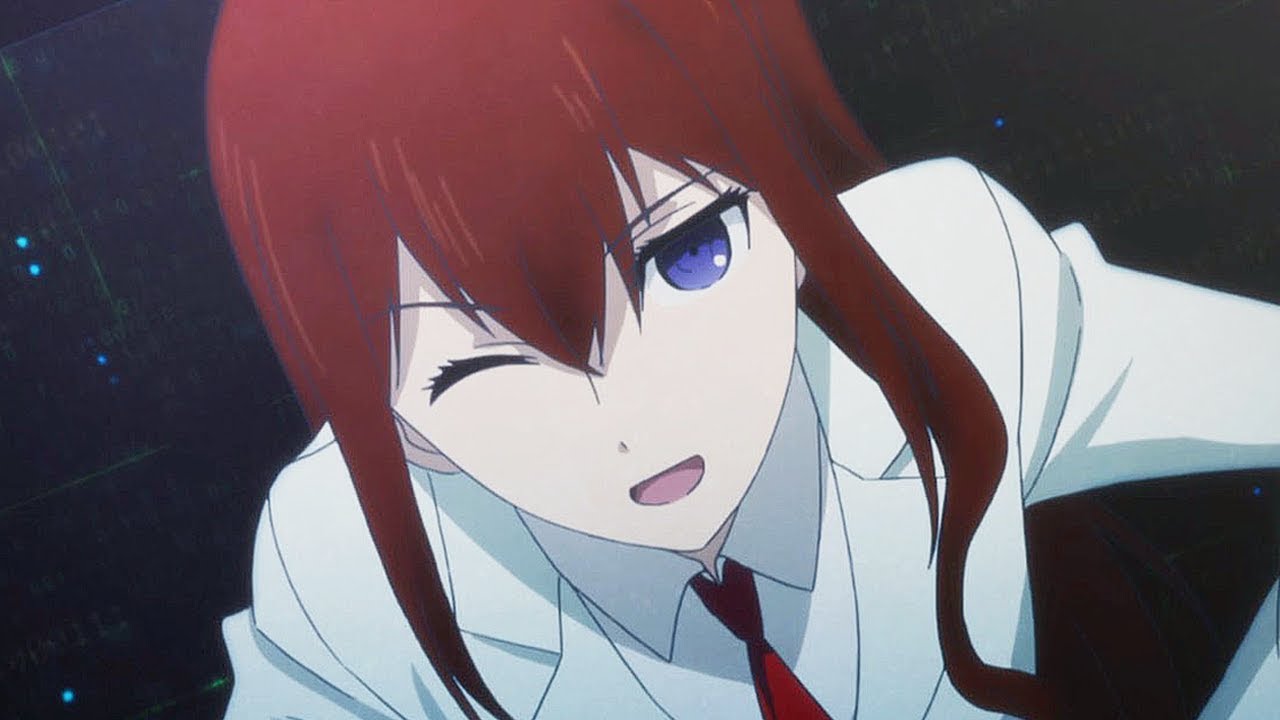 Kurisu is a genius who graduated from college at the age of 17. Her research work for the brain's memory retention system is highly acclaimed in the scientific world. She joins in as the fourth member of the Gadget Lab team a little later in the series. She is a slender woman with red hair that goes all the way down to her waist. Her fashion sense is really weird and what she wears is a combination of many different dull contrasting colors. She may be young, but in her mind, she's very sensible and mature. Even during situations when an average person of her age would start panicking, she chooses to remain calm and composed. She hates being nicknamed by anyone but still, Okabe names her "The Zombie Gir". On some rare occasions, when he calls her by her real name, she quickly understands that something serious is about to go down.
Okabe Rintarou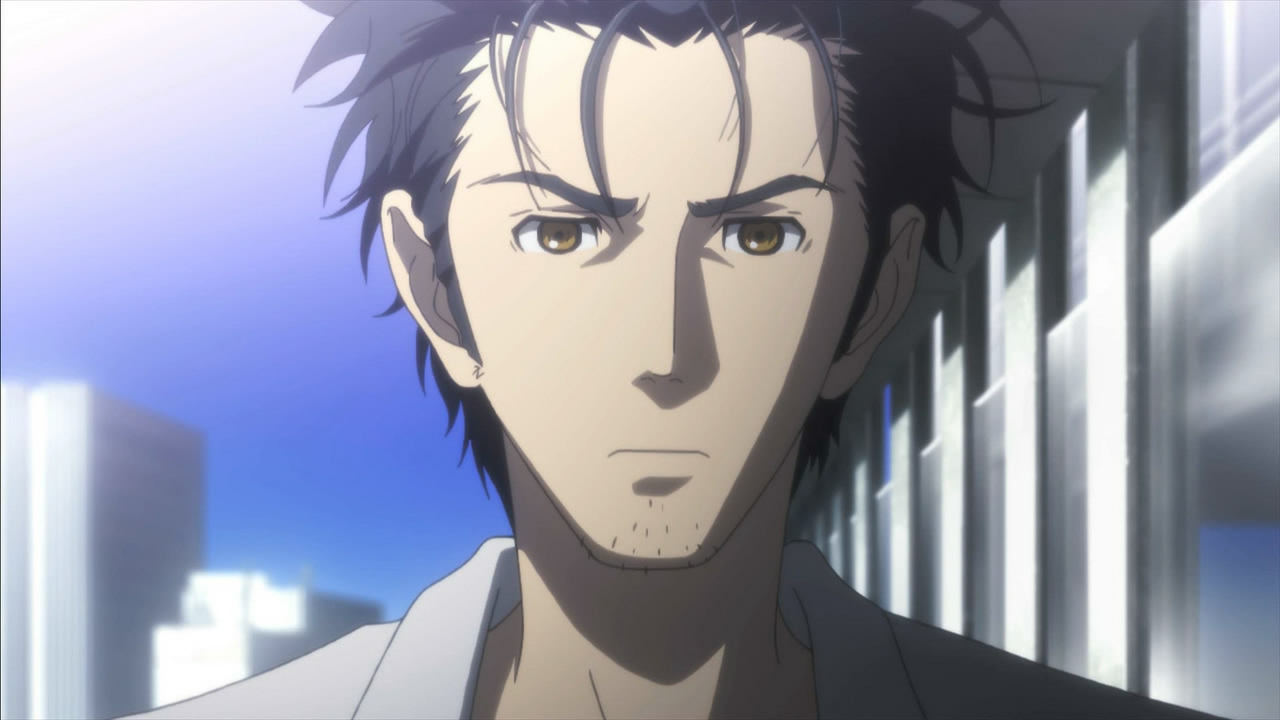 Rintaro Okabe is often nicknamed as Okarin; "Oka" comes from his last name and "Rin" comes from his first name. A self-proclaimed "mad scientist", he is the main protagonist of the show. Okabe is a tall lanky man who keeps most of his shiny black hair swept back and sports a very dull goatee in his chin. He is often seen with a white lab coat on, which he wears over a light grey t-shirt. He often introduces himself with a very different name but no one really bothers using that. He hates how people don't respect the fact that he wants to be called by a different name, which is very hypocritical because he often gives funny names to others.
Okabe is very straight forward when it comes to approaching his team and quite often, even yells at them when they go wrong. He shows signs of hysteria and paranoia by doing the strangest things like talking to himself on the phone or just laughing out loud for no apparent reason. Later in the show, it is revealed why he likes to call himself "the mad scientist" and his reason goes way deeper than anyone's imagination.
Read More in Anime Preview: ReLife Season 2 | Kill la Kill Season 2