The fourth season of Apple TV+'s sports comedy series 'Ted Lasso' sees Ted and the AFC Richmond players struggle to prove their worth to the naysayers. After making a blistering start to the season, Richmond's season quickly nosedives with a set of bad performances hampering the team's confidence. In the fifth episode, titled 'Signs,' Richmond players and coaches must introspect about their lack of form while battling several off-pitch obstacles. Meanwhile, Rebecca learns a devastating truth, and Keeley makes a fresh start. However, a certain superstar's fate delivers a shocking twist that rocks the Richmond faithful. If you are looking for an explanation about the ending of 'Ted Lasso' season 3 episode 5, here is everything you need to know! SPOILERS AHEAD!
Ted Lasso Season 3 Episode 5 Recap
The fifth episode, titled 'Signs,' opens roughly a month after AFC Richmond's defeat at the hands of Nate's West Ham United. AFC Richmond lost another game, this time to Newcastle United, with a scoreline of 4-2. Despite Zava's star performances, Richmond is sinking down the league table. Moreover, they are set to face Manchester City in a midweek game. After the match, Coach Beard and Roy Kent criticize the team's weak defense and stale offense as the reason for their loss. However, Rebecca enters Ted's office and yells at him for not winning a game since losing to West Ham. However, Ted promises to turn things around.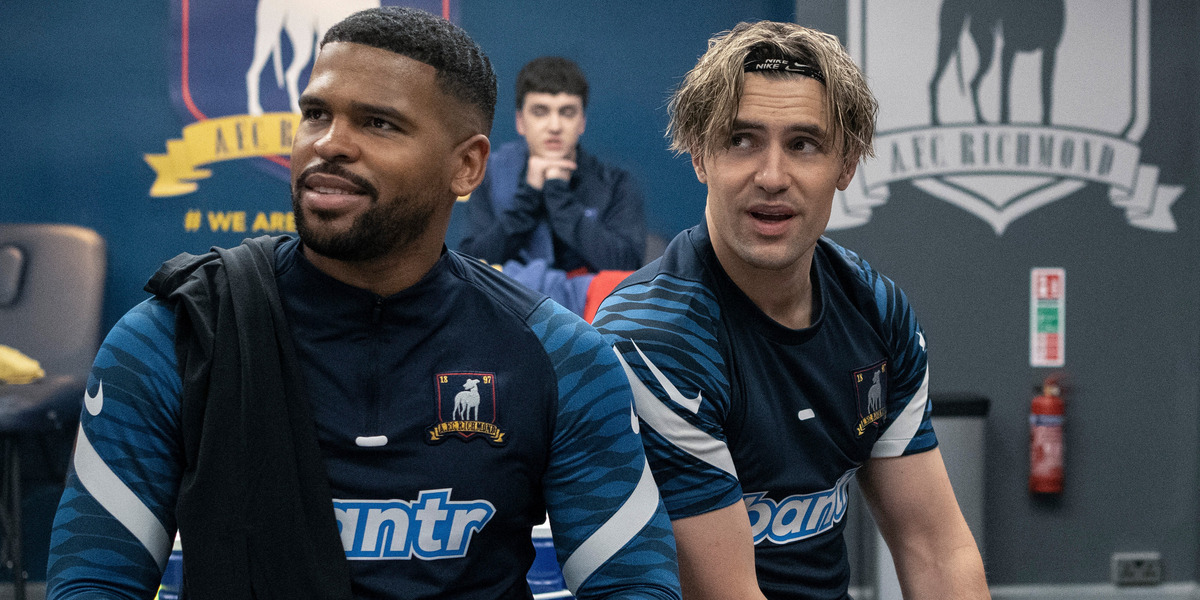 At a cafe, Rebecca meets her former suitor, John Wingsnight, whom she briefly dated. However, John has since moved on and is engaged to Jessica, his soulmate. During the interaction, Jessica utters the phrase "Shite in Nighting Armor," leading to Tish's second prediction about Rebecca's future coming true. As a result, Rebecca gains hope that the third prediction of her becoming a mother could also come true. Meanwhile, Keeley, Barbara, and Jack discuss how to grow Keeley's PR Firm. On the other hand, Shandy's antics become unmanageable for Keeley, and Jack suggests firing her.
Elsewhere, Ted, Coach Beard, and Roy brainstorm about tactics for their game against Manchester City. Trent Crimm chimes in with some suggestions, but none of the group's ideas are viable. The discussion is cut short after Ted learns from Michelle that Henry was bullied at school. Coach Beard and Roy want to beat up the kid who bullied Henry, but Ted resorts to handling the situation calmly. Meanwhile, Leslie asks Rebecca to consider possibly firing Ted if they lose against City. However, Rebecca outright squashes the idea of sacking their manager. Instead, Rebecca discusses her experiences with a psychic.
Nate goes on a second date with Anastasia, a model introduced to him by Rupert after winning against Richmond. Nate takes Anastaisa to A Taste of Athens, his favorite restaurant. However, Anastaisa dislikes the place and bails on Nate. Jade, the hostess at the restaurant who has an adversarial relationship with Nate, notices Anastasia ghosting Nate. After the restaurant closes, she joins Nate for dinner and cheers him up. Meanwhile, Ted learns that Henry wasn't bullied at school. Instead, he bullied a classmate, raising Ted's concerns about raising his son while being away from him.
Elsewhere, Keeley fires Shandy after the latter creates another fiasco. However, Shandy does not take the news well. Later, she leaves a goat in Keeley's office as revenge for firing her. After Jack and Keeley deal with the situation, they relax by sharing some drinks, leading to the two women hooking up. Rebecca visits Dr. Wagner and gets tested to check if she can become a mother. However, the test results are due after Richmond's match with Manchester City. During training, Zava raises the team's spirit and encourages them to work together. However, Zava does not show up for Richmond's match against City.
Ted Lasso Season 3 Episode 5 Ending: Where Is Zava? Does Richmond Break Its Winless Streak?
In the episode's final act, Richmond faces Manchester City without Zava. Coach Beard and Roy search for Zava but are unable to contact him. Meanwhile, Leslie learns that Zava is considering retirement. Without their star striker, Richmond quickly falters and loses the game continuing their winless s streak. After the match, Ted receives a call from Henry. At the same time, the players finally learn about Zava's whereabouts. Zava posts an Instagram video announcing his retirement from professional football. As a result, the already low morale of the team hits rock bottom.
Meanwhile, Ted talks to Henry, and the latter apologizes for his behavior at school. After ending the call, Ted nearly gets another panic attack. However, this time he is able to control his anxiety without any external help. Ted feels reassured that his son is okay without him. As a result, he is ready to focus on his job at Richmond. Interestingly, Ted serves as a father figure to several players on the team, such as Sam, Jamie, and Issac. Therefore, Ted's concerns about raising his son and worrying about his well-being are reflected in his coaching.
With Ted's concerns about Henry put to rest, it is safe to say that Ted will once again focus all his attention and efforts on his players. In the episode's final moments, Ted consoles the players after their loss and Zava's retirement. While Ted gives the team a pep talk, the "Believe" sign falls from the wall, implying it is a sign that the players are doomed. However, Ted quickly demonstrates that it is merely a sign and rips it off. He urges his team to wrestle with their inner positivity and genuinely believe in themselves and each other. The episode ends with Ted delivering one of his trademark speeches, and his emphatic words indicate that we need to believe that he will right the ship and lead Richmond to victory.
Read More: Ted Lasso Season 3 Episode 4 Recap and Ending, Explained