Apple TV+'s sports comedy series 'Ted Lasso' enters its third season with several high-profile changes staring at our beloved American Football coach and his soccer team. In the third season, Richmond starts the new campaign poised to finish last in the league. However, in the third episode, titled '4-5-1,' AFC Richmond shocks everyone with their performances and surprises its fans. With the world-class striker Zava on its team, Richmond's form skyrockets. However, not all changes around Nelson Road are pleasant. Without further ado, let's dive into the episode's events and twists. Here is everything you need to know about the ending of 'Ted Lasso' season 3 episode 3! SPOILERS AHEAD!
Ted Lasso Season 3 Episode 3 Recap
The third episode, titled '4-5-1,' opens with Colin Hughes leaving his boyfriend, Michael's house after spending the night. Colin is gay and keeps his sexuality a secret for his footballing career. At the training ground, Ted, Roy, and Coach Beard discuss the starting line-up with the addition of the mercurial striker Zava. With Zava playing up top, Colin will be dropped to the bench, and Dani will play in the midfield. Leslie arrives and invites the trio for Zava's unveiling as an AFC Richmond player, leading to a conversation about how the world-class player will gel with the rest of the team. Meanwhile, the AFC Richmond players are ecstatic to meet Zava and most idolize him. However, Jamie seems unhappy with Zava's arrival.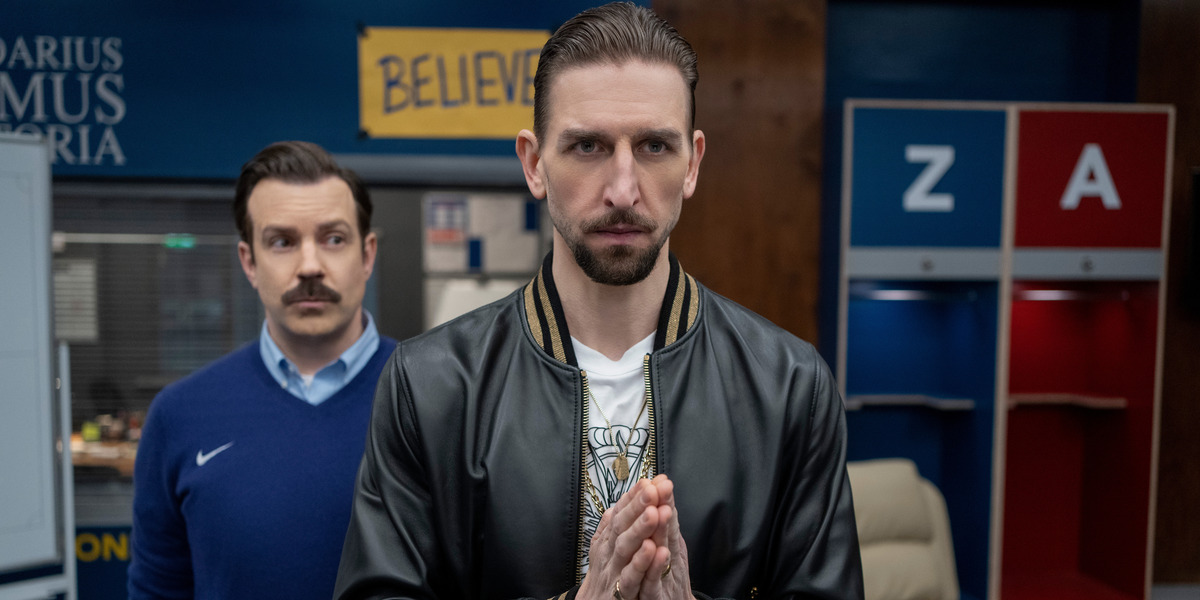 At the press conference, Zava fails to show up after Rebecca and others wait for him for hours. Eventually, Rebecca encounters Zava in her office and introduces him to Ted, Keeley, and Leslie. Later, Zava meets the team and immediately impacts everyone with his Zen sensibilities and superstar personality. Elsewhere, Rebecca meets Tish, a psychic her mother recommended. Although Rebecca plays along, she is hurt when Tish predicts Rebecca will have a family and become a mother. Keeley and Shandy work with the players to do interviews about Zava joining Richmond, leading to an awkward conversation between Roy and Keeley.
Meanwhile, Jamie talks to Ted and Coach Beard and fears Zava's arrival will upset the team's balance. However, Ted reassures Jamie and asks him to give the change some time. AFC Richmond prepares for the first game with Zava, hosting Wolverhampton Wanderers at Nelson Road. Richmond's game plan is pretty simple and revolves completely around Zava. Before the match starts, Ted wants to call his son, Henry, and wish him luck for his football game. However, when Ted calls, Jacob, his former marriage counselor, answers. Ted's ex-wife, Michelle, is dating Jacob, which throws Ted off before the game.
During the kick-off, Ted almost has a panic attack, but it subsides after Zava scores a goal from the halfway line, seconds into the first half. With Zava on the team, Richmond soon goes on a roll, winning several games. Zava scores a beautiful scorpion kick in a match against Burnley. At Old Trafford, Richmond beat Manchester United for the first time in their history, with Zava scoring the match-winner during additional time. Soon, Richmond is on a streak of five wins out of their first six games.
Meanwhile, Nate and Rupert are displeased with Richmond's meteoric rise while the media continues to discredit Ted as a capable manager. Rebecca starts to see some credit in Tish's prediction while Ted talks to Sharon about his ex-wife dating their marriage counselor. Richmond is up to third place in the league table, only a couple of points behind West Ham United and Machester City. Sam invites everyone to a party at his new restaurant, Ola's, to celebrate their victory over Manchester United. Colin invites Michael to the party, while Jamie is displeased with Zava stealing his thunder.
Ted Lasso Season 3 Episode 3 Ending: What Happens at the Party?
In the episode's final act, the AFC Richmond players and staff gather at Sam's restaurant for a party to celebrate their winning streak. However, the party serves as a melting pot for several storylines and individual conflicts. During the party, Jamie Tartt mopes about the team flocking around Zava. Jamie laments no longer being the best player on the team. However, Roy provides Jamie with some encouragement by telling him he was indeed the best player on the team before Zava's arrival. Roy offers to train Jamie and make him a better player than Zava. While it remains to be seen whether Jamie and Roy's efforts bear any fruit, Jamie's fighting spirit and desire to be the best will only benefit Richmond in the long run.
Meanwhile, Rebecca and Keeley reunite with Sassy while also vowing to leave their past relationships behind. However, after Sam gifts her a green matchbox as a souvenir, Rebecca becomes unsure about their potential romance. Tish mentioned the matchbox during her prediction of Rebecca's future. Thus, Tish's prediction might imply that Rebecca and Sam are meant to end up together and start a family. On the other hand, Sassy and Ted share a brief conversation where Ted reveals his displeasure about Michelle dating Jacob. Thus, it is evident that Ted is having difficulty hiding his insecurities.
Lastly, the episode ends with Colin and Michael making out secretly in the alleyway. However, they are seen by Trent Crimm as he walks past. While Colin is yet to come out as gay publically, Trent learning about his sexuality could cause a big stir in the media. It could also pave the way for Trent to return to reporting. As a result, Trent will likely face a dilemma about what to do with this newfound information. Nonetheless, Colin's storyline will undoubtedly be a huge focus in the upcoming episodes, as it shines the light on LGBTQ+ representation in the Premier League and football world.
Read More: Ted Lasso Season 3 Episode 2 Recap and Ending, Explained