Created by Christopher Miller, 'The Afterparty' is a comedy-drama anthology television series on Apple TV+. In the second season, Aniq finds himself embroiled in another murder mystery. The plot revolves around the murder of billionaire Edgar Minnows, who is found dead the morning after his wedding. However, viewers learn more about Edgar's business dealings as the narrative progresses. One of his business interests is the million-dollar cryptocurrency known as Bucephalus. If you are wondering whether Bucephalus is a real cryptocurrency, here is everything you need to know! SPOILERS AHEAD!
Is Bucephalus a Real Cryptocurrency?
In 'The Afterparty' season, viewers are introduced to Edgar Minnows, a tech billionaire from Silicon Valley. Edgar is marrying Zoe's sister, Grace. However, on the morning after their wedding, Edgar is found dead. The third episode, titled 'Travis,' peels the covers on Edgar's secretive behavior, especially his business dealings. Grace's ex-boyfriend, Travis, who believes Edgar is involved in some scam, researches Edgar's business dealings and discovers that the billionaire recently launched his own cryptocurrency called "Bucephalus." However, the cryptocurrency is not real and exists only within the show's universe. By choosing a fictional cryptocurrency, the makers likely wanted to avert any controversies or misconceptions that could potentially stem from tying Edgar's storyline with any real cryptocurrencies.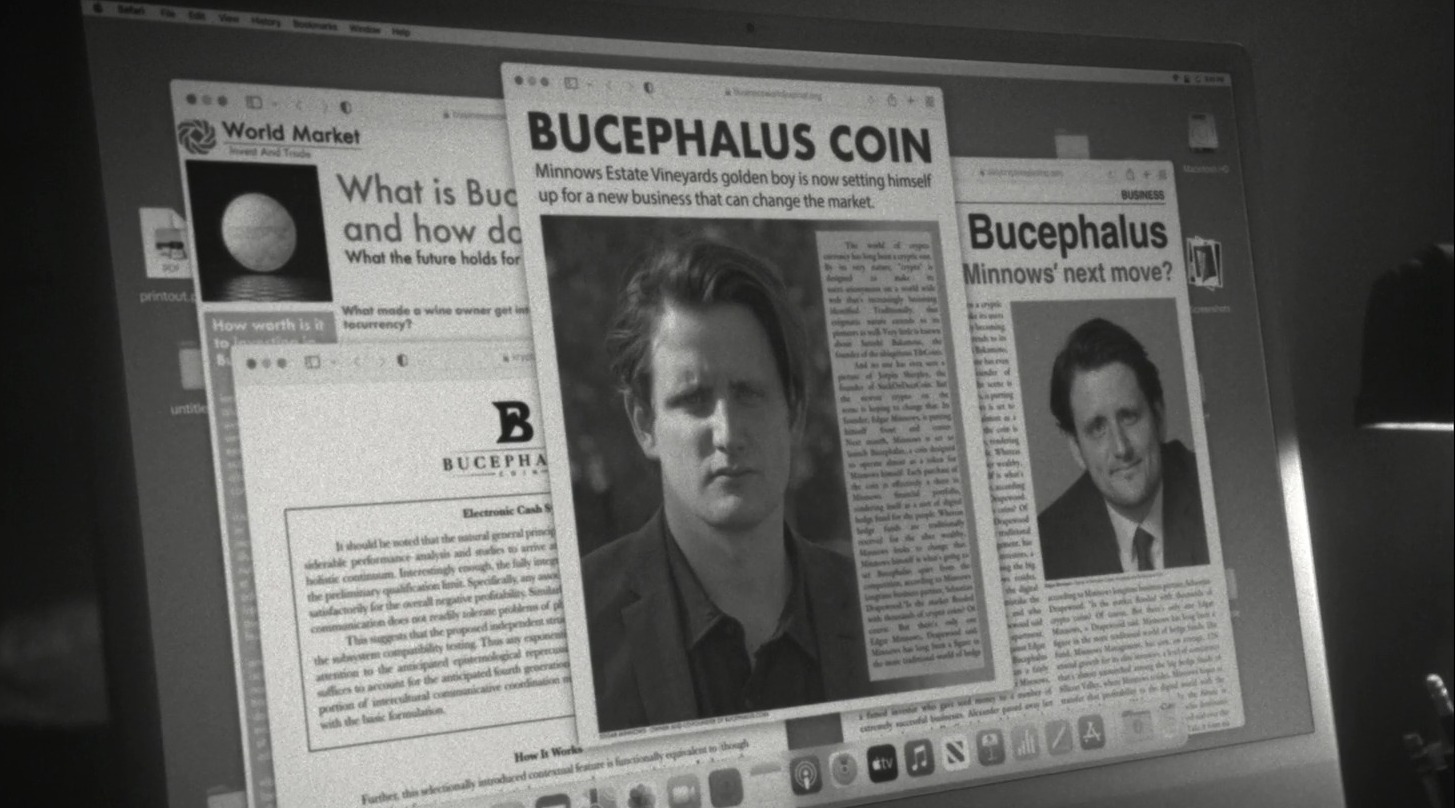 The cryptocurrency is named after Bucephalus, the horse of Alexander the Great. The show states that Edgar's father was obsessed with the horse, leading to Edgar naming the cryptocurrency after Alexander the Great's horse. The horse was reportedly of the best Thessalian strain and died in 326 BC after the Battle of the Hydaspes. Alexander named the city of Boukephala after his beloved horse. However, there does not appear to be any deeper connection between the name and the cryptocurrency. Moreover, the strange choice of name only fuels Travis' suspicion that Edgar is trying to commit some crypto fraud. Later, Travis discovers that three of the major investors in the Bucephalus coin are shell companies owned by Edgar.
Ultimately, Travis deduces that Edgar is using his own money to pump up the prices of Bucephalus. He refers to Edgar's plan as a "trojan horse" plot, which ties in with the cryptocurrency's name. Such practices of artificially manipulating the prices of cryptocurrencies aren't unheard of in real life, and the blockchain tokens have invited a variety of scams like the one Travis claims Edgar is involved in. As a result, despite using a fictional cryptocurrency name, the show's handling of Bucephalus and its correlation to Edgar's storyline appears to have a shred of realism attached to it. However, Bucephalus plays a larger role in the murder mystery and helps Aniq and Danner piece together the killer's identity remains to be seen.
Read More: The Afterparty: Is the Lizard Real or CGI?